Phish Fans Guide To Chicago - Summer 2014 Edition
Among the many things I like about Chicago is the diversity of of options on just about any night. This is amplified when Phish is in town.
Case in point: not only can Phish set up shop for three big weekend shows, the city can simultaneously host a multi-band festival with some crossover appeal to fans, major league sporting events, and two massive stadium sized concerts at Wrigley (though if Billy Joel plays til 3am while the Phish show gets cut short, I officially give up).
Luckily, the weather looks to be more agreeable than last year's debacle.  Pleasant, if not a bit cool for mid-July and no rain.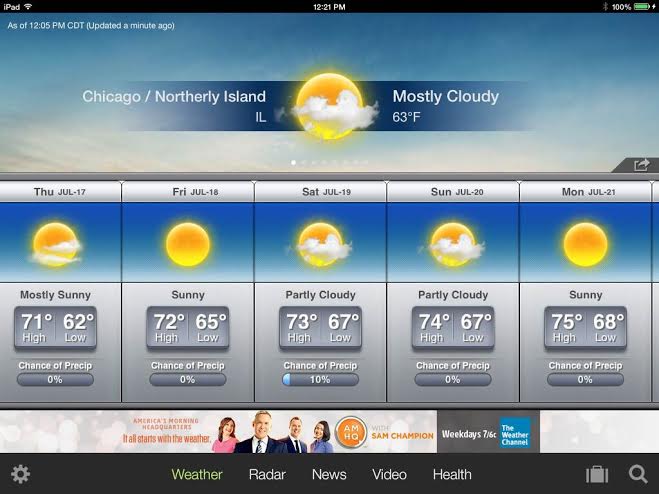 I'm not gonna cover everything to see and do in Chicago here (there are plenty of other reliable resources for that), but I do want to spotlight the things that might be of interest to Phish fans, whether you're a local or coming in from out of town. We've got some free tickets to some exciting aftershows to giveaway, too, so read carefully!
First let's summarize... and below I'll detail some best bets depending on what you're looking for (and where, these venues are laid out roughly from south to north in Chicago).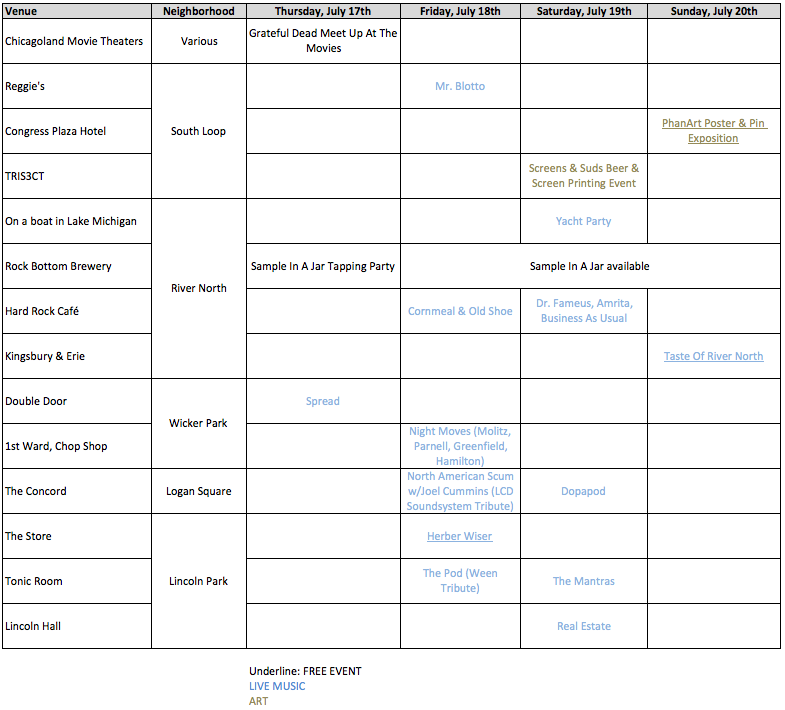 Most creative post-show experience.  Otter Presents did it last year and are upping their game this year.  The newly reunited Particle is joined by DJ Logic and a host of Chicago-based and national jammers on a yacht in Lake Michigan.  Umphreys' Kris Myers and general badass Fareed Haque are among the top shelfers that will be on board.  It's gonna be good.
That's not the only supergroup in town.  Otter will also host Night Moves on Friday, which brings together Steve Molitz (Particle) Clay Parnell (Particle/ Brothers Past) Mike Greenfield (Lotus) and Tom Hamilton (JRAD/Brothers Past) for one of their trademark super jams.  They're running buses to and from Phish for this, too.  That deal that may be too good to pass up.  Check out how to win tickets to both Otter shows HERE.
Best bets to support the locals.  For a bit of local flavor, check out our #1 jamgrass export, Cornmeal, at Hard Rock Cafe on Friday, a convenient place for a post show party those staying downtown or in the River North / Mag Mile area.  Our friends in Old Shoe open the show.  Hard Rock will also host DrFameus, Amrita and Business As Usual on Saturday.  We've got free ticket to give away for both of these Hard Rock shows, so definitely check out this link for more info.
The stalwart Chicago jam veterans Mr. Blotto takes the stage at Reggie's Friday night post show.  One of the only "walkable" places for post-show live music after the Phish gig.
Herbert Wiser Band will hold court on Friday in Lincoln Park at The Store.  That one is free, so will be good if you're in the neighborhood and just want to pop in for a drink.
Best bets for rising national jambands.  Two acts who made our list of up-and-coming jambands go head-to-head on Saturday night.  Dopapod takes stage at Logan Square's Concord Music Hall, while The Mantras bring their show to Lincoln Park's tiny Tonic room.
Best bets for some covers.  Sometimes the post show party needs some tunes you'll recognize.  North American Scum recreate the music of LCD Soundsystem at Concord on Friday with special guest Joel Cummins of Umphrey's McGee, while The Pod, the Chicago based Ween cover band famous for welcoming Deaner on stage with them a few times last year will hold court at Tonic Room at the same time.
Best bet to get Pitchforky:  Pitchfork has a number of scheduled aftershows, but he one that will appeal most to you is probably the band that contains some Phish fans itself: Real Estate.  Unfortunately, that gig is sold out, so keep an eye out if you're interested.
Best bets to satisfy your craving for visual arts:  There are two incredible chances to see some Phish related art in town this weekend, but the biggest and best (and also the one that we are sponsoring), is the PhanArt Poster and Pin Exhibition at the Congress Plaza Hotel.  Tons of artists and artwork will be on display for the very reasonable price of FREE from 12-5 on Sunday.
A unique event combining both craft beer and screen printing, featuring acclaimed poster artist Jim Pollack will be held at TRIS3CT on Saturday afternoon at 1pm:  Screens-n-Suds.  It's a charity event and definitely looks cool.
Oh, yeah... there's also the Art Institute, the Museum of Contemporary Art and other minor art installations.
Music during the day?  Yup.  Before or after stopping in to the PhanArt show on Sunday, the Taste Of River North is a street fest with a lineup that is worth a peek at Kingsbury & Erie.  The music starts at noon, with the lovely Under The Willow, one of our favorite local folk and bluegrass acts.  There will also be sets by Zmick and Main Squeeze that are also recommended.
In town a day early?  Thursday fun.  Grateful Dead Fans can meet up with friends new and old during a screening of a rare Europe 72 show at several Chicagoland theaters.  Spread headlines a show at Double Door featuring a bill of local jam-inclined bands.  And for the second year in a row, Rock Bottom Brewery will be serving up their hoppy red ale in mason jars -- yep, Sample In A Jar is back.  Proceeds from each pour go to benefit Mockingbird Foundation.  It will be available throughout the weekend, but they will tap on Thursday at 6pm accompanied by live music from our friends in Whiskey Jezebel.
But Sample's not the only Phish inspired beer in town.  Links Taproom will feature 13 beers from eight local breweries including Pitcher of Nectar, Apricots En Regalia and Punch You In The Rye.  Food selections include Bury The Meatstick and Surrender to the Buffalo... and they look good.
Enough about other stuff.  How about the SHOWS?
Well, Phish has been really bringing it lately so expect some big jams, okay?  For a clue as to what songs are due up, we'll keep the rotation infographic updated for the Chicago shows (and every show on tour).
Some things to point out around the venue, more info available HERE.
DAY OF SHOW INFORMATION
3:00pm - Parking Opens for Early Arrivals
5:00pm - Free Parking (included in ticket price) opens at all lots except Adler
6:00pm - Venue Gates Open
7:00pm-11:00pm - PHISH
Tailgating is allowed on surface lots, but be warned that authorities did shut down pop up tents and vending pretty aggressively last year.
If you are in the Soldier Field lots, do try for a ride on the free water taxi to and from the venue -- these were pretty fun.
Parking Fees:
Parking between 3pm-5pm:
Adler (VIP) Lot: $49 / East Lot: $49 /South Lot Oversize: $120 / South Lot Car: $40 / Waldron Deck Car: $40
Parking after 5pm:
Adler: $49 (if spaces still available) / South Lot Oversize: $120 / All others included in ticket price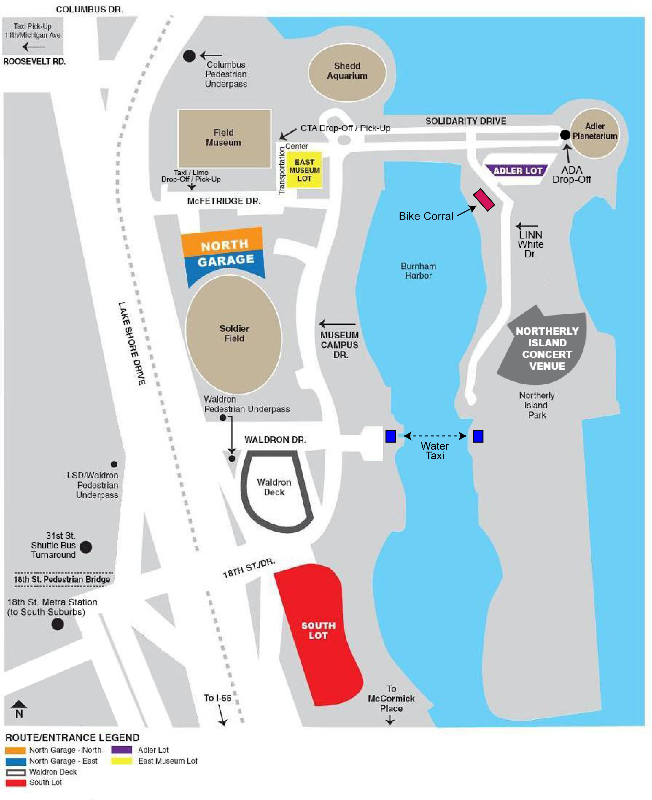 Getting In
Gate 1 – designated for guests that have tickets for the GA Floor, Reserved 300 Level Seats, and VIP seating of the facility.  These are the normal ticket gates used for all shows at the venue.

Gate 2 – East of Gate 1, next to the 12th Street Beach House. This is for guests that have a general admission lawn ticket that shows "Enter Gate 2" on it.

Gate 3 – Located at the south side of the facility off of Linn White Dr. This is for guests that have a general admission lawn ticket which shows "Enter Gate 3" on it.
GA Floor Tickets can get you back and forth to the lawn, but not the reverse (obvs).
The Oasis - "Located at the far end of the lawn, The Oasis is a large air conditioned tent, full cash bar (including crafts and imports), food, and lounge furniture to relax.  This will be open to all attendees from 6:00pm-11:00pm."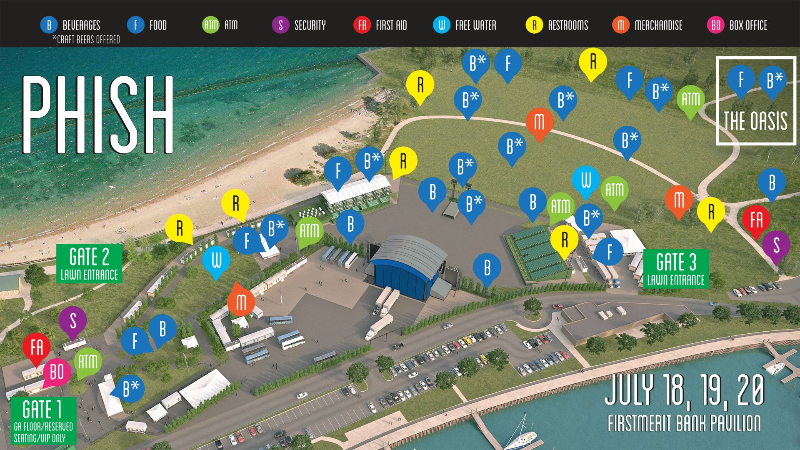 Searches were pretty lax at the gates in 2013.  Here's the official list of what they'll be checking for.  NOTE:  Coolers, food, and sealed waters are OK.  Also, dig the "mass quanities" warning.
Allowed in the venue

- Binoculars
- Non-professional cameras
- Blankets
- Backpack or small purse (searched upon entry)
- Empty Poster Tubes
- Glow Bracelets and Necklaces
- Glow Sticks (except mass quantities)
- Strollers
- Extra Clothes
- Factory Sealed or Empty Water Bottles of any kind (except glass or aluminum)
- Food in up to a one gallon ziplock bag
- 6-pack size collapsible cooler
- Non-aerosol bug spray and sunscreen
- Audio recording equipment

Items Not Allowed

- Professional cameras (anything with a detachable lens)
- Lawn Chairs
- Alcohol or beverages of any kind (other than factory sealed water)
- Weapons of any kind
- Drugs or drug paraphernalia
- Umbrellas
- Signage over 12"x12"
- Laser lights, pens or pointers
- Aerosol cans of any kind
- Any item deemed to be unsafe by venue management
- Video recording devices (other than cell phones)
Let me know what I missed and see you in the show!