Phishbill Program / Tracklist for Wingsuit by Phish, Debut at Boardwalk Hall 10/31/13
Phish broke from the costume part of their costume album tradition on Halloween 2013. Rather than dress up as another band for their second set, they debuted 12 new songs under the banner of Wingsuit, "an album from the future."
Much more information can be found in the program distributed to attendees at Halloweens since 1996, a cheeky parody of Playbill magazine known as Phishbill. Here's a PDF link to the 2013 / Wingsuit edition.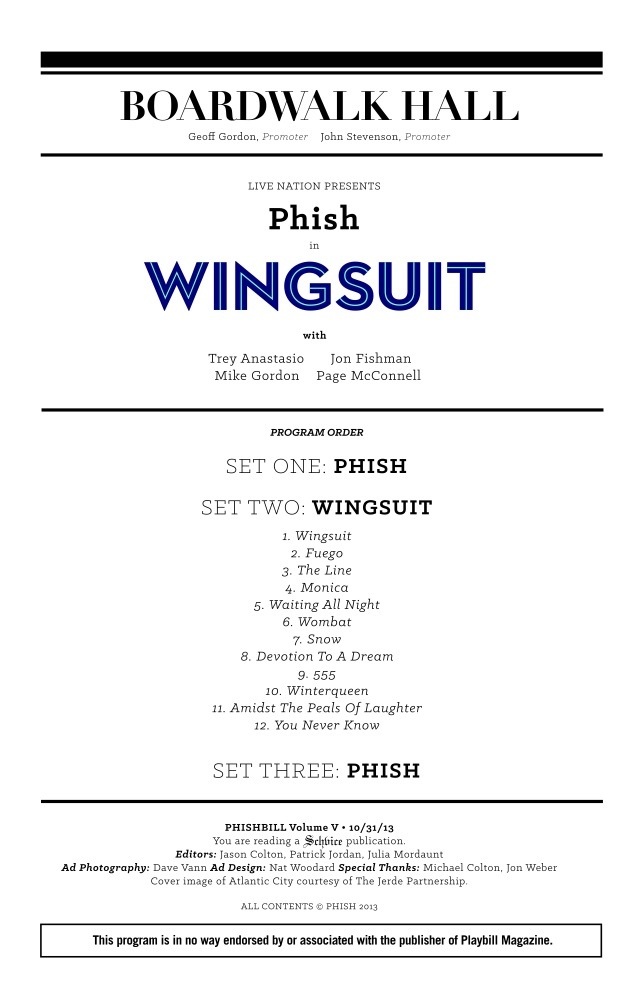 Full setlist via phish.net
Set 1: Heavy Things, The Moma Dance > Poor Heart > Back on the Train, Silent in the Morning, Kill Devil Falls, Mound, Free > Camel Walk, Stash, Golgi Apparatus, Bathtub Gin
Set 2: Wingsuit[1], Fuego[1], The Line[1], Monica[2], Waiting All Night[1], Wombat[3],Snow[2], Devotion To A Dream[1], 555[1], Winterqueen[4], Amidst The Peals Of Laughter[2], You Never Know[1]
Set 3: Ghost > Carini, Birds of a Feather, Harry Hood, Bug, Run Like an Antelope[5]
Encore: Quinn the Eskimo
[1] Debut.
[2] Debut; Acoustic.
[3] Debut; with Abe Vigoda and the Abe Vigoda Dancers.
[4] Phish Debut.
[5] Alternate lyrics referencing the Abe Vigoda Dancers.
Average Song Gap: 7.84
Performers: Trey Anastasio, Page McConnell, Jon Fishman, Mike Gordon, Abe Vigoda(Guest)
Notes: Breaking with tradition, Phish donned a musical costume "from the future," a yet to be recorded album that will apparently be entitled, Wingsuit. All of the songs in the second set were debuts other than Winterqueen, which was played by TAB on October 1, 2011. Monica, Snow and Amidst the Peals of Laughter were all performed acoustic, and Amidst the Peals of Laughter was performed as a Page and Trey duet.  Wombat featured the dance stylings of Abe Vigoda and the Abe Vigoda Dancers. Antelope also featured alternate lyrics referencing the Abe Vigoda Dancers. This show was officially webcast via LivePhish.com.