Phishify: A Guide To Facts, Figures and Year-By-Year Playlists for Phish On Spotify
[Updated 6/19/13 with Ventura release]
In recent weeks, the Phish community has rallied around PhishTracks, the web creation which allows streaming of nearly every freely traded show in circulation.  It is deserving of all accolades and excitement and is clearly an indispensable resource, but it's not the only way to get live Phish streamed directly to your computer or mobile device, and certainly not the way to get the best sounding tracks that also support the band.
It's no secret that we love Spotify at The Barn Presents.  As we celebrated the the 15th anniversary of the Island Tour, it was great to commemorate the four shows with high quality soundboard streams.  I thought I'd summarize the wealth of material available through the service and make it convenient to find just the Phish your looking for, including some of the most important performances of their career (complete Island Tour, New Year's 95).
And, yes, every time you listen to Phish on Spotify, the band gets a fraction of a cent.
Click a year for a chronological stream of shows available from that year
(opens in Spotify app, web links at bottom of page)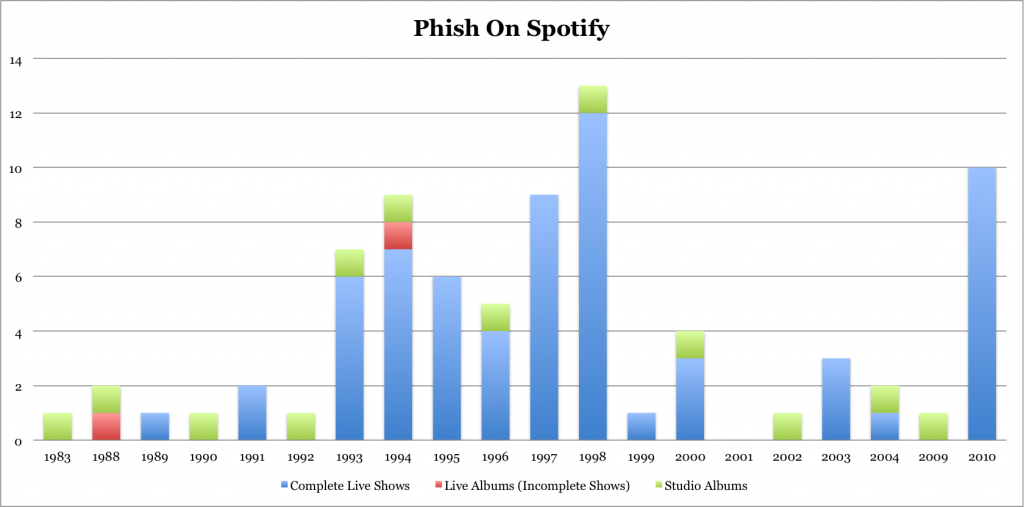 79 different items in total on Spotify -- shows or albums (single albums that contain multiple shows [e.g. Hampton Comes Alive, Chicago '94] count as seperate shows)
Colorado '88 and AliveOne are the "incomplete shows"
Notable Soundchecks and bonus material includes: a Mike's Groove from 8/11/93. the amazing Funky Bitch > Jam from 11/22/94, Columbus 94 Soundcheck, Halloween 94 Soundcheck Jam, Chicago 94 Soundcheck + Dog Log, UNREAL Wolfman's > Makisupa from Champaign '97, Hampton '97 Soundcheck,  MSG '97 Soundcheck, a bitchin' 15 minute Shafty from Island Tour soundcheck (plus other goodies), the glorious Tweezer from 10/30/98 (and the Free Bird), some practice for the Wipe Out gig, a 24 minute Scents & Subtle Sounds soundcheck from '03, and MUCH MORE.  Have fun exploring these playlists.
Notably absent: TMWSIY, The Siket Disc, The Victor Disc, Party Time, Headphones Jam, Slip Stich & Pass, Clifford Ball (a guy can dream, right? other releases with video have made it)
Oddly, looks like a lot of random 2010 releases have made it to Spotify, though the practice seems to have ceased in for 2011 and 2012.  Would be nice to see the top 4-5 shows from each of those years make it.
How about some shows from the early 90's?  And what about 99?
I wonder how a premium add-on to Spotfiy might work for every show available from LivePhish might work.  How much would you pay for that service?