Playlist: The Many Projects Of Jim James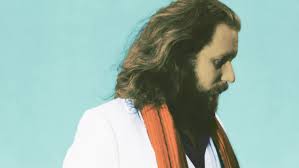 My Morning Jacket is currently working on two new studio albums, according to Rolling Stone. Their follow up to 2011's Circuital will be released in April 2015, with another full-length out in 2016.
"I just had tons of songs this time," Jim James told the magazine. "We didn't even get to all of them.
The interview with Rolling Stone reveals that the band took a more spontaneous approach to recording the new record, which is currently in the mixing process. With 24 "solid contenders" for the new records, the band's biggest struggle was sequencing the songs amongst the two discs.
In addition to the new My Morning Jacket releases, frontman Jim James is working on the follow-up to his 2013 solo-album Regions Of Light And Sound Of God, due in 2016 as well.
In anticipation of the new material, listen to a playlist of Jim James' many projects and collaborations below.
1. Jim James- A New Life (from Regions of Light)
2. Monsters Of Folk- The Right Place (from Monsters Of Folk)
3. M. Ward- Magic Trick (from Post-War)
4. The New Basement Tapes- Down On The Bottom (from Lost On The River)
5. My Morning Jacket- First Light (from Circuital)
6. The Flaming Lips & Fwends- Sgt. Pepper's Lonely Hearts Club (from With A Little Help From My Fwends)
7. The Roots- Dear God 2.0 (from How I Got Over)
8. Preservation Hall Jazz Band- I Think I Love You (from That's It!)
9. Jay Farrar- Talking Empty Bed Blues (from New Multitudes)
10. Yim Yames- My Sweet Lord (from Tribute To EP)
11. Bright Eyes- At The Bottom Of Everything (from I'm Wide Awake It's Morning)