Jim James Performs On "A Prairie Home Companion," Pays Tribute To Chris Cornell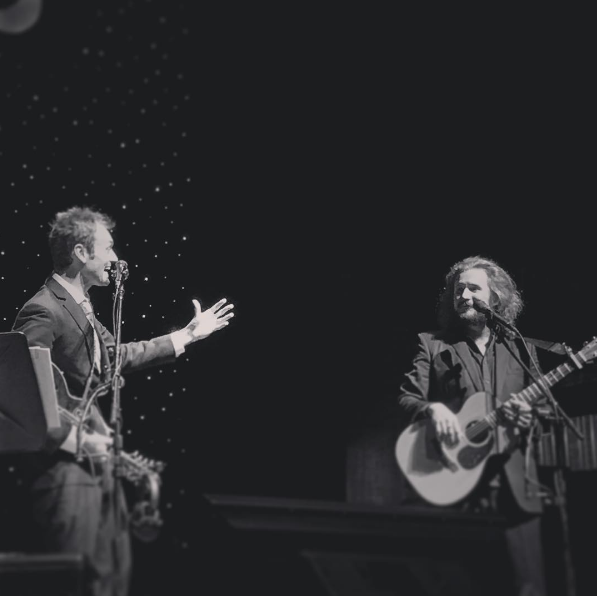 Photo: @frontrowkelly
The most recent episode of A Prairie Home Companion featured performances by Jim James, recorded live at the show's longtime home of The Fitzgerald Theater in St. Paul, Minnesota.
James first performed the New Multitudes track "Changing World" before covering Quincy Jones' "Everything Must Change."
The songwriter returned later in the show for an interview and performances of his solo song "Here In Spirit" and My Morning Jacket's "Wonderful."
In the interview, James talked about being influenced by Chris Cornell and other 90s bands.
"When I was coming of age was the heyday of the grunge era and I was really inspired by a lot of that music, but also there were bands like Nirvana, which I enjoyed, but then there were also bands like Blind Melon, and sadly, Chris Cornell from Soundgarden, and people who really sang," James said to massive applause from the audience. "Both of those singers, like Shannon Hoon from Blind Melon and Chris Cornell, were two people that really struck me like, 'oh my God, they can really sing. Like really stratospherically, operatically sing.'"
The show ended with James joining host Chris Thile, Sara Watkins, Richard Dworsky and The Show Band for a cover of Soundgarden's "Black Hole Sun," a tribute to the recently deceased Chris Cornell. The song predictably took a more folk-influenced direction, with upright bass and slide guitar throughout.
The show also featured songwriter Aimee Mann and comedian Hari Kondabolu. Stream the show here, where James appears at 00:54:20 and 01:31:13, and watch videos of "Black Hole Sun", James' solo perfomances and a comedy skit from the episode below.