Recap / Photos: Maceo Parker @ SPACE 3/1/14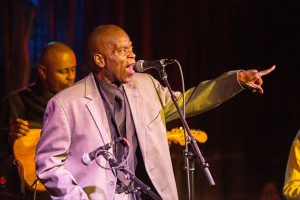 Photos by Heidi Peters, additional reporting by Des Peters
Maceo Parker has been on the front lines of funk from the days of James Brown through the P-Funk revolution and remains something of a hero to today's modern day funk crusaders.
His set on Saturday night at Evanston's SPACE touched on all these spaces and more, leading a veritable family band through a number of medleys, segues and fresh takes on classic funk material.
With a style befitting his status (sunglasses indoors…nice touch), he fronted the 7 piece band with the cool and confidence of a true legend.  Nephew Markus Parker held down the drums (his dad, Melvin, used to man the skins for JB) and cousin Darlene on backing vocals, they rounded out a high caliber group of musicians.
The first set of songs included a version of "In Time" by Sly and the Family Stone and "P-Funk Wants to Get Funked Up".
Observing the room at SPACE, Parker admired its intimacy and compared it to an old school jazz club. With only his keyboard player accompanying him, he burst into a crazy fast (and beautiful) John Coltrane style avant garde jazz piece. "That's an example of the music we don't play," he quipped.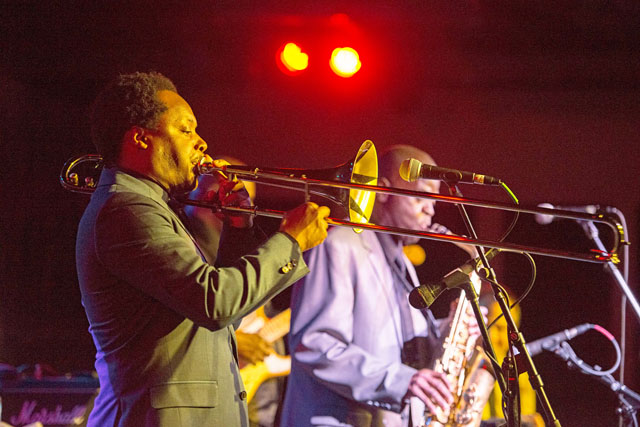 Maceo returned to the funk, old school style, for "Make It Funky" by James Brown, followed by "Think", in tribute to the late Lyn Collins.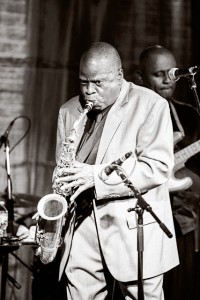 Another Brown classic, "Funky Good Time", proceeded a funked-up version of "Stand By Me", featuring the powerful vocals of Darlene Parker.  Maceo switched his alto sax for a flute for a soulful version of the Ray Charles classic "Georgia On My Mind".
The band's encore, "Pass the Peas", got everyone in the house on their feet.  Throughout the evening Maceo was relaxed and had a lot of fun with the crowd. His singing voice was full of soul, but when he blew that alto… the crowd was on notice.
 Heidi's Full Gallery