Recap / Setlist / Video: Zappa Plays Zappa @ Copernicus Center 10/10/13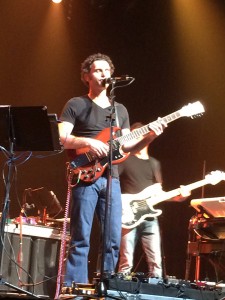 Words & Photos by @WeirScrewed
Frank Zappa is one of the most polarizing musicians in the history of rock music.  It's not uncommon to see, depending on what part of his songbook a critic is familiar with, to find points of view ranging from dismissive to reverential.  It's true that tunes like "Valley Girl" or "Bobby Brown" are satire that borders on novelty, but it's just as easy to look at his more sophisticated compositions and  compare him to classical greats like Mozart and Beethoven.
Controversy that began brewing as a working composer, bandleader and performer still lingers over almost twenty years after his death.  Mostly this has come in the former of licensing drama and a truly (bitter?) defensive position taken by the Zappa Family Trust. Bands such as Banned from Utopia and Project/Object, made up of Zappa band alumni, have tried to make a living recreating some of the music they played in support of Zappa, but these efforts have found themselves on the receiving end of squabbles initiated by Zappa's widow, Gail and her attorneys.
Because of this, Zappa Plays Zappa represents, to some people, 'the evil empire'  -- they are an extension of the Trust and represent the 'insiders' vs. the 'outsiders' of the aforementioned. Zappaphiles have been justifiably frustrated by broken promises (oft times around something as innocuous as show downloads), high ticket prices, bullying/threats of lawsuits, Roxy by Proxy, and the lack of consistent alumni participation.
Yet, Zappa Plays Zappa brings the one thing none of the other Zappa tributes bring: progeny.  Dweezil has worked diligently to bring credibility to his playing over the years and has won a great many people over with his dedication and technique. Surrounding himself with an almost entirely new band on this tour, while keeping his two most cherished members (multi-instrumentalists and vocalists Scheila Gonzalez and Chicago area native Ben Taylor) by his side, ZPZ rolled into town last Thursday and showed off its chops playing the 1974 live masterpiece Roxy and Elsewhere at Jefferson Park's Copernicus Center.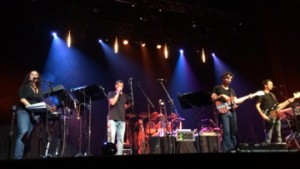 Dweezil Zappa steered this band through a night full of music that was at times awe-inspiring, at times weird, and at times just plain fun. Some might say that apple doesn't fall too far from the tree.
After a fiery "Gumbo Variations" opener, they tore into the classic album and delivered an almost perfect note-for-note recreation (minus the tuned percussion of Ruth Underwood) of the 1974 masterpiece. Highlights included the obvious "Village of the Sun">"Echidna's Arf"> "Don't You Ever Wash That Thing" and the album's still-relevant take on the LA riots, "Trouble Every Day".
After a brief intermission, the band started the second set with an absolutely scorching rendition of "Florentine Pogen", complete with blistering guitar solo. Also in the second stanza, "Flakes" and "Broken Hearts are For Assholes" had the crowd singing along, as did the finale "Muffin Man."
All in all, this was a fine venue / band pairing -- a great stage of a big band in a neighborhood  location with first class sound, and amenities. Kudos to ZPZ for booking here.  Ideally more acts worth a trip to Jefferson Park will follow.
Set 1:
Gumbo Variations
Penguin In Bondage
Pygmy Twylyte
Dummy Up
Village Of The Sun>
Echidna's Arf (Of You)>
Don't You Ever Wash That Thing
Cheepnis
Son Of Orange County
More Trouble Every Day
Be-bop Tango (with dance contest)
Entertainment Tonight theme music
Set 2:
Florentine Pogen
Teenage Wind
Teenage Prostitute
The Black Page 1 and 2
Flakes
Broken Hearts are for Assholes
I Come from Nowhere
Wino Man (sung by a roadie)
Muffin Man