Recap, Setlists & Audio: Shoe Groove, Afternoon Moon, Catfish & Dogstars, and Ed Anderson, Ace Bar, 6/15/12
Words and Photos: Dave Weckstein
I have arrived at two certainties today.  One:  I have some new favorite grub -- I write this review after having experienced for the first time the splendor that is Kitsch'n Diner's chicken and waffles. Two: I think my breakfast choice was influenced by hearing the debut of  Shoe Groove, a musical mash-up of artists from both Old Shoe (Matt Robinson, Paul Priest, Joe Day) and Family Groove Company (Janis Wallin, Mattias Blanck).  Shoe Groove, like the unlikely culinary pairing with a cultish following, proves that certain things simply work well together.
Ace Bar had a raucous crowd on Friday who were all "groovin on it" from the start, celebrating the birthday of Old Shoe's manager Mike Kaiz. A festival type atmosphere was in the air -- with the bill also sporting Summer Camp artist Afternoon Moon, up-and-coming roots jam act Catfish & the Dogstars, and Ed Anderson of Backyard Tire Fire playing the tweener sets.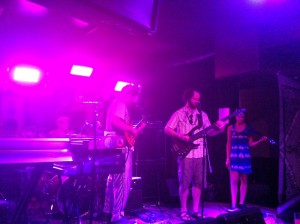 Catfish & the Dogstars
Catfish & the Dogstars is a roots funk jam act from Chicago that's comprised of a variety of talented musicians. The quintet is starting to make ripples and gain notoriety after winning entry to Whippersnap Music Festival through a "battle of the bands" contest.
They've also had the luxury of playing as "the Friends" for local guitarist Eric Lambert (Eric Lambert & Friends) at Alive One on Wednesday night's. This opportunity has greatly expanded the bands musical depth and cultivated a richer experience to an already dynamic sound. Listening to Catfish & the Dogstars, I immediately felt that this group has spent hours together practicing as each soulfully crafted song transitioned into the next in a seamless  barrage of audio delight.
Their Friday Ace Bar set demonstrated this perfectly.  The band carefully scripted a handful of songs to give the listeners all the music that the shorter set could handle. It was a perfect start to the evening because there was no awkward dead space or any filler banter.
Catfish also boasts a singing drummer in Collin Nordine who along with Rev. Michael Morgan give the group a sort of Southern funk appeal. When Najeeba Syen puts a bow to her "flying V" violin it adds a polished styling and flair which complements bassist Dan Rogers on the low end. This is a dynamic ever-evolving band that everyone attending Whippersnap in late July should be sure and check out.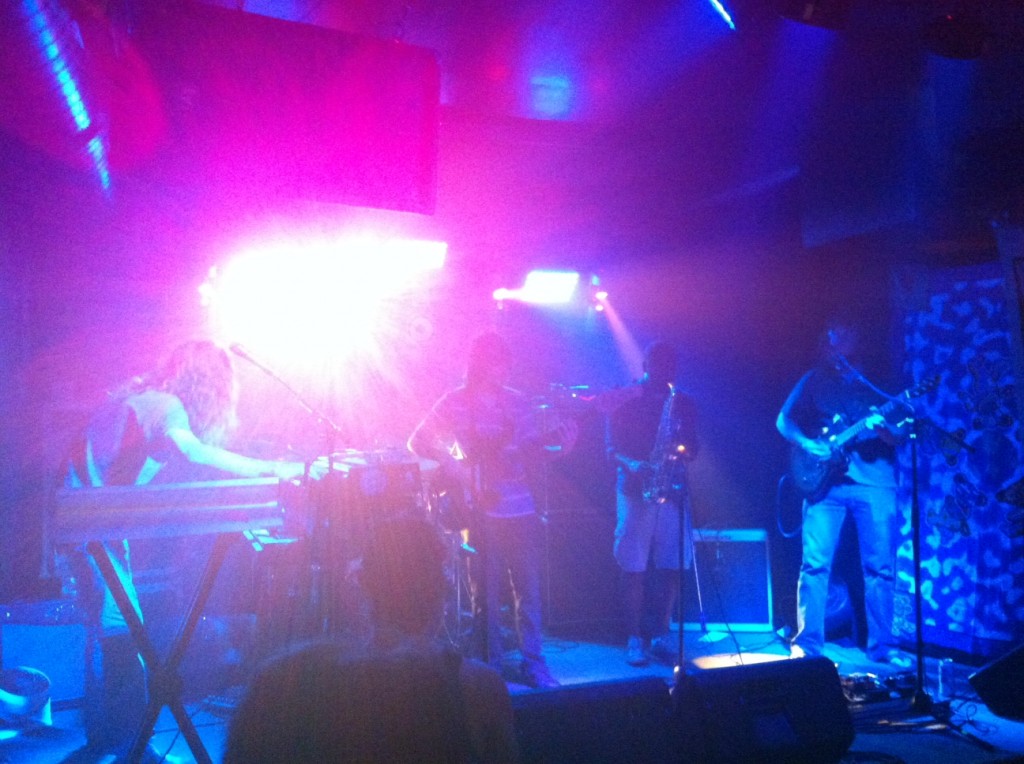 Afternoon Moon
Having completed a wildly successful Summer Camp performance just a few weeks prior, Afternoon Moon knew a thing or two about throwing a party. Opening with a rousing jam-infused cover of Radiohead's "Paranoid Android" the familiar bass riff hit after the first verse and you simply knew the fellas brought their "A" game.
Truthfully, it is challenging not to get sucked into what is going down on stage when these guys play. The entire band was so kinetic -- with exaggerated, herky-jerky movements complementing their sound.
Jordan Daniels (vocals/piano/organ/moog) behind his ivory keyed tower doesn't seem to actually see what he's playing, yet hits each note with impeccable timing and panache. He stands thrashing his head back and forth as his body reels to and fro, while across the stage his twin brother Josh Daniels (vocals/guitar) shreds in a Hendrix induced haze.
Toward the end of the set, this power was particularly felt during "Can't Sleep a Wink" > "Paint the Town", the latter of which will soon be released on the band's second album. They will perform at Liquid Blues on June 22,  in a battle of the bands competition for a spot on the Jammin on the Wolf Music Festival lineup. The crew is bound to throw in an epic head banging hair flip for those in attendance.
Ed Anderson
Ed Anderson, played during the set breaks and kept many, who might be predispose to "step outside",  in the building with covers of the Doors "Roadhouse Blues" and the Beatles "Day Tripper." He commanded an indoor semi-circle around his side stage, performing  Back Yard Tire Fire/Magic Box originals as well.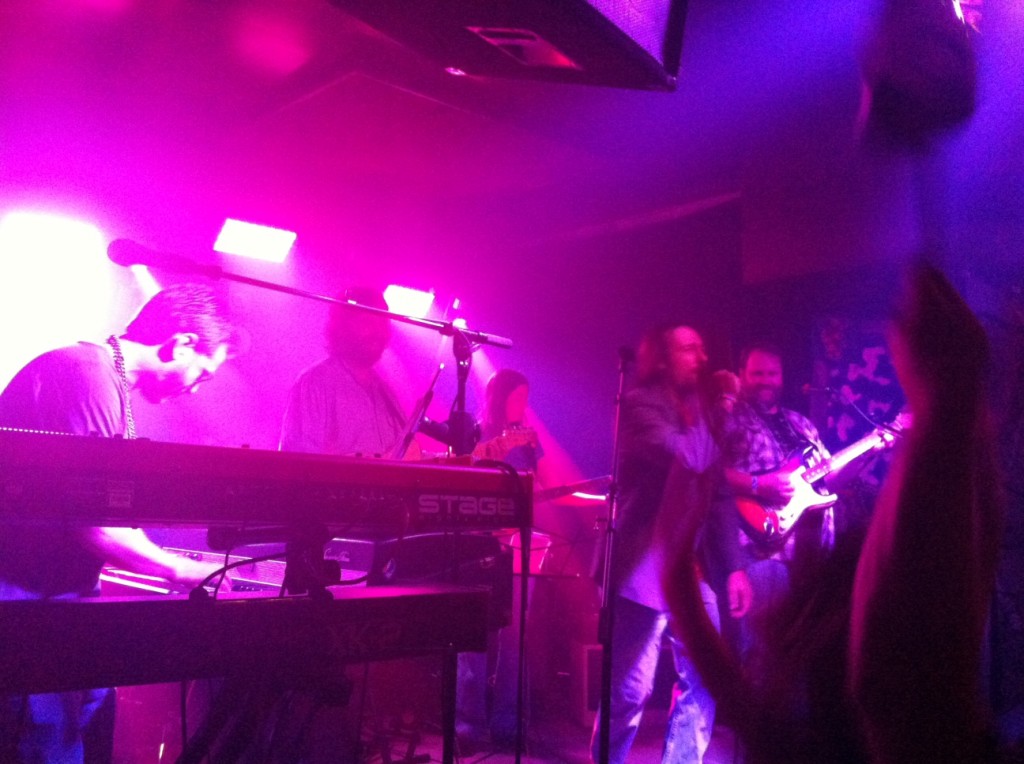 Shoe Groove
If variety is the spice of life collaboration in music is the salt -- it preserves the flavor and cures any show. Fortunately for those who witnessed the debut of Shoe Groove last Friday they received a heaping of great licks from the Ace Bar sampling block.
After weeks of practicing feverishly in preparation, they unleashed fury with what is getting to be a crowd favorite in a extended "Days Rain Night" as their opening song.  As Joe Day wrangled his best John Bell impression on vocals Paul Priest on lead guitar played the part of Jimmy Herring to perfection for Widespread Panic's "Tall Boy", which was dedicated to Mr. Kaiz who is a lifelong "Spreadhead".
Janis Wallin played a mean minor five chord on "Welcome Home" and, along with Mattias Blanck performing a rendition of Sublime's "Badfish", fused Family Groove Company's signature compositional tightness to the intricate improvised stylings of Old Shoe.
Sit-Ins Galore could have been the tagline of the evening as Greg Fundis from MathGames and FGC's Jordan Wilkow joined in the mix.  Jordan filled in on keys for Beck's "Debra" which allowed a blazer clad Joe Day to re-enact a legendary performance from back in '99.
Joe Day has got to be one of the most soulful Alaskan bred musician in the continental 48 states. His range is simply astounding and his unquenchable talent on keys is equally breathtaking.
Other highlights included Paul Priest belting out a Levon Helm-channeled "Ophelia", as well as the collective segment of "Let Yourself In",  "Have A Cigar", and "Woodstock" which saw Shoe Groove power up as they brought Old Shoe bassist Dan Huber from the crowd to play a solo or two. The soul was alive for the finale as the crowd sang off the birthday boy in style with an adaption of the Grateful Dead classic "Casey Jones" tweaked to "Kaizy Jones."
Stream: Shoe Groove's Set
I surely hope this is not the last we have seen from this Chicago based super group. There has got to be some open summer dates where someone else was born, right? Party on Shoe Groove, party on Chicago.
Both Old Shoe and Family Groove Company play sets at Stranger Danger Music Festival in Chicago this weekend.