Review | Ben Gibbard Live From Studio X 4/14/15
By: Alex Wood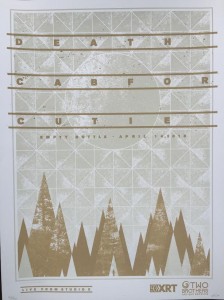 Death Cab For Cutie's Ben Gibbard performed an intimate WXRT 'Studio X' session at the Empty Bottle on Tuesday, offering a handful of acoustic songs and multiple live interviews.
Two weeks away from Death Cab For Cutie's Chicago Theatre dates, Gibbard flew to Chicago specifically for the short sessions, a fact that WXRT's Marty Lennartz remained especially appreciative of throughout. Additionally, this marked the first 'Studio X' session to take place at the Empty Bottle.
Despite the line around the corner of the venue prior to doors opening around 4:00, the venue wasn't particularly packed, offering a relaxed environment for roughly 100 ecstatic fans.
Gibbard walked on stage to huge applause and instantly began performing "Black Sun," the first single from Death Cab For Cutie's newest full-length Kintsugi. The sound was practically flawless, with Gibbard's guitar crisp and clear, every string fully audible within every strum. His distinctive vocals sounded full and deliberate, every word falling carefully into every catchy melody.
The singer was predictably more talkative than usual, and told the story of performing with John Cale, a personal hero, who didn't remember Gibbard's name on stage.
"Photobooth" followed, a highlight from the short set and the oldest song performed, a definite treat for Death Cab fans. The song's guitar work was significantly more intricate, featuring a constant barrage of slides and hammer-on's, yet felt effortless, Gibbard never missing a beat despite the lack of accompaniment.
Perhaps more than anything, the inclusion of the older song, dating back to 2000, proved that Gibbard's work for Death Cab For Cutie hasn't seen a drastic change in the last fifteen years. Though the band's style has changed from album to album, the songwriting at its base is strong as it ever was, demonstrated perfectly by the back-to-back performances of "Black Sun" and "Photobooth."
Lennartz then interviewed Gibbard, discussing Gibbard's recent tour with The Postal Service and the recording of Kintsugi. Throughout the interview, Gibbard seemed to stress the importance of utilizing a new producer, Rich Costey, as usual producer and guitarist Chris Walla announced he was leaving the band. Referring to the situation as having "more hands," Gibbard considered it advantageous.
Gibbard followed with two Kintsugi tracks, "The Ghosts Of Beverly Drive" and "Everything's A Ceiling."
Though both were fairly simple, they were performed with precision and gentle enthusiasm, both building to catchy choruses but otherwise relying on verses built of Gibbard's extensive vocabulary and intense imagery.
Another interview followed, with the discussion focusing on Gibbard's songwriting process. Gibbard talked about the meaning of the word Kintsugi, a Japanese tradition of fixing broken pottery in a way that leaves the original cracks visible, yet pieced together to increase strength.
In regards to fans' reactions to Gibbard's songwriting, the singer stressed that he's "not some kind of healer," referring to the songwriting process as "personal catharsis."
Gibbard finished the set with a soft but emotional performance of "I Will Follow You Into The Dark," one of few Death Cab tracks truly designed for the acoustic setting. Performed impeccably, Gibbard brought new life to the song through subtle nuances such as the occasional pause or emphasis on specific lines.
Gibbard expressed his appreciation toward WXRT and Lennartz, the two hugging at the show's completion. After a true one-of-a-kind performance from an eminent songwriter, I feel the need to thank WXRT as well, for bringing more momentous musical scenarios to the city than anyone else.
Death Cab For Cutie performs at Chicago Theatre on April 30 and May 1.
Setlist:
1.) Black Sun
2.) Photobooth
[Interview: Postal Service tour / new album / new producer]
3.) The Ghosts Of Beverly Drive
4.) Everything's A Ceiling
[Interview: Kintsugi meaning / fans' reactions to songs / songwriting process]
5.) I Will Follow You Into The Dark