REVIEW | Cornmeal Winter Wednesdays @ Martyrs' 1/18/17
By: Nick LaMantia | Photo: @zebaystone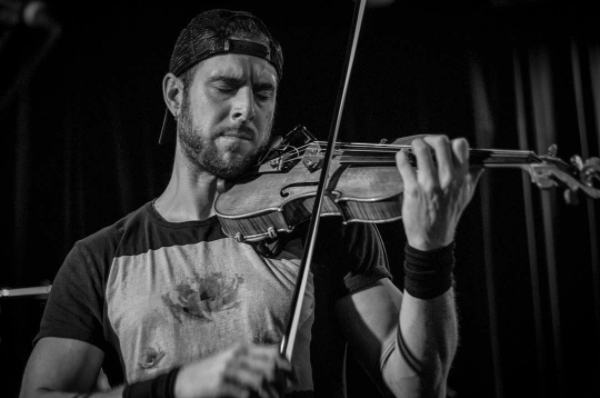 After a few years marked by lineup changes and the subsequent search for musical cohesion, Chicago roots / bluegrass band Cornmeal has found their groove again. Their January 18th "Winter Wednesdays" show kept an energetic crowd's feet moving throughout the nearly two hour set.
The show kicked off with the staple "When the World's Got You Down", which featured a rollicking rock-and-roll guitar solo from guitarist Scott Tipping amongst the folksy verses and harmonized chorus. Tipping's overdriven tone and blues scale riffs might seem out of place alongside a banjo, upright bass, and fiddle, but it fits right in with Cornmeal's unique flavor.
Their electrified sound strays far from the bluegrass label often placed on them. For one, most bluegrass banjo players don't have a full board of effect pedals like Cornmeal's "Wavy Dave" Burlingame does.
The band clearly enjoyed themselves (a PBR or two on stage doesn't hurt) and treated the crowd to four covers over the course of the show. The highlight, Eric Clapton's "Lay Down Sally", featured an old-timey banjo driven melody and a funky halting beat from drummer Drew Littell. Again, Tipping's guitar brought the jam section to a rocking peak, eliciting some "wooos" from the crowd. Call it experience, confidence or what have you, but his chops have progressed leaps and bounds since joining the band in 2014.
Near the end of the show, the extended "River Gap" featured the full band jamming in unison, with Phillip Roach's fiddle supplying sustained notes that held it all together. "Gap" also featured a distinctively Cornmeal 'banjo trance' section, something that didn't always make an appearance following the 2012 - 2014 lineup shuffle.
As the night wound down, bassist Chris Gangi thanked the crowd before encoring with a crowd pleasing cover of the Talking Head's "This Must be the Place". Nearly the entire audience stuck around into the early hours of Thursday to hear the final number, a testament to an entertaining show and amicable band that's continuing to evolve.
Cornmeal plays 1/25, 2/8, 2/15, and 2/22 as part of their "Winter Wednesday" residency at Martyrs' on Chicago's north side.
Setlist: 
When the World's Got You Down  
Miss Me When I'm Gone  
Calling Me Back Home   
Drinking Away the Memory of You >     
Lay Down Sally -- Eric Clapton  
Like a River Rolling On (Back Where I Belong)
Jenny in the Middle
Always in Love  -- Wilco  
River Gap   
Dear Prudence -- The Beatles   
Burn my Body Down
Encore:
This Must Be the Place (Naive Melody) -- Talking Heads