Review | Dr. Dog @ The Riviera 3/12/16
By: Ryan Mannix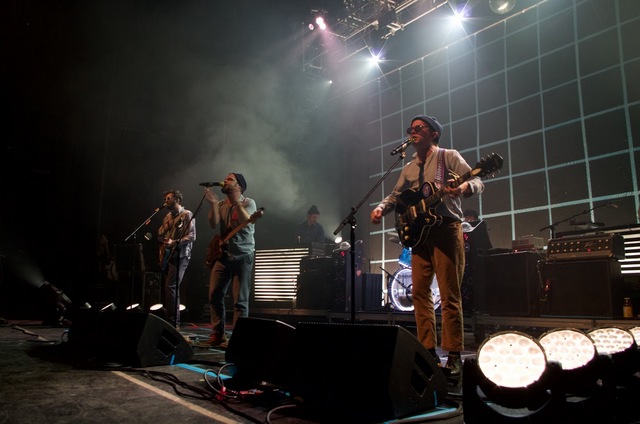 When a band walks out to an 8-bit version of their own tunes, you know something strange is about to go down.
Dr. Dog used a Nintendo-fied version of "Badvertise" to kick off their show at Riviera Theatre and pivoted into a psychedelia infused pop and rock show worthy of the creative walk out music.
They lit into the sequence of "Holes In My Back", "Fire On My Back", and "Bring My Baby Back", three new tunes from Psychedlic Swamp that have opened most shows on the current tour supporting the concept album. "Fire On My Back" is a creatively constructed tune that incorporates every element of a good Dr. Dog song, clever lyrics, inventive melodies, rocking guitar riffs, and a general goofy weirdness. I can definitely see it becoming a show staple.
"That Old Black Hole", perhaps the bands most known song, was next. Shockingly, Dr. Dog has really never had a bona fide radio hit, even though their catalog is chock-full of extremely catchy pop music. Their Riv-sized following was built by word of mouth and putting out great albums.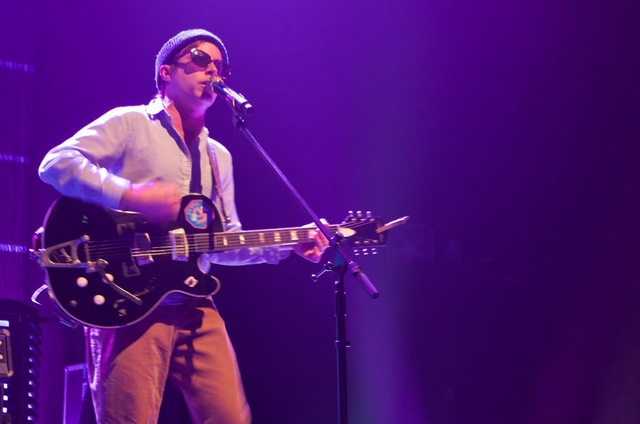 Nearly every song was capable of launching the crowd into full sing-along mode, and I witnessed plenty of friendly hugs and high fives for everyone's old favorites, which included "The Old Days", "How Long Must I Wait?" and "Broken Heart".
"Shame, Shame" followed, two songs rolled into one that feature some of bassist/ vocalist Toby Leaman's growly lyrics and floaty grooves. The song ends with a rocking guitarmonized line.
"Be The Void" led to a trippy, mellow excursion. Its slow haunting groove allowed drummer Eric Slick to showcase his talent -- adding some progressive hip-hop style playing where he constantly toyed with the beat. The band was completely engulfed in darkness, allowing the light show to take over.
The group offered a tighter, sleeker aesthetic with the grid backdrop and stage setup, which usually features a hodge-podge of retro instruments and amps.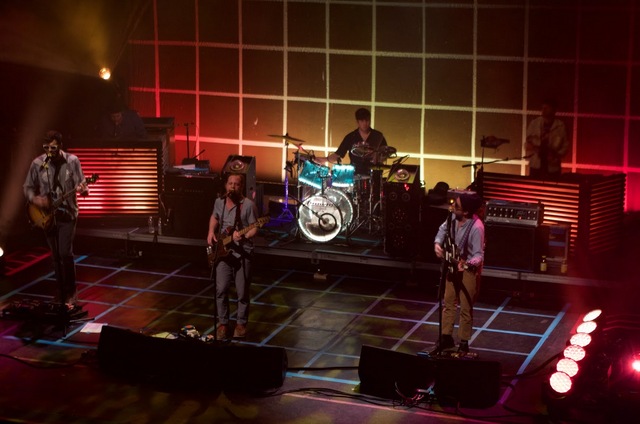 The band bounced around on stage through "Hang On" and "Shadow People", before closing the set with "The Beach", one of the darkest and grittiest songs in their catalog. Leaman's agonized screams, coupled with Zach Miller's church-like organ give this song a frightening tone. The crowd sung along, "Fate has got a funny way of coming around", as the band left the stage.
The encore started with "Say Something", a Scott McMicken tune from Easy Beat. Once a concert rarity, the song has appeared more on this tour than the last five years combined. It has the epic, classic rock feel that Dr. Dog has mastered.
Another favorite Scott song, "The Rabbit, The Bat, and The Reindeer", put the band's already high energy through the roof. Anchored by Frank McElroy's melodic guitar lines, and high harmonies, this song always works well in a late set spot.
The common show closer, "Lonesome", found Miller ripping a slide guitar solo and Leaman making his way into the audience. Time for the assembly to get out that last bit of singing and dancing before being dismissed.
The venue was already packed in tight for The Districts, another Philadelphia based group.
This young band has garnered a lot of buzz over the past few years and it's cool to see such a healthy crowd for an opening act. Echoing vocals and heavy guitar feedback lend an edge to some well crafted tunes.
They made a fine pairing for Dr. Dog, and their rawer aggressive side actually evoking Dog's earlier material. The group slowly built up the intensity throughout out their set, culminating in a loud and noisy jam with notes of Built To Spill. Dual overdriven guitars weaving lines around the raucous rhythm section led to a musical peak, inciting warm reactions from the crowd.