Review / Full Show Video | The Who @ Allstate Arena 5/13/15
By Matt Fricks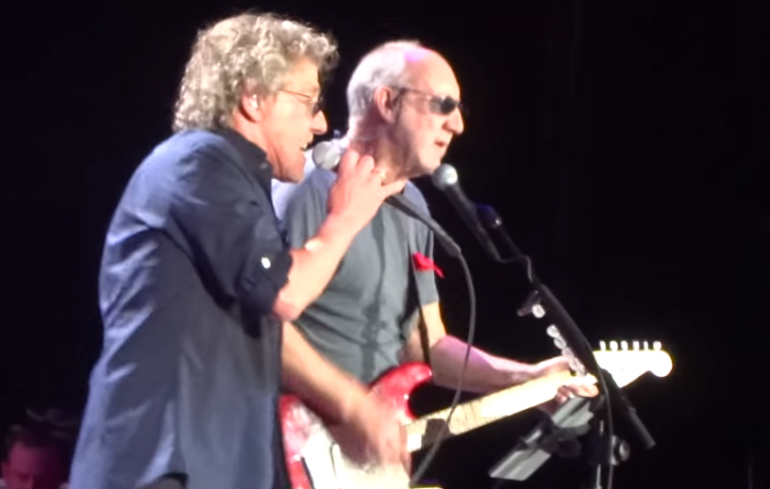 Another one of music's iconic groups celebrated a fifty-year anniversary in the best way possible: a full tour honoring their decades of music. The Who and graced the Allstate Arena Wednesday night with a setlist jam-packed with hits, a stunning stage setup, and surprisingly elaborate performance.
I was lucky to score some free last-minute tickets to the event and man, was I glad that I went! From the opening notes of the 1964 single, "I Can't Explain," I knew this would be one stellar performance. Roger Daltrey consistently demonstrated the resonance that his voice still holds. While the backing vocalists certainly helped by adding some depth to choruses, Daltrey surprised the hell out of me with how well his voice still carries. He reached for notes and hit them consistently.
Pete Townshend displayed why he is recognized as one of classic rock's finest guitarists. Taking to a number of Fender axes throughout the night, his strummed away like it was the sixties – bopping around onstage and jumping on the microphone to add his raspy tone to the mix. Townshend pushed boundaries the entire night, as he constantly reached for peaks in every solo…and he, too, nailed them. Let me tell you…age has not affected the motivation and drive of these guys. They are still so passionate about this music after all these years and it shines in their performance.
Some of the night's early highlights included a slightly up-tempo "My Generation," a powerful rendition of "I'm One," and "Squeeze Box," which featured a prominent banjo solo that had the crowd dancing along.
The sound was damn near perfect, the lighting rig was engaging, and the video screens (when utilized) were captivating, particularly during the motorcycle riding snippets for "The Kids Are Alright."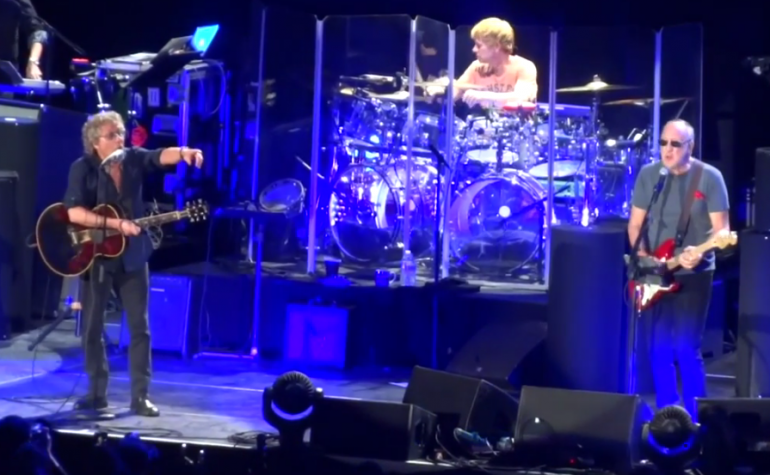 The Who pumped out hit after hit, touching on all of their classic albums. The crowd's attention never wavered for the duration of the night, even during the slower numbers, as everyone echoed out the haunting lyrics of songs like "Behind Blue Eyes" and "See Me, Feel Me."
Yes, the Eddie Vedder guest appearance was the surprise of the night. I have seen Pearl Jam cover "The Real Me" on several occasions and Eddie crushed it once again, as he traded off lead vocals with Daltrey. It was played to absolute perfection. However, there was another number was at least its equal.
Upon hearing the opening piano notes of "Love Reign O'er Me," I had mixed feelings. First, it was pure excitement -- it is quite possibly my favorite song from The Who and doesn't always make the cut for the setlist. Next, I felt a bit of fear for Daltrey's voice. This is no easy vocal by any means…it may be one of the most difficult vocals to pull off in rock and roll. Even with the right "scream", conveying the right emotion is just as important. And the veridict: bone-chilling satisfaction. Townshend fired away with his Stratocaster as Daltrey took the lead and got the crowd on their feet with angst-fueled passion.
Standing ovation. Incredible moment.
The show concluded with a number of hits that were played well. Townshend shined with his memorable vocal line in "Baba O'Riley" and "Won't Get Fooled Again" featured a strong closing jam. This was a great performance that reminded all in attendance of the magnificent catalog and mesmerizing legacy of one of rock's finest bands.
Check out this playlist of the full show assembled from videos by shine pigeon, joeypgh1, Sojahsey1, Kimock7, and Louie Campagna -- a veritable Who's Who (no pun intended) of Chicago area videographers.