Review: Honey Island Celebrates Release Of Cane Sugar at Martyrs 8/2/13
Words and Photos: Captain Deep-Track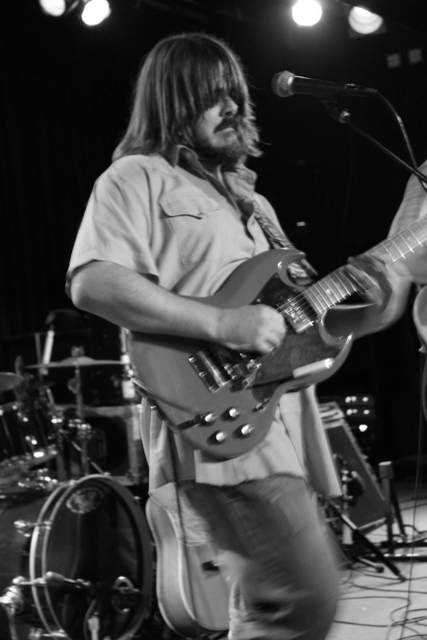 The City of Chicago was alive with the sounds of music this past weekend as the annual Lollapalooza festivities rolled into town. Tens of thousands of die hard music fans crowded Grant Park on Chicago's beautiful lakeside, as dozens of today's hottest musicians rocked several stages from midday to sunset and beyond. As the lights and sounds at Grant Park began to fade, fans scattered across the City to various after parties and late-night gigs.
Such is the vibe every year in New Orleans for the Jazz and Heritage Festival, lovingly referred to by enthusiasts simply as JazzFest. For two weeks every spring, the fairgrounds empty at 7pm and the dozens upon dozens of music venues fill up with shows starting anywhere between 9pm and 3am. You've not lived until you walk out of a music club at 6:30am and feel normal. And I'm not talking about some EDM fueled party either, you won't find that at JazzFest. So it was befitting that New Orleans' own Honey Island Swamp Band took the stage at one of the city's premier live music venues to play their own "late" night gig. Martyrs' would be the site for a very special night, celebrating both the release of their new album and some special moments for die hard fans.
Cane Sugar is the band's fourth release since their formation in San Francisco during the summer of 2005. When Hurricane Katrina rocked the Gulf Coast, many residents were forced to leave their homes. The soon-to-be members of Honey Island Swamp Band were also destined for such a fate. The musicians, some having previously worked together with other bands, found themselves marooned in San Francisco for an unknown duration. They joined forces as the Honey Island Swamp Band for a weekly Sunday night gig at the Boom Boom Room. They remained in the bay area for several months, playing live gigs as often as they could and cutting their Eponymous EP, all the while waiting for word that it was safe to come home. Eight years later, Cane Sugar is the culmination hundreds of live gigs, an ongoing rejuvenation of the New Orleans spirit and the best work to date for the band.
On Friday, August 2nd, the band took the stage at Martyrs' to celebrate the national release of Cane Sugar (July 30th). Beginning with a special introduction by a Chicago-based super fan who, along with his wife, were each celebrating their 100th HISB show (in 3 years!). Following the introduction, the band launched into "Lined Up Losers"...and the fire was lit. A smokin' cut from the 2005 EP, "Lined Up Losers" is a rockin' tale of life on the road. Keyboardist Trevor Brooks jumps out early, pounding his keys and giving us a glimpse of what would continue until the last note was heard. Frontman Aaron "A-Ron" Wilkinson proclaims in the last verse, "The kids have been out all night long, just trying to get fucked up!" Indeed they were, as that really got the crowd fired up.
"Cast The First Stone" and "Prodigal Son", both cuts from the new record, kept the crowd moving as the band was off to a fantastic start. Up next was "Sophisticated Mama", a Washboard Sam original that the band covered on their 2009 Wishing Well album, which took fans on a blues journey through the most talked about topic in music history: women. If there's anything that the HISB is known for it's their ability to mesh fantastic and somewhat obscure covers into their shows and that would be no exception tonight. At the urging of their fledgling fan club, The Bluebonnet Roadies, the band covered Rodney Crowell's "I Ain't Livin' Long Like This". Guitarist Chris Mule´ revs the engine as Sam Price (bass) and Garland Paul (drums) provide the climbing rhythm section on the way to a country-rock party. Trevor slides in on keys as A-Ron adds tempo with his mandolin. The engines are fully revved and the band is approaching break-neck speed. The crowd responds. Not a still body in the room. Damn, that song just smokes.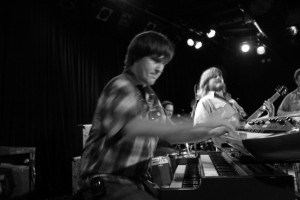 An extended "Change My Ways" and the acoustic "Miss What I Got", two more tunes from the latest record, continue to round out a stellar first set, before the band once again dives into their songbook for "Josephine" -- a song previously recorded by Mule´ & Wilkinson with Eric Lindell's band, but since reworked into the Honey Island Swamp Band swamp-rock style. "Josephine" is a crowd-pleasing number that has fans dancing and singing along with Wilkinson. Next up is the namesake of the fan club, the haunting tale of love lost known as "Bluebonnet Road". As the song slowly builds featuring A-Ron's soulful vocals & acoustic guitar work, the crowd is drawn in as the rest of the band joins in to take them on a tragic ride. Chris Mule's solos and wailing guitar work provide a perfect backdrop for the mood down there below Bluebonnet Road. If you ever got in your car to go kill someone for revenge purposes, this might be the song that you play (note: please don't get in your car to kill someone for revenge purposes). To close the set, the guys pull another track from the new record. "Never Saw It Comin"' is a bouncy number that debuted at JazzFest 2012 and this proved to be one of its best performances  to date. The band left the stage to a roar of applause and celebration, with the promise of another set to come shortly.
As many of us know, the first week of August is celebrated as "Jerry Week", honoring both the birth (8/1/42) and death (8/9/95) of legendary Grateful Dead guitarist Jerry Garcia. As they did during previous gigs that week, the band payed tribute by covering a Dead tune, this time it would be "Deal".  HISB gladly conquered yet another request from their Chicago family by laying down a monster version of the song "Slip", from their 2005 EP. A funky, power-driven Chris Mule´ original has the crowd bouncing and swaying as A-Ron's mandolin rolls along behind Mule's funky fried-chicken guitar licks. A-Ron's extended mandolin solo keeps the funk alive as Sam Price lays down a sweet impenetrable bass-line. Meanwhile, Trevor Brooks hasn't stopped shredding the keys since the first song. "Slip" is no exception. The entire band gels perfectly as they crash out of Trevor's organ solo and stretch out the ending of Slip to the crowd's delight.
The band takes a minute as A-Ron dedicates the next song, "Top Quality Fine", to a special Chicago family member who has had a health scare recently and couldn't be in attendance. The band and the rest of the HISB family gave a special shout out to their brother with one of the crew's favorite HISB originals. In what sounds like an homage to the Rolling Stones, TQF kicks off with some nasty Mule´ guitar work. It's a rocker of a song that hasn't seen much time on the field these past few seasons. You wouldn't tell by the crowd or the band's tight playing. As an emotional TQF closed, the band invited Lubriphonic's guitarist Giles Corey up to the stage for a funked-out version of Dylan's "Gotta Serve Somebody". Mule´ belts out Dylan's endless rhymes while Sam Price and Garland Paul have the rhythm section dialed in like a safety net beneath the rest of the band. They're free to take off and so once again Trevor Brooks shines throughon his organ. Corey takes a turn before Mule´ falls back in with the vocals as they close the song down.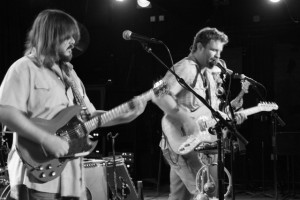 If you've been to a few HISB shows lately, you'll notice that the title track from the new album usually signals that it's getting late. It's easily identified by a gentle piano intro by Brooks, which leads into what many consider to be the band's crowning achievement from the new record, perhaps to date. The song builds as Wilkinson remembers his home town with a seemingly fairy tale vibe. Switching back to the organ, Brooks leads the band in an onslaught finish to "Cane Sugar" that has Martyrs' rocking as we creep well into Saturday morning. But it's only 1am (or something like that)! So, out comes their homage to many of the girls we knew growing up, "Country Girl", from the 2010
Good To You
record. As Mule´ sings "dance by the light of the moon," the crowd follows his lead, albeit to the dim lighting of Martyrs'. The set closes and the band once again strolls off stage. "Nope, not good enough," we thought, and the aforementioned 100th show guy hops up on stage to incite the crowd, or a riot, who knows. That line from "Lined Up Losers" was the perfect harbinger of what Martyrs now looked like. "The kids have been out all night long just trying to get fucked up." While most of the crowd is 30 and up, it's always a party with the Honey Island Swamp Band and perhaps they inspire more drinking, but it works. No bullshit, no sloppiness, just fun as it was meant to be had.
As the band walked back on stage moments later for a well deserved encore, there is but one "grievance" remaining on the list given to the band pre-show. Garland Paul starts in with the kick drum and everyone knows it's time for the epic "Wishing Wel". Perfect. The inebriated crowd at Martyrs' erupts in joyous celebration. This one's gonna take a while. Good thing they haven't made last call yet.
Setlist:
Set 1: Lined Up Losers, Cast The First Stone, Prodigal Son, Sophisticated Mama, I Ain't Livin Long Like This, Change My Ways, Miss What I Got, Josephine, Bluebonnet Road, Never Saw It Comin'
Set 2: Deal, Slip, Top Quality Fine, Gotta Serve Somebody (f/ Giles Corey), Cane Sugar, Country Girl
E: Wishing Well
Honey Island Swamp Band is:
Trevor Brooks: Keys and Hammond
Chris Mule´: Guitar and vocals
Garland Paul: Drums and vocals
Sam Price: Bass and vocals
Aaron Wilkinson: Guitar, mandolin, harmonica and vocals
Cane Sugar is available via iTunes and Amazon.  Also streaming on Spotify and other online music services.