REVIEW | Julian Lage & Chris Eldridge @ Old Town School Of Folk Music 2/26/17
Words: Ryan Mannix | Photos: Faraz Chaudry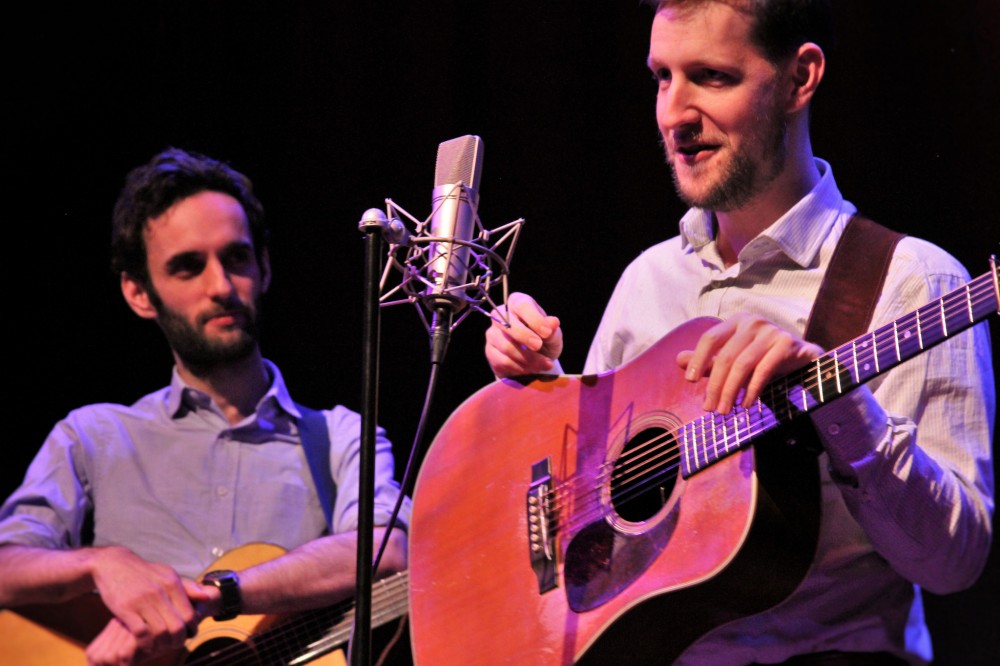 When Julian Lage and Chris Eldridge took the stage at Old Town School Of Folk Music, the room's stillness provided an ideal backdrop for their impressive, acoustic musicality.  The audience was so hushed that even the clicks of our camera -- to get a couple of snaps for this story -- was noticeable.
But despite the quite, the duo's pedigree rang loud enough before even a single note was played.  Lage is an oustanding solo jazz guitarist, and Eldridge, a member of progressive bluegrass band, Punch Brothers.  You expect guitar mastery, but Sunday's show was a beautiful and profound artistic statement that didn't just serve as a technical display.     
Yes, the show at times was something of a guitar clinic, but it was also a adventure in audio projection, genre deconstruction and interplay. Lage's insane hybrid of jazz and bluegrass would often drop to almost inaudible levels while keeping up blazing speed. This set proved to be the quietest, and most dynamic show I have ever seen. Both guitarists feeding off of each other and moving with the music, switching off between chords and melodies effortlessly.
Incredibly deep and powerful compositions moved through the twenty fingers like a full orchestra, often striking and dissonant one minute, and then uplifting the next. The two players' intense connection to each other and their instruments allowed for constant improvisation. The loud moments hit with a bang, and the softer parts had many tilting their ears towards the stage, while Eldridge and Lage danced around their single microphone, effectively mixing themselves for the audience.
But the duo also provided a suitable counterpoint to all of this complexity -- Eldrige lent his fantastic voice to some classic American tunes ( "Ginseng Sullivan" was remarkable) throughout the evening. No slouch on guitar either, Eldridge's bluegrass expertise really fit in nicely with Lage's more out there and jazz-inspired playing.
The boundary breaking eventually yielded a free form sonic excursion that featured both guitarists scratching their strings and generally playing a controlled chaos for a few minutes, soliciting some laughs from both the crowd and duo.
They closed with "Mean Women Blues", with Eldridge's rich voice letting out some snarky inflections besides Lage's inventive comping. The group took their final tune as another opportunity to display their charisma, exploring the outer reaches of the songs form and melody.
Briefly speaking with Lage after the show, I expressed my sincere thanks and gratitude at what they're doing for music, to which he replied "take it forth".
It's not a difficult suggestion to follow, espcially when the talent and taste of both artists is so inspiring.