Review | Leftover Salmon's Funkn' Bluegrass Bash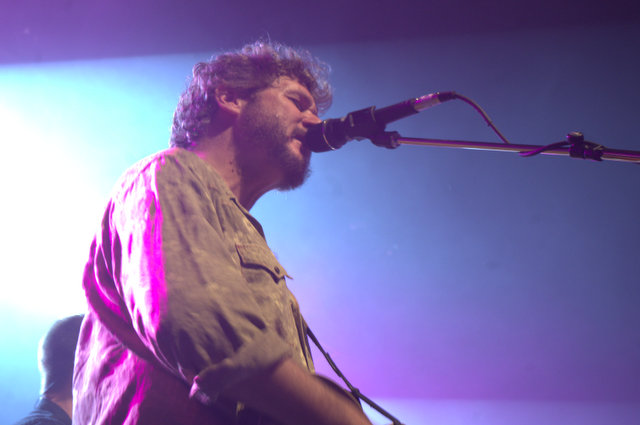 Leftover Salmon brought their Funkn' Bluegrass Bash for two nights at The Vic last weekend.  We've got team coverage, with my take on Friday's show with Dumpstaphunk and Bonerama, and Ryan Mannix offering some thoughts on Saturday's bluegrass affair with Travelin' McCourys and Love Canon.
FRIDAY
In the absence of a suitable genre label for Leftover Salmon, I tend to default to bluegrass.
A quick glance at the stage at the Vic on Friday night revealed an acoustic guitar, mandolin, banjo... an idle fiddle perched in the corner next to Drew Emmitt.
Their songs, of course, draw largely from the well of high and lonesome, perhaps with a little bit more emphasis on the "high" — I think it's safe to say they are a party band.
But what I witnessed on Friday night left me with a feeling like I haven't had since I saw them in their 90s heyday. The jam is strong with Leftover Salmon. A potent strain of Zambi has infected them. More often than not, the band members were not content to trade solos around the horn, but dive into an aggressive five-man improv that would make Col. Bruce smile.
Since their official reformation five years ago, I've only seen the band perform once, at the Phases of the Moon festival with Bill Payne. While Payne's southern-fried Feat influence was certainly welcome, I'm not sure it allowed the group to achieve lift-off like it did several times on Friday.
Whether it be on old favorites like "Zombie Jamboree", or the plaintive newer number "Here Comes The Night", the jams were given time to take shape and grow with group dynamics.
What's even more remarkable, is that they channel this sound with only two members left from their 90s lineup (Emmitt & Vince Herman). Andy Thorn approaches the banjo with no rule book — he clearly "gets" what his peers are going for. In Alwyn Robinson they've found another muscular jazz drummer who can give a different life to tunes born in the country idiom. Bassist Greg Garrison rounding out a rhythm section with considerable elasticity.
The cover selection, too, evokes the wild and wooly jamband world, opening the show with a sneaky cover of the David Bowie via T-Rex "Bang a Gong", and traversing through Grateful Dead ("Mr. Charlie") and traditional bluegrass ("I'm Going Back Old Kentucky") before finally arriving at a twisted Salmon set closer.
The warped "Fire On The Mountain"-inspired "Pasta On The Mountain" with a few verses of "Hotel Rocky Top" tucked in the middle (that's the "Hotel California" lyrics sung to the tune of "Rocky Top" for those playing at home) ended a lengthy set. It's probably the closest I'll come to enjoying The Eagles this year.
What typically would serve as an encore break, turned into a mini set break as mics and amps were brought in for each of the members of Bonerama, who had opened the show some 5 hours earlier.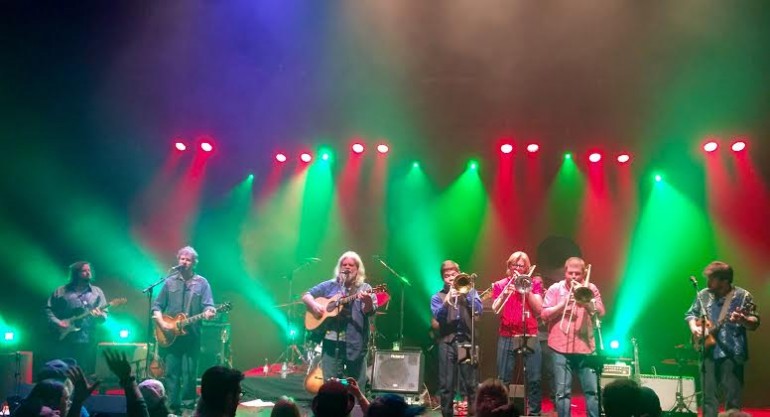 With all that stage work invested, they looked for the payoff in an extended four song encore. They found their footing on the Salmon original "Carnival Time", with the three trombonists trading solos, but really gelled with another pair of classic rock covers.
"Piece Of My Heart" was a rollicking, grassed-up sing-a-long where the Bonerama horns appeared to be arranging on the spot, finding some sweet harmonies to reinforce the song's iconic builds. Zeppelin's "Rock and Roll" closed the night, setting aside grace and dynamics in favor of full powered horn assault.
It was the second taste of Zep for Bonerama, who broke through with "The Ocean" in their short opening set. With essentially three front men, who could all sing as well as blow their horns, they offered several different pathways into their particular brand of New Orleans funk. It was certainly all the rail-riders could handle, as they were forced to step back as the trombones' spit valves were emptied.
In between the two was a thunderous set by Dumpstaphunk. The last time I saw these guys was outdoors at a festival during the daytime and he group certainly benefited from the theater setting, even though their set ended before 11.
If Bonerama was the second line parade through New Orleans during the day, Dumpsta was the booty shaking, club-quaking nighttime affair. Perhaps their trademark is their two bassists, and they sound like they've got two. Their's is a deep, nasty funk made by total pros. They even welcomed a three piece horn section from Pittsburgh (I missed the name), who particularly shined on a cover of Funkadelic's "Red Hot Momma".
—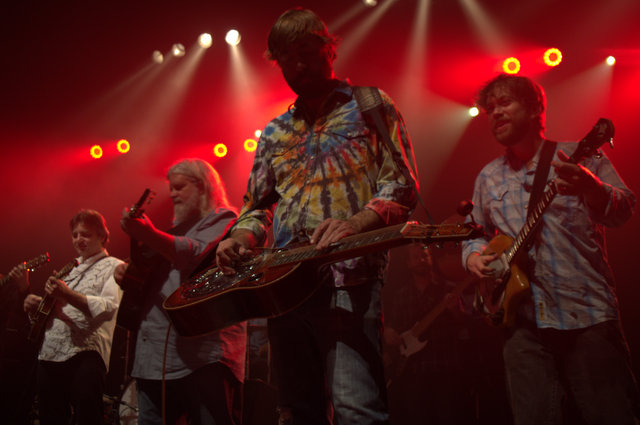 SATURDAY
Love Canon stirred things up right away to a small, but enthusiastic crowd. Once the crowd got the concept — that they were a bluegrass 80's cover band — more and more people made their way up front.
Aha's "Take On Me" was a definite highlight, as well as an improvisational version of Kenny Loggins' "Danger Zone". Much more than a gimmicky cover band, they proved that musicianship and surprising arrangements can also be a lot of fun.
The Travelin' McCoury's followed with a more traditional approach to the genre.
Led by virtuosic mandolinist Ronnie McCoury, the group showcased their collective soloing abilities and tight harmonies.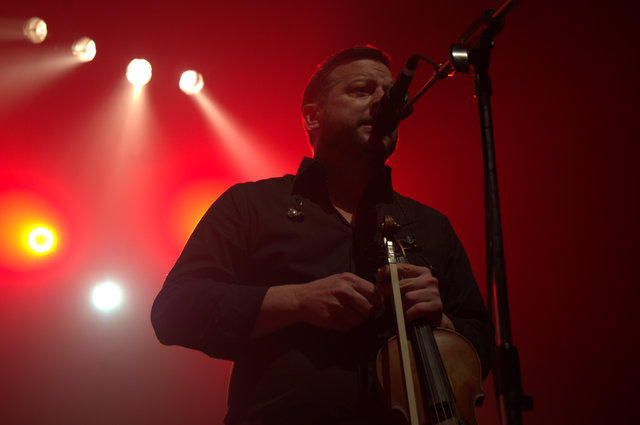 The crowd really enjoyed "Loser" and "Cumberland Blues", a couple of Grateful Dead covers that serve as pep for the Salmon faithful. Switching between up-tempo stompers, and soft ballads, the band brought the classic feel of the idiom to the crowd.
So the energy was high when Salmon took the stage, and the group did not disappoint.
Opening with a jammy tune that featured some spacey soloing from multi-instrumentalist, Drew Emmitt, the band built to a rockin' peak before jumping into a faster bluegrass tempo. It's the sound that has carried them for 25 years: a musical gumbo that has been assimilated and filtered and reflected off the personalities of it's principals.
They chose to celebrate bluegrass and funk during this visit, but found equal inspiration in country, rock, and reggae. If you can groove to it, Salmon can find a way to integrated it. While some bands eclectic styles might seem a little jarring, Salmon' expertly blended the genres into their own unique sound.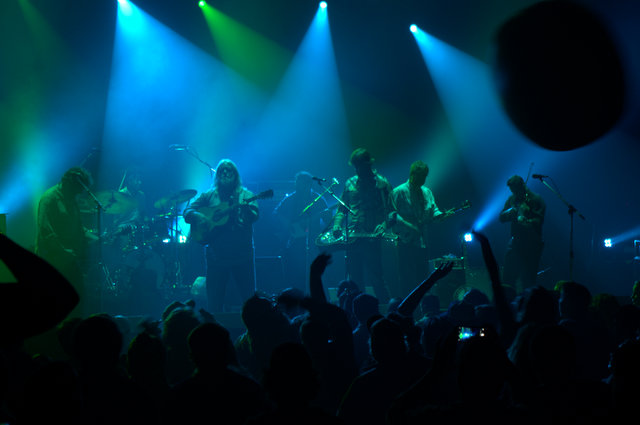 Like the prior night, Saturday's show turned into a real hootenanny with practically all of the Travelin' Mcoury's and Jay Starling (of Love Canon) on resonator guitar joining the Salmon boys for a jam. Jason Carter (the McCoury's fiddler) had an intense solo on a Soca style jam, once again showing off the versatility of the musicians on stage.
Tearing through traditional covers like "Ginseng Sullivan", each member on stage showed off their solo chops, whenever they got the look. At one point, the strings dropped out, yielding a drum and bass duel between Robinson and Garrison. Their chemistry and strong funk influence really help drive the group and keep the intensity up.
Unique events like this really bring the festival feel. We deserve it in the midst of a Chicago winter. It was not lost on the fans.
The crowd were routinely belting out the more popular Salmon songs, and a few folks even got on stage to sing along with the band at the end. By the set's close, pure wackiness reigned. Ronnie McCoury and Vince Herman traded behind-the-back solos. A giant inflatable burger accompanies another Robinson solo.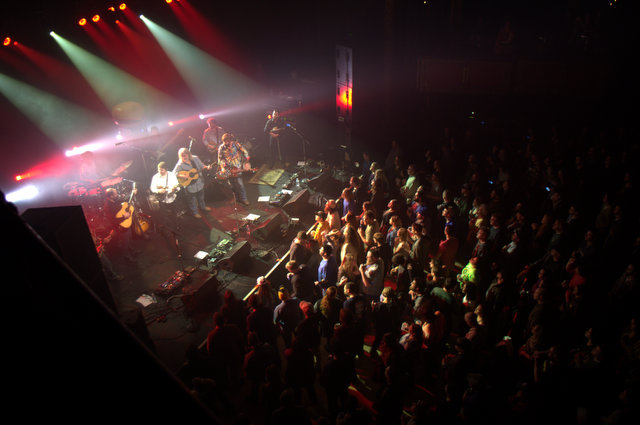 A high energy "Up On The Hill Where They Do The Boogie" closed the night on a high note, with a near perfect Emmitt mandolin solo. After four hours of dancing, the grateful ground found their last gear for the hoedown.