Review: Parquet Courts @ Empty Bottle 8/1/14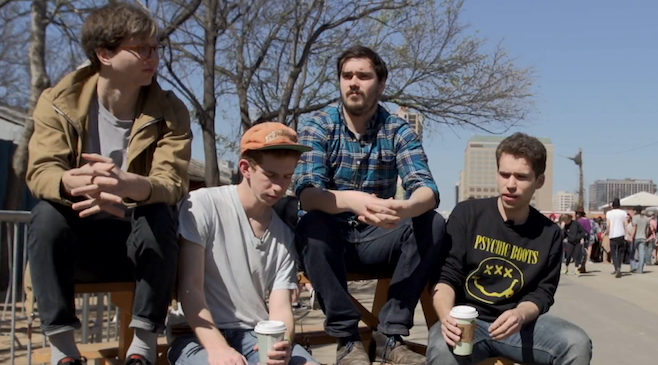 By Alex Wood
Parquet Courts played an ambitious set at The Empty Bottle for their Lollapalooza aftershow, despite the performance being before their festival set.
With the sold-out show following their excellent full-length Sunbathing Animal, expectations were high. Fortunately, the set retained all the qualities that make Parquet Courts such a great band in the studio.
The fast-paced "Ducking And Dodging" foreshadowed the energetic set to come, its bouncing bass line and ranting lyrics met by heavy power-chords on guitar.
With practically no guitar pedals or effects, the band played a blistering set, inciting a constant mosh-pit and carefully placing slow songs where release was needed.
"Bodies" followed "Ducking And Dodging," another energetic new track with sharp, angular guitar riffs played at a volume that rattled the walls of The Empty Bottle.
The four-piece traded vocals on songs but never changed their character, as a band, with straightforward post-punk and garage-rock riffs topped with inventive lyrics, clever but not too clever, dark but not too dark, derivative but never stolen.
The set was heavy on material from Sunbathing Animal, but certainly none the worse for it.
"Always Back In Town" was performed with vigor, the lyrics shouted over the chugging guitar riffs. "Instant Disassembly" provided a break from the punk atmosphere, the audience shouting the lyrics back to the band over the track's druggy, dragged out style, its length and lyrical depth a sign of the band's recent growth.
Older songs like "Master Of My Craft" and "Borrowed Time" hit with force, short blasts of punk rock that balanced sing-along qualities with an undeniable forcefulness.
The set ended with title-track "Sunbathing Animal," scorching guitar solos and shouted lyrics creating an intense finale.
Performing more than a dozen songs in just over an hour, I couldn't help but feel that this small, dingy bar was the place to see Parquet Courts, not the early-afternoon set at a massive festival stage. In truth, these guys rock hard enough to fit any setting, a mesmerizing show that deserves to be seen by a larger audience.