Review / Photos: Andrew Bird @ Fourth Presbyterian Church 12/10/13
Words / Photos: Alex Wood
During his second night in Chicago, Andrew Bird referred to this year's Gezelligheid series at Fourth Presbyterian Church as the "fourth annual," before acknowledging skipping a year somewhere in there.
Regardless, the church shows have become a staple for Bird fans, a tradition celebrating the Chicagoan's musical gift.
And always just in time for the holidays.
For those who haven't been, the Fourth Presbyterian, located on Michigan Avenue in the heart of the Magnificent Mile, is about as gorgeous a venue as Chicago has to offer, particularly when showcasing the gentle, tender music of Bird performing on his own.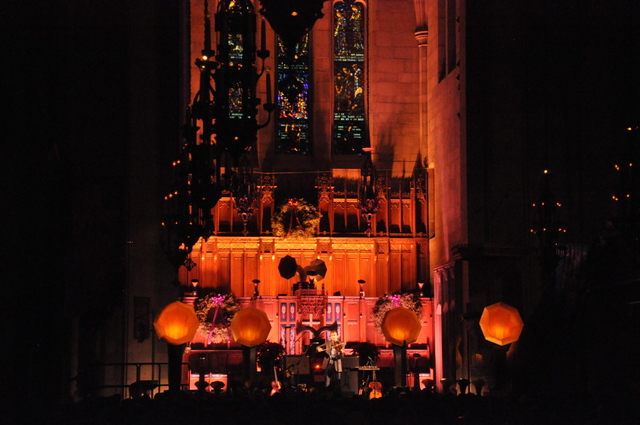 Its long, central walkway leads to the stage through the sea of dark, wooden pews. The chandeliers glow dimly.  The stained glass windows rise over everything but the high, raised wood-truss ceilings. The crowd sits in respectful silence, cell phones off, as if listening to a sermon from the altar.
And let's be honest: for Andrew Bird fans, this is Christmas service.
On top of the venue's near-perfect acoustics, the sound is being amplified through Bird's signature Specimen horns, speakers resembling that of an old gramophone's but seven feet taller. Every note played resonates and reverberates through the room as if it were coming from the pew where you're seated, bouncing off the old, tiled floors and reflecting from the spacious ceilings.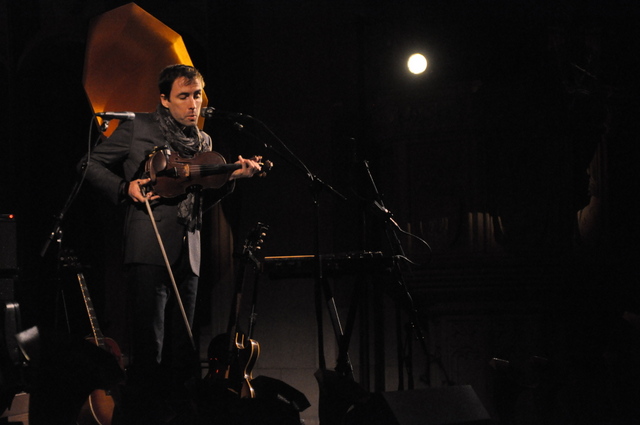 Loop five melodies of said notes atop one another, and voila! It's Gezelligheid!
"These are my favorite shows of the year and I feel most connected," Bird said at one point of the night.
So enough of the church. Let's get to the music.
Bird's set consisted of less experimenting and new terrain than past years' shows seem to have contained. This meant more vocals and straightforward performances of studio songs.
However, this hardly detracted from the quality of the show.
"Three White Horses" found Bird layering delicate vocal harmonies atop one another, building toward a mash of droning violin loops, the vocals heard distantly in the background.
"Waiting To Talk," from Bird's Bowl of Fire days, used his solo performance as an opportunity to create a spacious, stripped down version of the song, adding a bouncy feel that doesn't exist in the original.
Bird's newest single "Pulaski At Night" was introduced with the story of an exchange student from Thailand telling Bird he wanted to "see Pulaski at night" upon arriving in Chicago, a joke locals understand well. "First it was funny, now it's kind of nostalgic or sweet," Bird said.
The song proved to be one of the night's more intense moments, with violin loops layered rapidly, creating a massive wall of sound within thirty seconds.
Throughout the songs, Bird would scamper across stage from microphone to microphone, pedal to pedal, and instrument to instrument, rarely standing still on the massive stage.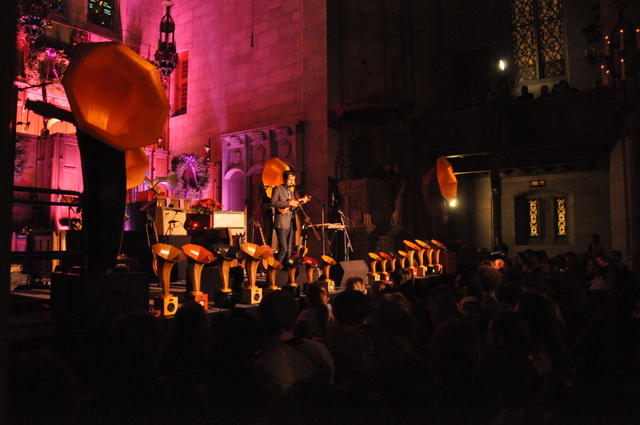 "Danse Carribe" found the artist especially busy. The song began with Bird delivering the verse in a simple folk style, free of accompaniment. Suddenly, he stomps a loop pedal and the sound explodes into distinct violin harmonies, only to become a new melody entirely, picking up the pace as it continues to evolve.
Shortly before the song's end, Bird stomped his pedal again only to hear a single quarter note repeat endlessly from the speakers. "Oh no!" he said with a smile, turning off the misfired loops and returning to the microphone to finish the song without them.
Bird's set primarily featured songs from his most recent releases, showcasing the majority of I Want To See Pulaski At Night, released less than a month prior.
However, as is standard for the church dates, a few older and rare tracks surfaced as well. These included "Happy Day," a track that lacks a proper studio release, and his debut performance of "Frogs," a cover from Handsome Family's latest, 2013 release.  Three tracks from 2003's Weather Systems offered a glimpse of Bird's music from the period where he first found his distinct sound, the title track serving as a moving end to the evening.
The set saw no guests join the violinist, and even a security guard commented to me that last year's shows were "more collaborative." Even band member Tift Merritt, who performed with Bird Monday and appeared on the bill, never made an appearance.
Because of the intimate setting and lack of additional performers, each song became something new, different from every other performance in the past. In many ways, Bird is rewarding longtime fans by challenging himself to bring new life to these songs.
The Gezelligheid dates will always offer something new, packed with the originality inspires passion in his fans. As the Dutch term Gezelligheid translates loosely to "extra extra cozy," the intimacy of such a show is to be expected. The music itself, however, proves to be anything but predictable.