Review / Photos | Blues On The Fox @ RiverEdge Park 6/18/16
Photos: Howard Greenblatt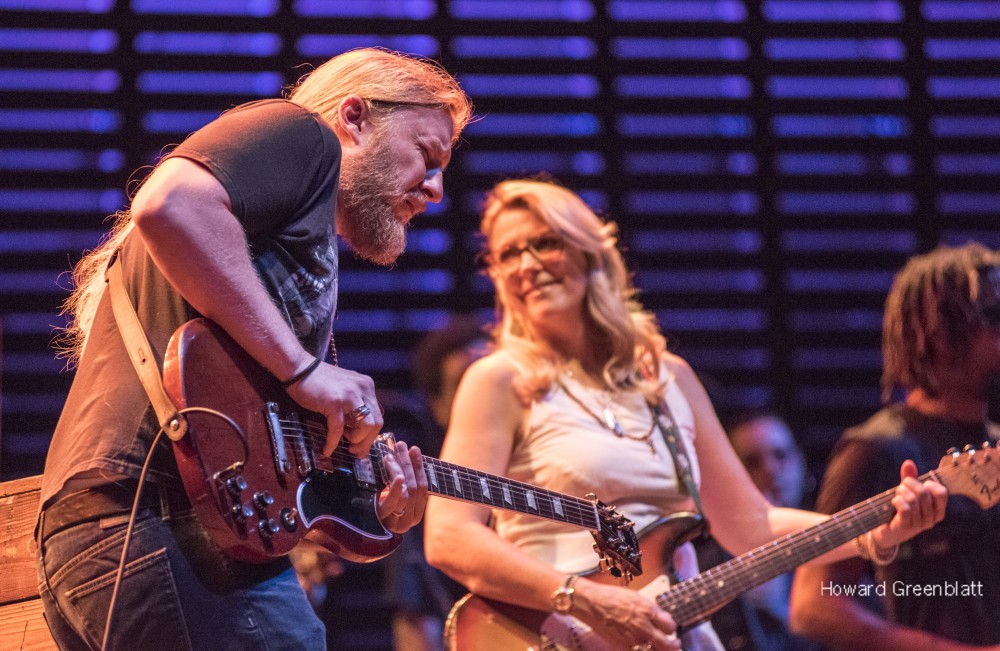 I'm running out of superlatives when it comes to describing the music of Tedeschi Trucks Band.
I've already dubbed them the Best Band In America™ after their recent Chicago Theater stop, and the team has done nothing to refute that title in their return to the area this June.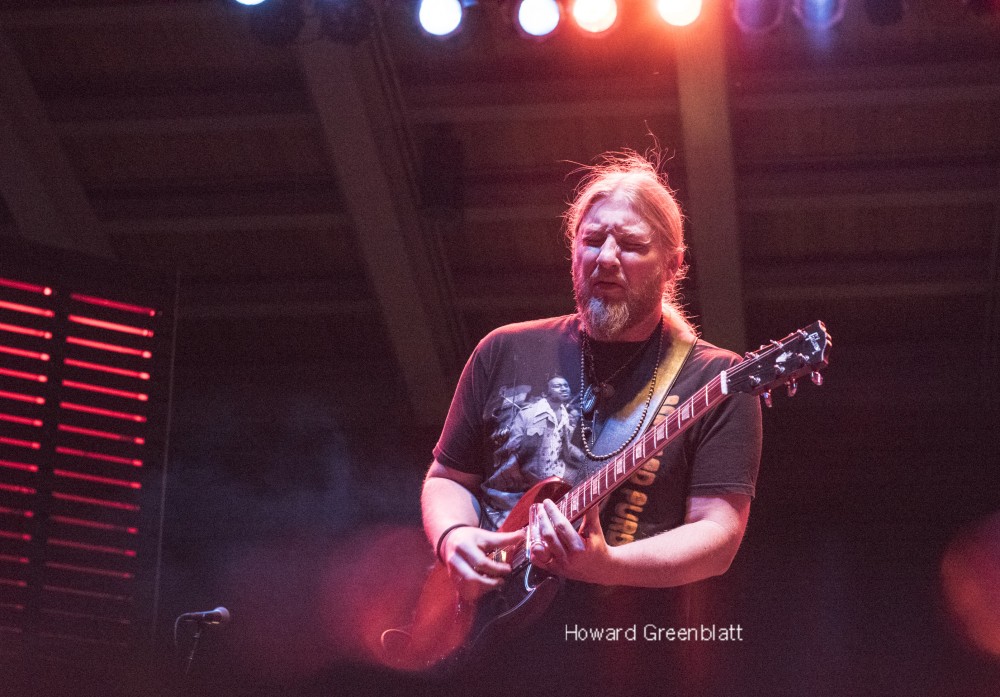 Toplining a Blues On The Fox festival lineup that also included Los Lobos, Larry McCray and Leland (a new project from Scott Tipping), Susan Tedeschi, Derek Trucks and company did their part to cultivate the festival spirit -- and also provide a preview of this summer's Wheels Of Soul Tour -- by inviting Los Lobos' David Hidalgo to the stage for some jamming.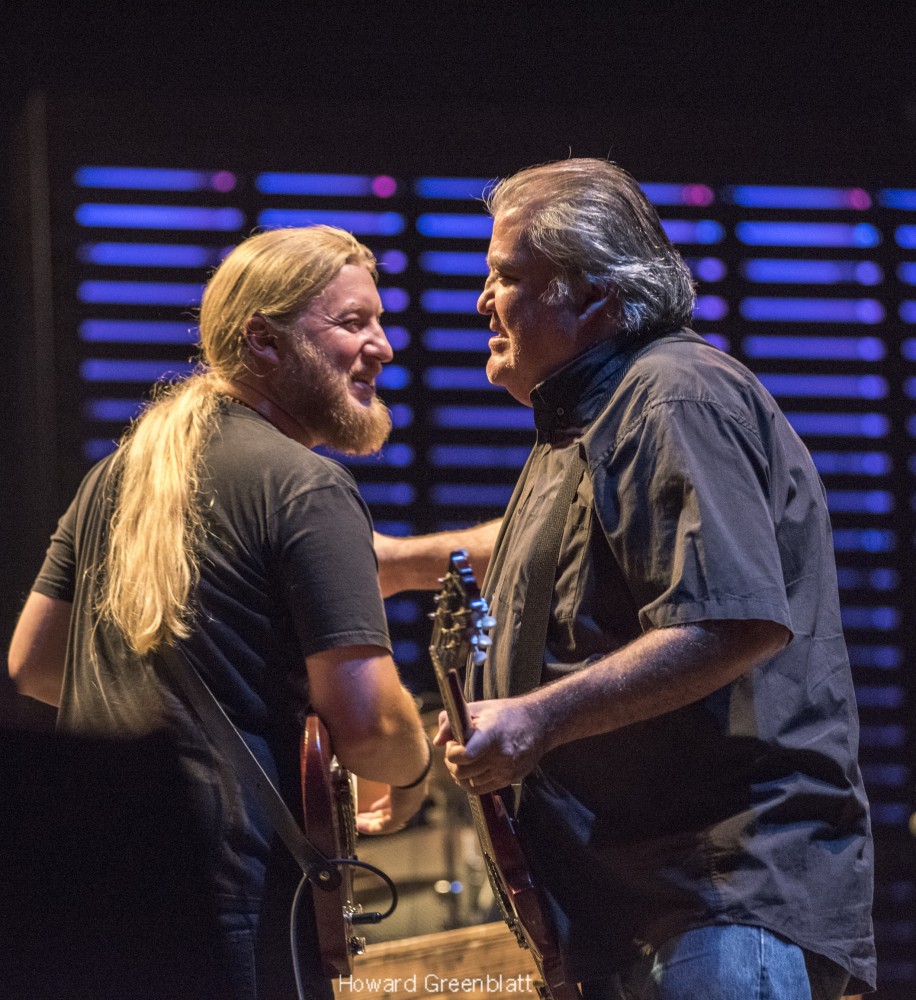 Their collaboration was a reminder that The Blues was never too far from the root of both bands, each of which  delve willingly and freely into other genres, and often seem to be inventing a new mix on the fly.
Derek & The Dominoes' "Keep On Growing" and  Elmore James' "The Sky Is Crying" were appopriate choices for the three guitar attack -- complete with solo sections that allowed each of the guitarists to channel the guitar legends (Allman, Clapton, Vaughan) who have put their stamp on each of them.  
Derek is definitely part of the conversation when talking about greatest-of-all-time axemen, but he David and Susan gave the blues hungry audience something to sink their teeth into.  Alas, it was only one course in a sumptuous meal.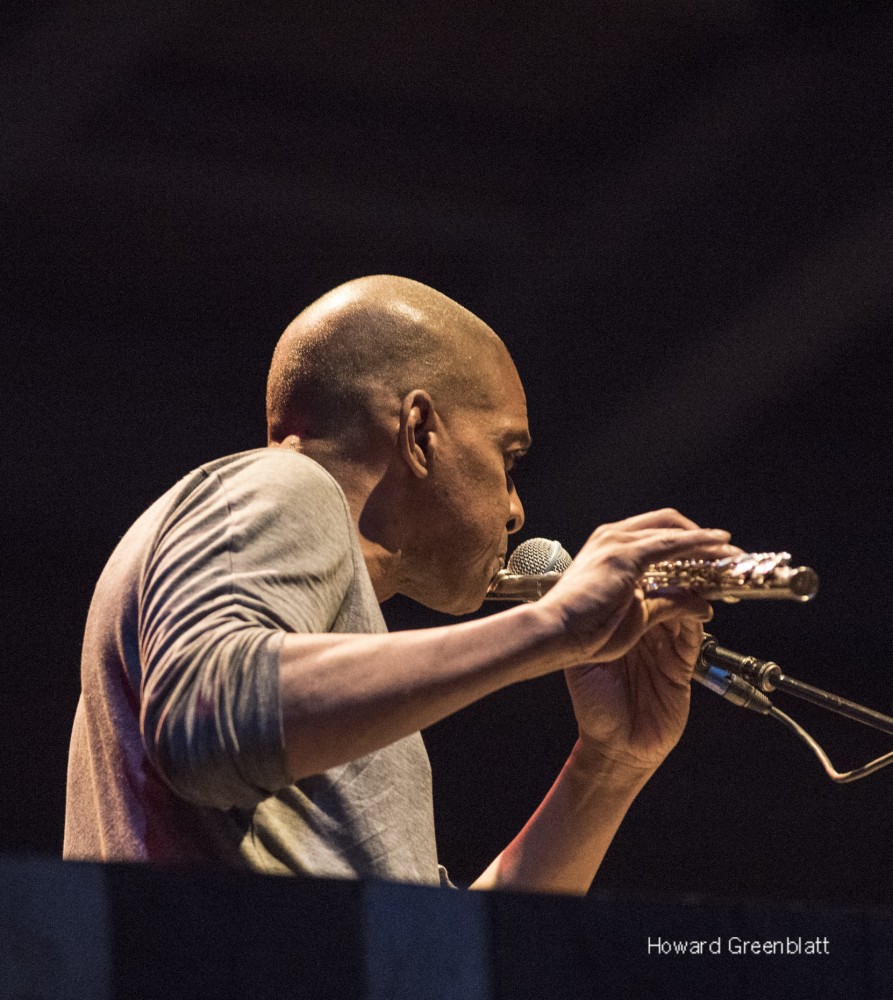 As usual, the show got most interesting when it transcended The Blues -- or any set genre. Immediately after the sit in, the band charged through "Idle Wind", pushing close to 12 minutes in length and finding room for most of the 12 member band to be featured, like a collage of mini songs pasted together into an interesting whole: jazz from Kofi Burbridge on flute and keyboards, Southern fried soul from the vocalists, swinging proggish rock from the drummers.
That approach was reprised during "Let Me Get By", but not before offering a series of different looks for the band on covers like "Color Of The Blues" (just Susan getting her acoustic country on with the vocalists) and "I Pity the Fool" (a slow classic soul burner).
It was this mix that sets the tone for the band.  Touring behind one of the year's finest albums, they hit some of the key tunes -- but not all of them -- from the release.  They've also left the crowd wanting some of the songs from the band's increasingly beloved back catalog.
TTB comes to play.  And they keep it equally interesting for themselves and the audience.  There is some brilliant songwriting here, and some improvisation that'll make hairs on your arms stand-up.  Being ready, able, and committed to crafting a show that showcases all of that -- that's why the thousands gathered in Aurora were hanging on every note.
Stream This Set (via archive.org)
While Los Lobos may not have scaled the same artistic heights as TTB, they win the longevity contest, with a set peppered with not only classics from the 80s and 90s, but a handful of tracks from their excellent latest release Gates Of Gold.
For a band that kind of looks serious, they certainly come to party, with accordian and sax filled tunes setting the stage for celebration.  While the vast lawn at RiverEdge was filled with long-haulers firmly planted in their seats, the GA section up front was up and on their feet, dancing and shuffling.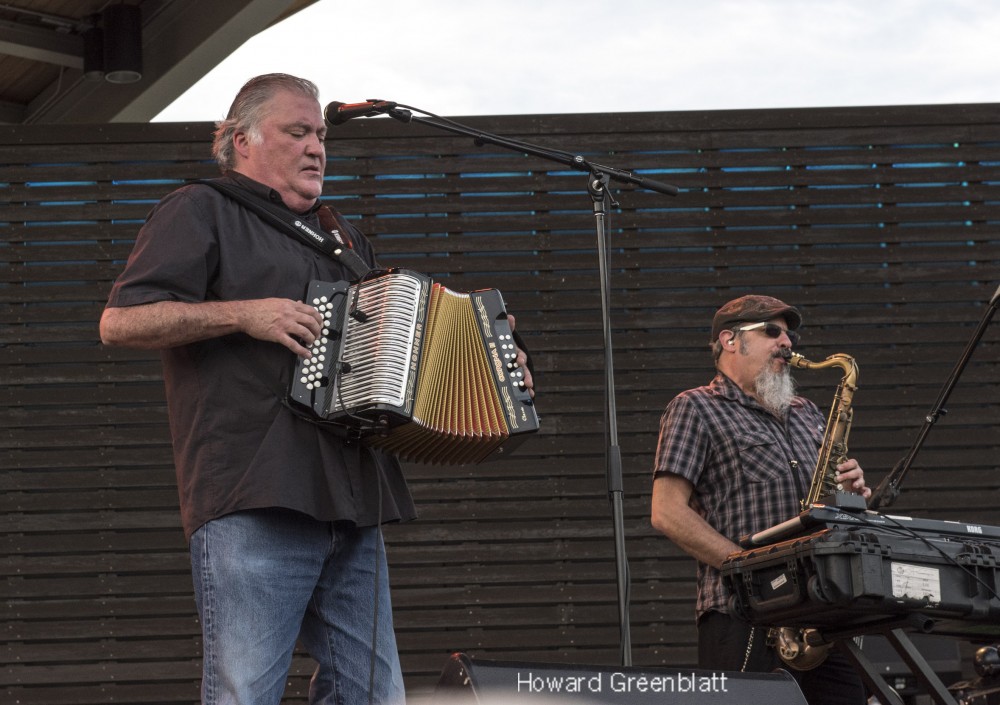 "I Walk Alone" and "Evangeline" were highlights of set that combined the familiar and the exotic and did so with a zippy garage rock rhythmn section and lots of screaming guitars.
And what's a Los Lobos set without some good ol' Grateful Dead?  From the first notes of "Bertha", multiple generations of music fans were called to attention, propelled by some of Cesar Rosas' trusty lefty guitar work.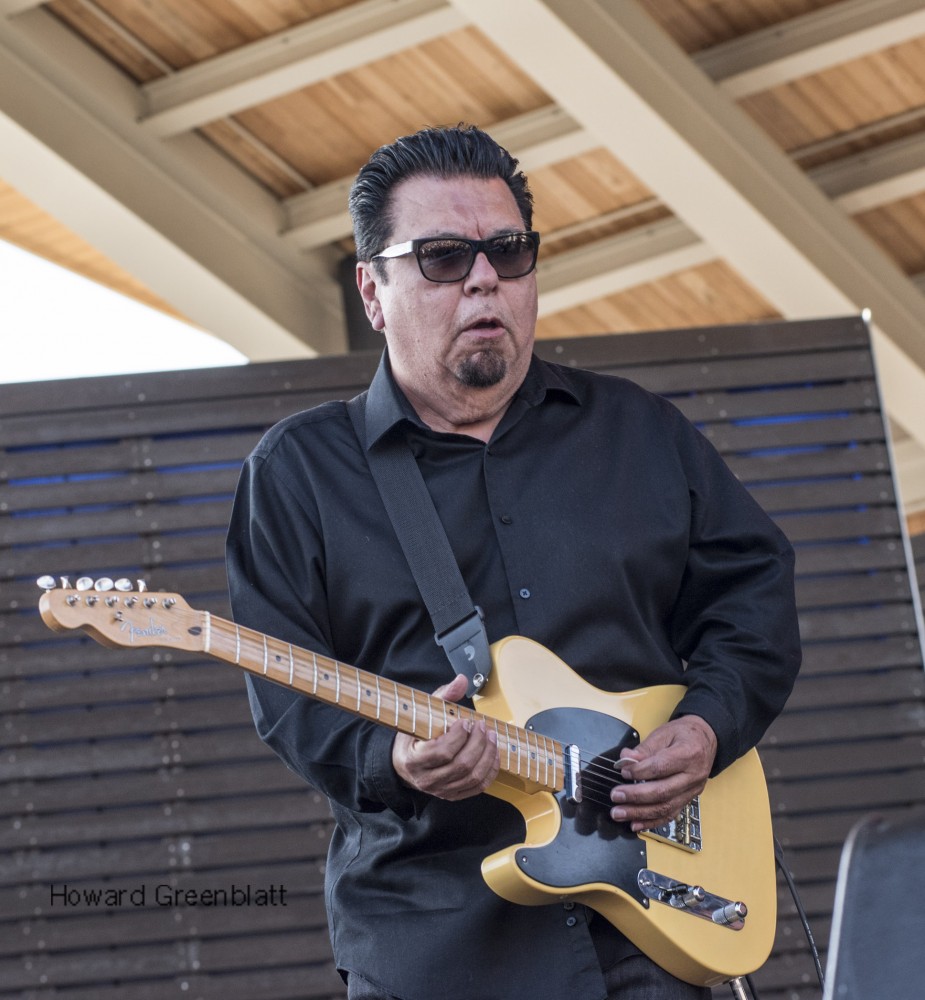 "Time for one more," yielded a suprise "encore" medley that touched on the bands' signature cover "La Bamba" and echoes of "Good Lovin'".  They'll be back at City Winery this December for another four night run.
Blues fans making the day out of it, found their more traditional acts in the heat of the afternoon sun.  Larry McCray poured decades of singing and playing into his set, while Leland called upon ghosts of the Fox Valley area, a newer ensemble playing tribute to those who recorded just down the street.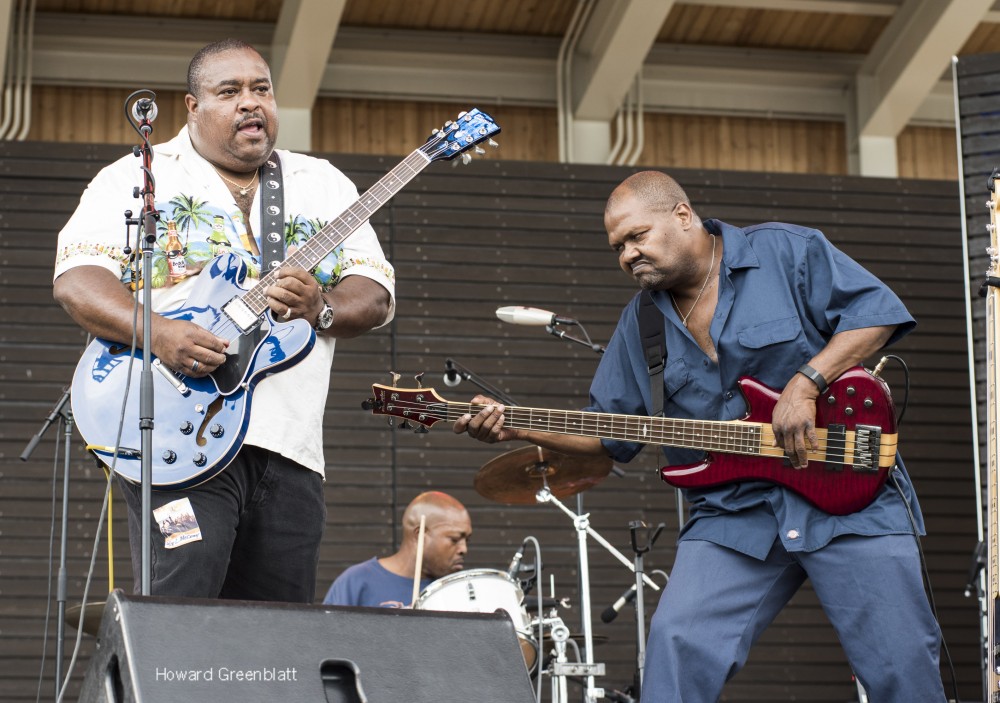 All the while, the crowd soaked in the festival atmosphere.  Spirits ran high and beer lines long as folks sustained themselves via food trucks or BYO picnic meals.  The variety and vibe was amazing, as the multi-cultural, multi-ethnic festival brought all sorts of folks together.
Check out Howard's Gallery (click thumbails to see full size pics).