Review / Photos: Bob Mould @ City Winery 3/2/14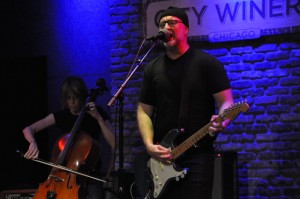 Words / Photos: Alex Wood
Even without Workbook's 25th anniversary, Bob Mould has reason to celebrate.
Always ahead of his contemporaries, Mould mastered punk in the 80s with Husker Dü and alternative rock in the 90s with Sugar.
The cornerstone connecting the two, of course, was 1989's Workbook.
The album stands as a historical marker in the story of Bob Mould, the exact point where he turned his back on punk rock in search of something bigger. The result was a stunning, emotional record that could be as soft and gentle as Husker Dü was loud and aggressive, and a record that would inspire a generation of musicians to seek new directions in alternative rock.
Yet as Mould walked out on stage at City Winery, towering over the microphone with his blue Stratocaster hanging low on its strap, it became obvious how much time passed since Workbook and Husker Dü. I like to picture Mould playing to clubs of scraggly punk kids in the 80s, not middle-aged bald men eating steaks and drinking wine.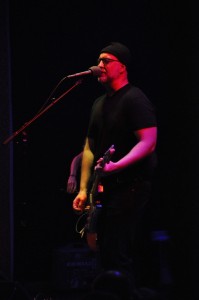 Yet regardless of setting, Mould remains the powerful onstage enigma he always was.
After a flawless solo performance of instrumental Workbook opener "Sunspots," bassist Jason Narducy and cellist Alison Chesley appeared for "Wishing Well," the three members playing at an expectedly massive volume.
With the lack of drums being the only thing keeping them from a typical, full-band performance of the material, this obviously wasn't a sparse acoustic set, the powerful performances never toned down in the slightest.
Workbook material was predictably emphasized, the band opening with its first four songs and playing eight of the album's eleven songs in total, as well as an additional track written during the era.
Sticking with the night's theme, Mould provided some commentary on life surrounding Workbook's creation.
"1988 was an interesting year. I don't think I'd live it again unless I had to," Mould said. "They sort of come back to life on you, the songs…so yeah, this song."
"Poison Years" followed, featuring screeching guitar solos from Mould and high energy from all musicians. The guitar's blistering distortion turned into the soft and clean, carefully picked guitar part of "Brasilia Crossed With Trenton." Performed solo by Mould, the song emphasized the songwriter's ability to evoke emotional intensity solely through his vocal delivery. The bass and cello busted in shortly before the song's end, creating an earsplitting, climactic finale, long cello notes finally bringing the song to a dramatic end.
Though songs from Workbook made up the majority of the set, fans were treated to Husker Dü's "No Reservations," a handful of Sugar songs and a cover of Verbow's "Holiday" with Narducy, a founding member of the Chicago band, on lead vocals.
"All I wanted to do was copy Beatles records, until I heard The Ramones and I wanted to copy Ramones records," Mould joked before the Verbow cover. "It's like going to the library. You've got to borrow back. You've got to take that book back."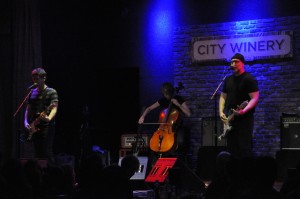 Bob Mould's City Winery performance not only proved that Workbook still holds the powerful intensity that it always packed, but that Mould himself still has that same intensity inside of him, belting out lyrics with the passionate alternative-rock delivery that sounded so fresh in 1989 and at a volume that would send most 53 year olds running.
Local folk musician Ryley Walker opened the show, performing elaborate instrumental melodies on his acoustic guitar, each section gliding seamlessly into the next. Walker's vocals combined the simple melodic sense of Nick Drake and the emotive playfulness of Dave Van Ronk, the winery's seated audience giving an appropriate Greenwich Village feel to the performance.
Setlist:
1. Sunspots
2. Wishing Well
3. Heartbreak A Stranger
4. See A Little Light
5. Stand Guard
6. Stop Your Crying
7. No Reservations (Husker Dü)
8. Poison Years
9. Brasilia Crossed With Trenton
10. Sinners And Their Repentances
11. Lonely Afternoon
12. The Descent
13. Walls In Time
14. Helpless (Sugar)
15. Hoover Dam (Sugar)
ENCORE:
16. Holiday (Verbow)
17. Circles
18. If I Can't Change Your Mind (Sugar)