Review / Photos: Bonobo & Nightmares On Wax @ Concord 5/30/15
Words: Mitch Osborne | Photos: Rickie Kostiner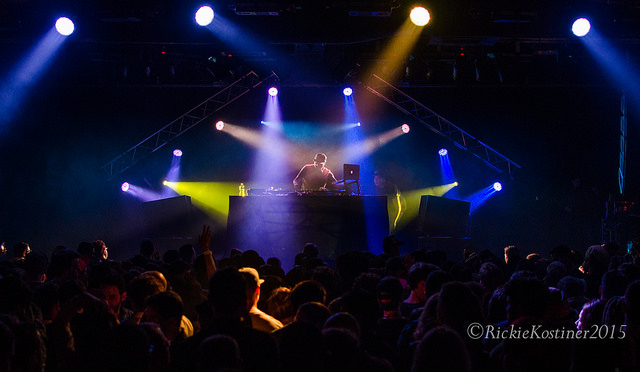 Concord Music Hall can be counted on for variety and quality. On Saturday night, a packed house came out to the venue ready to groove to smooth-rhythm DJ sets from of Nightmares on Wax and Bonobo. Since summer seems to be playing its hand in a rather maddening game of hide and seek, there seemed few better places to be than dancing the night away with a room full of eager and approving listeners.
George Evelyn performed as Nightmare(s) on Wax during his solo DJ set, and immediately set the mood by playing a heartfelt rendition of "Is This Love?" (Bob Marley). From that moment on, the crowd was jiving and clapping along to his jazzy-blues samples.
The bass rolled smoothly in melodic sequence which made it nearly impossible not to smile and bounce to the beat. Evelyn did a masterful job at setting the mood and getting the crowd involved. He had everyone singing along to; "Biggie, Biggie, Biggie, can't you see?" before closing with his ever-popular psychedelic original "You Wish". Most people recognize the song from its use in Pretty Lights', "Finally Moving". Needless to say Evelyn left those of us in the audience hungry for more. Foruntately, Bonobo immediately followed.
Simon Green performed a solo DJ set next, as Bonobo, and continued to move the audience with his downtempo, snaking melodies. Green drew us into his set with melancholic tones mixed with hypnotic beats.
He played through a number of songs, including my favorite "All in Forms".  Green provides the audience with a smooth blend of exotic instrument samples and subtle beats that create a tingling trance you can't help but dance to. He orchestrated sweet, symphonic tones, and then effortlessly transitioned to head-bobbing heavy basslines.
At points the crowd was clapping along, floating on a cloud of carefully constructed drum beats. Green's uncanny ability to seamlessly transition from song to song had the crowd dancing through to the very end of the show. As he finished his last song, the crowd voiced appreciation for the musical journey.
Both acts can also be seen with their respective ensembles as a live band performance. Personally, I prefer those sets and really like the live aspect mixed with the electronic. I also would have liked to see a bit more done with the lighting/visuals to -- the real "wow" moments were basically non-existent throughout the night.
Despite this, I was extremely pleased with the sets of both artists and look forward to seeing my next show at the Concord. If you weren't there, you might be kicking yourself after looking at the pictures taken by Rickie Kostiner.
And if you were there, check them out to relive the moments, or, remember the ones you may have forgot.
[slickr-flickr tag="sc20150524" items="50" type="gallery" size="medium" thumbnail_size="small"]