Review / Photos / Stream / Download: David Grisman & Del McCoury @ City Winery 11/16/14
Words & Photos: Alex Wood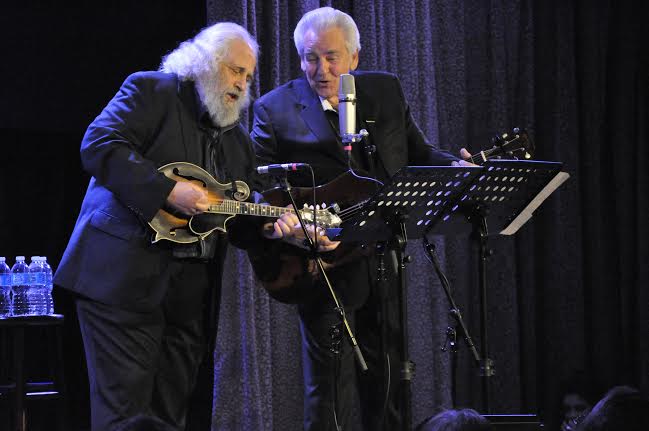 For a short tour, David Grisman and Del McCoury are celebrating a friendship and musical partnership lasting more than 50 years. The City Winery performance felt informal, as though two friends were looking back at the wild ride their bluegrass careers had taken them on, sharing stories and jokes while running through a long set of country and bluegrass standards.
The performances felt effortless, with harmonies coming naturally and songs feeling familiar. McCoury constantly wore a smile, watching Grisman closely as he filled in the gaps with inventive mandolin solos.
McCoury and Grisman are 75 and 69 years old, respectively, and played heavily into their age as an ongoing joke throughout the evening.
"We're starting a Kickstarter fund to get our own teleprompter," McCoury joked early on, with Grisman later adding that McCoury's sheet music had enlarged notation.
The musicianship from the two reflected their years of experience and extensive knowledge of the genre.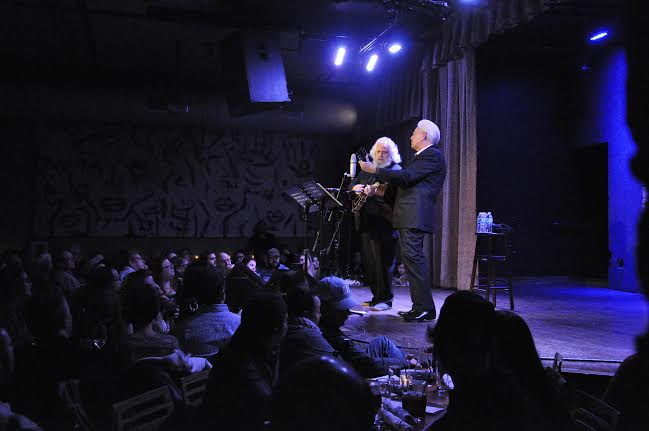 "G Run Blues" featured call-and-response riffs based on famous guitar runs by musicians such as Clyde Moody and Lester Flatt, Grisman speaking on the importance of early bluegrass players developing unique styles.
"I guess they all had the runs," he joked.
Bill Monroe was a constant topic of discussion. Grisman told the story of seeing McCoury's first performance with Monroe's Blue Grass Boys in 1963, when McCoury played a 5-string banjo. McCoury recalled agreeing to join Monroe's band at a Nashville hotel shortly after and surprisingly being asked to play rhythm guitar, the beginning of his career as a guitarist and singer.
The duo performed Monroe's "Toy Heart," noting that it was recorded in the Wrigley Building in 1946 because no studios existed in Nashville until the early 1950s.
"Dark Hollow" was performed to huge applause, McCoury handling the vocals in his nasally but precise falsetto, straining to reach unbelievably high notes flawlessly. The audience sang and hollered at the verses' ending lines.
Grisman's vocals covered a lower register in a rugged delivery, serving as a counterpoint to McCoury's distinctive croon. Grisman concentrated on the words to songs like "Snow Dove," seeming more at ease when leaning back and soloing.
Bluegrass was hardly the only topic of discussion throughout the show.
"Have you heard of rock and roll? Another great American art form that was built and destroyed," Grisman said, noting that it "kind of all evaporated around 1958," a reminder that these musicians have, in fact, lived through the beginnings and development of the diverse music scene that exists in America today.
"Del & Dawg" was predictably performed, the instrumental featuring a mandolin melody with the precision of classical music while McCoury never missed a bass note on his rhythm guitar.
"Man Of Constant Sorrow" was introduced with a Cohen Brothers reference, the performance featuring a vigorous, driving mandolin break and constant vocal harmonies.
After a set full of highlights, the duo outdid themselves in the encore, calling opening act Billy Strings and Don Julin to the stage. The two already won the crowd over with their set of traditional tunes on guitar and mandolin and were obviously in awe of the opportunity to collaborate with Del and Dawg.
"I'm not nervous at all," Billy Strings joked beforehand.
The four played The Stanley Brothers' "The White Dove," with Billy Strings, McCoury and Grisman trading verses on vocals and each performer taking an individual solo.
Flatt & Scruggs' "I Know What It Means To Be Lonesome" followed, with Billy Strings covering most of the guitar accompaniment and McCoury handling vocals.
The opening act left the stage and McCoury and Grisman closed with a gorgeous medley of both a Christian and Hebrew hymn, seamlessly combining "Life's Railway To Heaven" with "Shalom Aleichem."
"I've never had a better time playing with anybody," Grisman said during the show. After the lighthearted and natural performance, I believe him.
Stream Entire Show
[box type="download"]Download Entire Set (mp3 .zip)[/box]
- Recording by Jeff Frank
Setlist:
1.) Rabbit In The Log
2.) Shackles And Chains
3.) East Virginia Blues
4.) The G Run Blues
5.) Toy Heart
6.) Dark Hollow
7.) Snow Dove
8.) Country Boy Rock And Roll
9.) Del & Dawg
10.) Man Of Constant Sorrow
11.) I'm My Own Grandpa
12.) Tennessee Waltz
13.) New River Train
Encore:
14.) The White Dove (with Billy Strings and Don Julin)
15.) I Know What It Means To Be Lonesome (with Billy Strings and Don Julin)
16.) Life's Railway To Heaven > Shalom Aleichem