Review & Photos | Fiya Wrapper Super Jam @ Concord Music Hall 7/5/15
Wrapping Up Fare Thee Well: Fiya Wrapper's All Star Jam
Words: @312mrg | Photos: Philamonjaro Stuido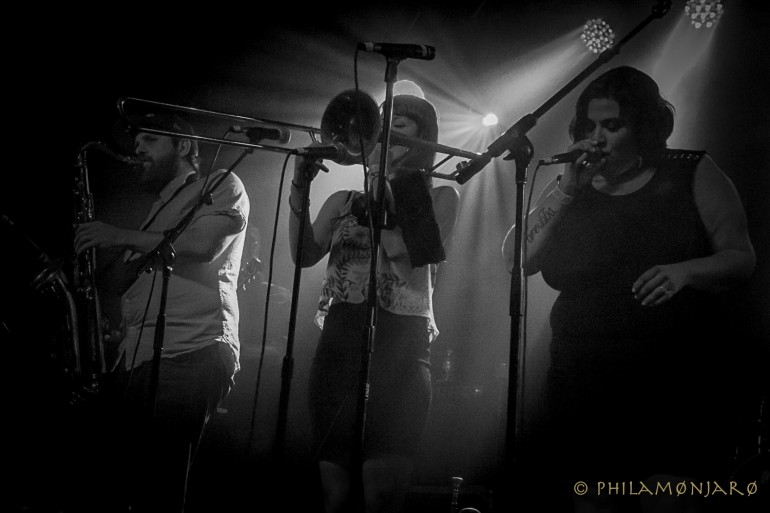 On a weekend where the "music never stopped", the Concord Music Hall's Fiya Wrapper All Star Jam was just filling up as Fare Thee Well came to and end.  The final weekend music offering by music promotion gold standard, Silver Wrapper in (partnership with NOLA-flavored FiyaWerx Productions), their program started Thursday night and ran every night at multiple venues throughout the weekend.
The entire thing had a family concept and feel. From acts paying homage to the Dead, to the unspoken acknowledgement that many of the participating musicians careers were launched from a seed that the Dead planted long ago.
Trey Anstasio's inclusion in the Fare Thee Well lineup closed a circle on a long simmering fan base standoff that seemed to allow the unnecessary 20 year struggle to peacefully but flamboyantly extinguish.
The Dead family welcoming Trey to their stage was another node in a web of relationships that could be drawn between so many of the acts in town for the weekend. As a member of Trey Anastasio band over the past 14 years, Jennifer Hartswick plays as key role as connector and facilitator, so it was fitting that she acted as musical director for this super jam to conclude the weekend's festivities.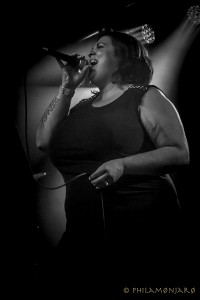 Hartswick led this one-time-only configuration with a sexy confidence that matches her voice, and proved than capable of demanding the attention and presence of the crowd and respect of her bandmates. While many only know of her riding shotgun with TAB (along with Super Jam band mate and birthday girl Natalie "Chainsaw" Cressman), she was on-point as the leader of this all star ensemble through some soul charged and high energy covers.
Accompanying Hartswick and Cressman on trumpet and trombone, was David Shaw (Revivalists/Galactic) on vocals, Eric Krasno (Soulive and Lettuce) on guitar, Borham Lee (Break Science/Pretty Lights) on keys, Nicholas Gerlach (Turbo Suit) on sax, Sput Searight (Snarky Puppy) and Jeremy Salken (Big Gigantic) both on drums, and the man that held it ALL down, Oteil Burbridge (ARU, Allman Brothers) on bass. With the theme of the evening/weekend, and a cast of funk, EDM, and assorted other genres represented, the setlist selection was sincerely up-for-grabs.
It was a beautiful, soulful and diva-esque start to the evening  -- they launched into a grabber that would have felt at home at an Alicia Keys show, but with a funkier grit. That grit didn't just come from solid jamming, but from breathtaking, jaw dropping and powerful vocals.
While David Shaw might not have started the night on stage, his presence could be felt and seen off to the side -- rapping with other musicians and crew, head bobbing throughout whether he was on or off stage.  He was primed when he finally emerged for a FUCKING AWESOME, high energy cover of Ozzy Ozbourne's "Crazy Train". Stepping to the front row, he seared through the small barrier between band and fans. What could be considered a stretch for this lineup or this crowd, turned out to be a winner and completely blew up the room.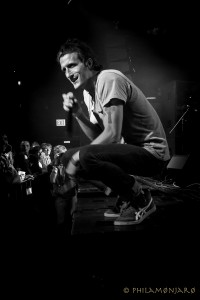 Shaw was an inspired choice for this lineup, and complemented Cressman and Hartswick with a familiarity and comfort that found an easy footing. A dub-reggaefied "Psycho Killer", also led by Shaw, played right into the script.  "Serpentine Fire" with Corey Frye and Max Newman (this is a guitarist you must hear) from the Main Squeeze, brought even more musicians into the fold.  Both Led Zeppelin's "The Ocean" and Heart's "Magic Man" spotlighted more of JHa's growling vocals.
While these covers oozed with the personality of the performers, I wouldn't have predicted any of these.
And even though I secretly hoped for a some spotlight demanding attention from a few of the players, I wasn't disappointed either that no one single handedly dominated the evening. The whole set was delightfully balanced -- with opportunities for pockets of Krasno, layers of horns, plenty of Borham Lee destroying toys, and with solid drum work all night from Salken and Searight.  Couple all of that with the song selection and vocal performances from Hartswick, Shaw, Cressman (and Frye), it just worked really well.
But wait... what about Oteil?  Well, I left him out of that laundry list because if there was one performer that consistently drew the most attention from me, it was Burbridge. There aren't many bass players that can look so effortless, but make such a profound impact on the evening, tying everything together.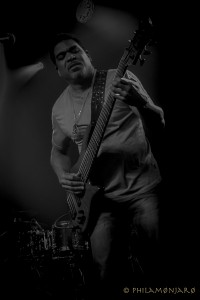 Leading a band, especially one assembled for a single performance, has got to be a lot harder than it looks.  Seeing Hartswick's comfort and capability of putting something like thi
s together is a testament to her hard work, personality and appreciation for all of the people that helped her get here.  As a musician who once called Chicago home, she did the city proud on one of it's most impressive musical weekends... perhaps ever.
The Main Squeeze opened the evening --  proving to be a more than capable appetizer. A more soul and funk version of Rage Against the Machine, or what would have happened if Zach De La Rocha was replaced with CeeLo Green? Maybe?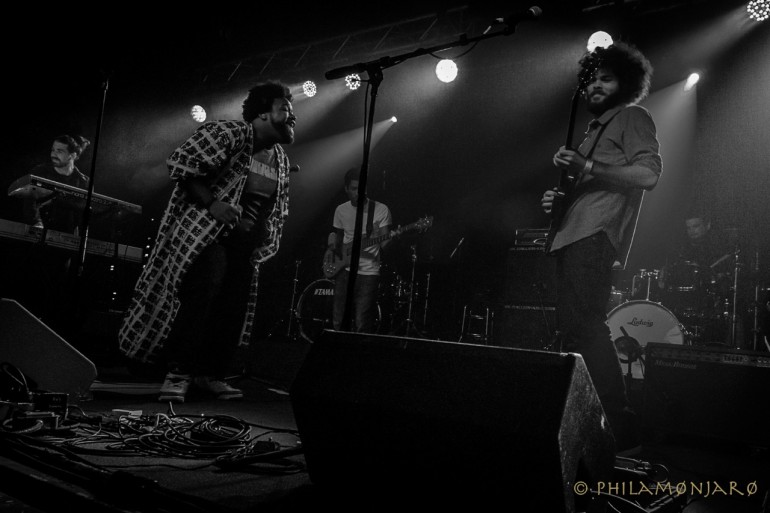 I hate doing comparisons, but I'm still digesting what I saw with my first experience of the Squeeze. From the stage persona of the kimono wearing Corey Frye, constantly evolving Max Newman and Ben Silverstein on keys, and one hell of a rhythm section with Reuben Gingrich on drums and Jeremiah Hunt on bass. Their 45 minute set included a drum duel with Sput Searight, and a "Higher Ground" cover that alone made my jaw drop with individual room erupting solos from Newman and Silverstein.
The Main Squeeze is from Chicago, by way of Bloomington, IN.  It's certainly exciting to see another group we can call our own ride into some undoubtedly big things. They were one hell of a choice to be included on the bill. Thank you Silver Wrapper for a real Chicago wrap-up to the Fare Thee Well weekend.
Mikey (@312mrg) likes the funk! Has been covering musicians and bands via interviews and reviews for about 3 years for The Barn Presents, and usually can be found at or as near the stage as possible.