Review / Photos / Full Show Video | Farm Aid 30
Words: Carmel O' Farrell | Photos: Kristine Condon Photography & Paul Natkin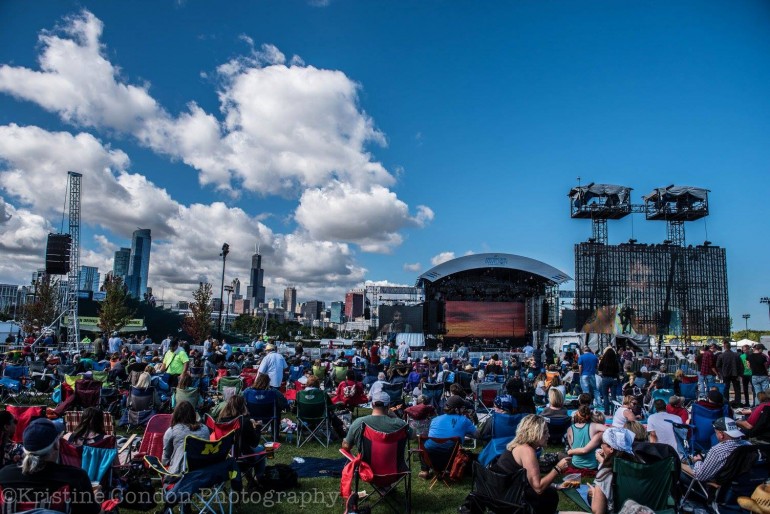 After 30 years, Farm Aid is one of longest running benefit concerts.
Rockers Willie Nelson, Neil Young, and John Mellencamp have been returning to this yearly event since its inception. Not only do they serve as this iconic festival's headliners, they've also made it their duty to stand up for small family farms throughout their expansive careers.
Farm Aid 2015 took place at FirstMerit Bank Pavilion located on Chicago's beautiful Northerly Island. With the backdrop of the city skyline behind the stage, Chicago may seem far away removed from the farm aesthetic (at least in comparison to the original's downstate Champaign location), but a large LED video screen behind the bands reminded crows of the theme, showing images of the farming life through the event.
Yes, there was a scent of celebration that lingered in the air. After all, this was Farm Aid's 30th anniversary. Since that inaugural year, the Farm Aid cause has raised over $48 million for America's family farms.
Around 26,000 tickets were sold for the Chicago event and although the place was packed, it was not sold out. A significant rain fell the night prior, and large wood planks covered the mud soaked ground in the lawn. Folks spread out blankets and tarps where they could fit. Not the first time that crowds had to endure shortcomings of the venue.
Inside the "pavilion" it was a different story altogether with a variety of costly assigned seating options that actually provided view of what was happening on stage.
This year's artist lineup was quite the family affair. Ian Mellencamp, nephew of Farm Aid founding performer John Mellencamp, was handed an early afternoon set. Other performers included Holly Williams, granddaughter of the late Hank Williams, and Lukas Nelson, son of Willie. Luke's band, The Promise of the Real, pulled double duty -- playing one set in the afternoon on their own, and then later backing Neil Young.
[caption width="770" id="attachment_28154" align="aligncenter"]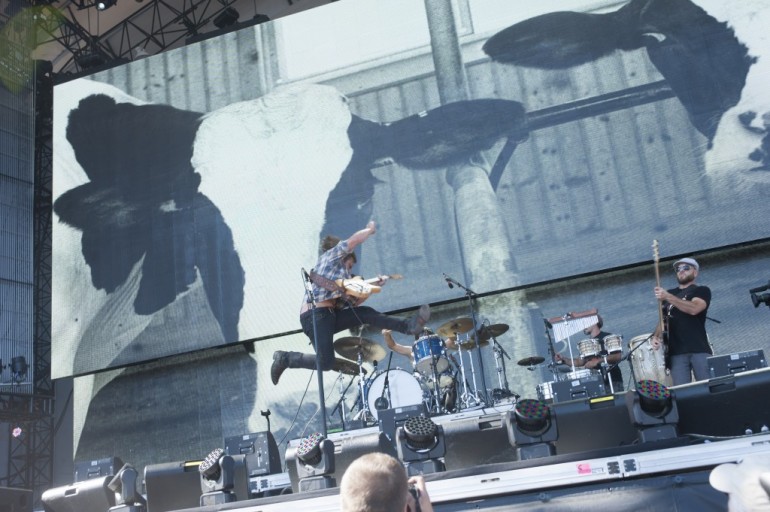 Photo © Paul Natkin/Photo Reserve, Inc.[/caption]Dave Matthews, a Farm Aid board member who has been playing the festival for 18 years, may actually have the highest profile of any of the founders in 2015. In his time associated with the event, Matthews has been able to consistently draw large crowds on his own regardless of the configuration or album he's been touring behind.  His set this evening contained fan favorites like "Satellite", "Crush," and "#41". But when Dave's guitar-foil, and duo-mate for this set, Tim Reynolds wanted to steal the show with some shiny pinky slide, Dave let him take it.
Cover songs littered setlists throughout the night. Kacey Musgraves delivered an electric "These Boots Were Made For Walking", donning a baby blue ruffled dress as if she was heading to a homecoming dance straight from the show.
Jack Johnson surprised the crowd with "Bubbly Toes" > "Not Fade Away" > "Bubbly Toes," no doubt honoring the Grateful Dead's 50th anniversary shows at Soldier Field earlier this summer.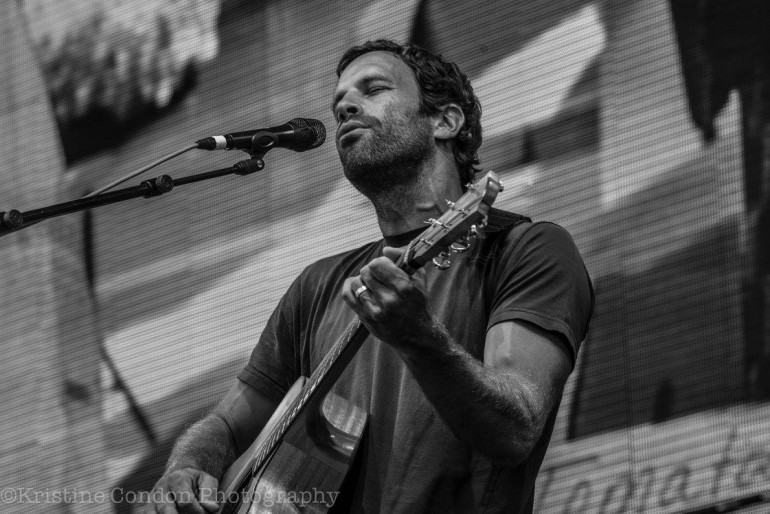 But I contest that the most interesting cover at Farm Aid 2015 came from the only local on the lineup: Mavis Staples. Most of the crowd didn't know what hit them when Staples and her band busted out a funky rendition of the Talking Heads' "Slippery People." A stark contrast from youngsters Imagine Dragons, who delivered a crowd pleasing, sing-a-long version of "I Won't Back Down" while the sun set behind the city.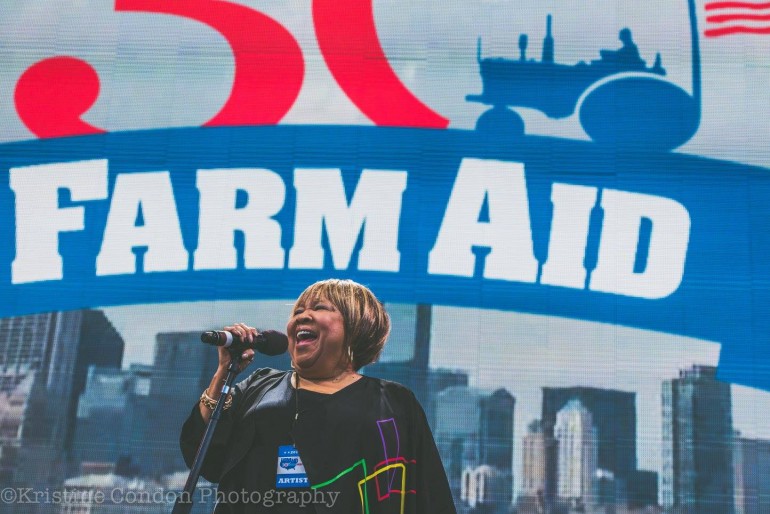 John Mellencamp may have come to the party as the classiest of the bunch with his jet black tuxedo jacket, but as usual, he still kept things cool with white t-shirt and blue jeans. This Indiana native gave the crowd just want they wanted including many of his classic hits like "Small Town" and "Pink Houses".
While Matthews and Imagine Dragons may have had the most visible support, Neil Young trumps them on pure legend points, and he took to the stage like a man on a mission. With The Promise of the Real as his support, the first half of his set was dominated by songs off his most recent album The Monsanto Years.
[caption width="770" id="attachment_28158" align="aligncenter"]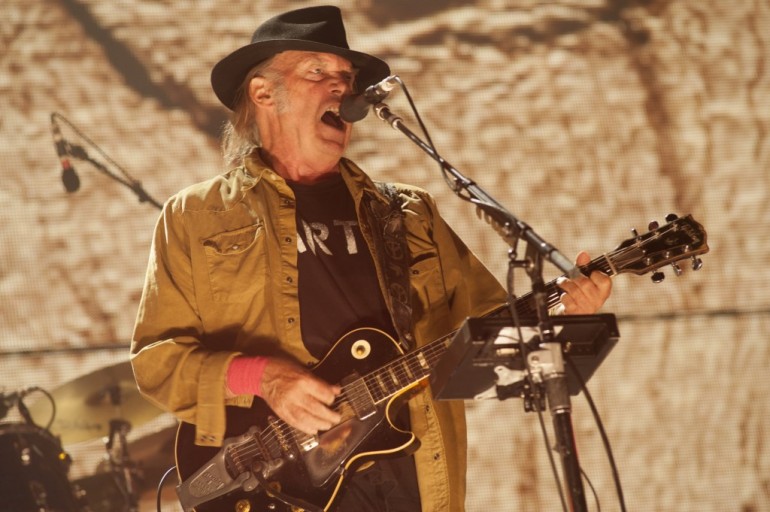 Photo © Paul Natkin/Photo Reserve, Inc.[/caption]The message of this collection of songs has been out there for nearly a year, but in this setting he was met with an audience willing to listen. Young called his enemies out by name (GMO's, Monsanto, Citizens United) forgoing his most popular tunes in order to prove his point. Though it's obviously a new age for Neil Young, he still reached into his bag of tricks to pull out "Alabama," a controversial tune that hadn't been played live in almost 40 years.
Needless to say, the political context of Farm Aid did not go unnoticed as artists encouraged pot smoking and Monsanto was damned by Neil.
But besides Young's electrifying set, there wasn't much education about family farms coming from the actual stage. The Homegrown area towards the back of the venue was set up expressly for education with a variety of speakers, demonstrations, and even a farmers market. While this section stressed the importance of supporting locally sourced food, the message seemed displaced from the action.
The night came to an end with a super jam led by 83 year old Willie Nelson, who ditched his signature red bandana for a Farm Aid baseball cap.
After 30 years, Farm Aid has undoubtedly raised awareness for small family farms, but unfortunately their call to action has gotten lost. The mission has always been twofold: raise both awareness as well as funds in order to keep family farms in business.
But the reality is today's farms are much different than they once were. Many of these farms will not be able to sustain themselves in the new industrial farming climate even with copious donations.  Thirty years on, this is becoming a different sort of fight, and going toe-to-toe with mega-corporations like Monsanto isn't a fair playing field -- unless you have the people on your side.
Ultimately, it's the public who needs to take an active interest in knowing where their food comes from... and acting accordingly. So, what did you eat for lunch today?
Check out all the action webcast from Farm Aid 30 and the rest of Kristine's photos below.