Review & Photos: Johnette Napolitano @ City Winery 7/9/15
Johnette Napolitano Returns with New Songs and True Stories
Words: Joann D. Ball | Photos: Philamonjaro Studio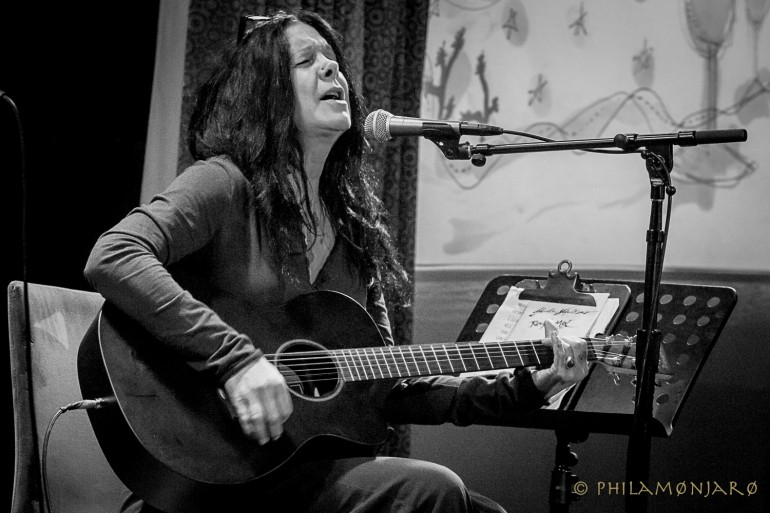 Johnette Napolitano opened with "Joey," and treated City Winery's stage like a porch at her Joshua Tree, California home. She entertained guests with a blend of Concrete Blonde, solo and cover songs, plus some riveting stories from her 2010 book Rough Mix.
Napolitano's voice is still rich and full-bodied, and her solo acoustic performance was infused with passion. The sultry "Jazz on Vinyl" from her new 3-song release Naked, paired well with "All About Eve" which she admitted was "more Joan Crawford than Betty Davis."
Her rapid fire chords and intense vocals on "The Real Thing" illustrated why soldiers who played the song during tours of duty still send thank-you notes.
Napolitano sipped the venue's red wine before "Take Me Home," and added verses from Amy Winehouse's "Rehab" to the heart-rending song about drinking buddies.
Later, she sang a few lines from "Run Run Run" before a gritty confessional about being a struggling musician doing a creepy drug buy in Hollywood.
After a perfect cover of Coldplay's "The Scientist," she gave an animated reading of lyrics from "I Know the Ghost" to set the scene for night's best story. With great detail, she revealed that an eerie stay at the Driskill Hotel in Austin, Texas during a tour with Sting was the true story behind the song "Ghost of Texas Ladies Man."