Review & Photos | K I M O C K @ SPACE 4/2/16
Photos: Mandy Pichler Photography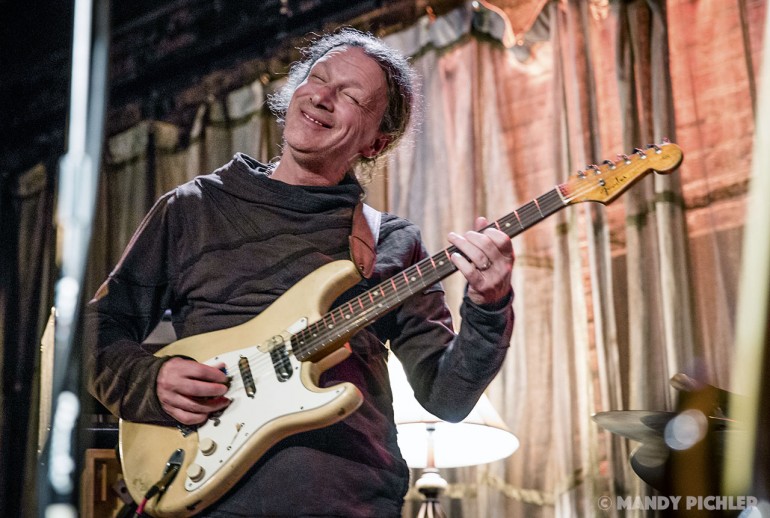 I first became aware of Steve Kimock as he was touring with the West Coast collective Zero in the early 90s. I became further intrigued throughout a series of collaborations with members of the Grateful Dead in the late 90s. But I truly went "all-in" on Kimock via his instrumental, four-piece SKBs in the early 2000s.
Lately, it seems like he's been around in a series of one-off performances, sideman gigs, or tribute performances, so it was welcome to see him with the difficult to type, but easy to love, K I M O C K at the end of a lengthy tour and in support of what Steve calls a "rekkid".
That album, the delicate and moody Last Danger Of Frost, like much of the guitarist's on stage work, provokes a feeling of contemplation and consideration.
Most in the crowd seem to share this same perspective.  You could hear a pin drop from the moment the band took the stage, the room awash in a hushed reverence.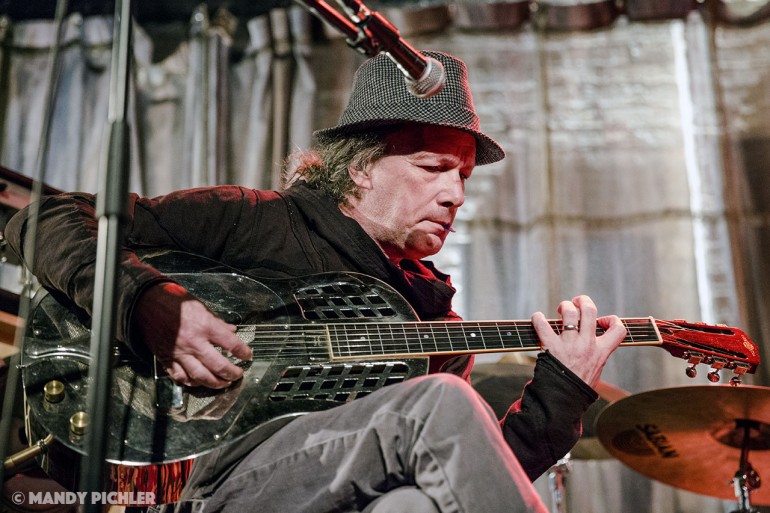 All the better to experience this band, I say.  The four-piece was adept at creating and maintaing a distinct sonic separation amongst their musical voices.  Steve came fully prepared for that, with a variety of gear to get that exact right sound -- a least seven guitars by my count, including a Hawaiian slack key guitar.  One of the benefits -- Steve points out -- of "being on the road vs. being on the street", though he acknowledges the former is much more expensive.
And it's nice to have a little quiet when a band is about the subtleties -- the spaces between notes, the dynamics, the sewing together of a sonic quilt.
Drummer John Morgan Kimock was a key to this, laying back when Steve stumbled on a gentle solo, but kicking it up and being as formidable presence as anyone on stage when the gear shifted from mellow to raging.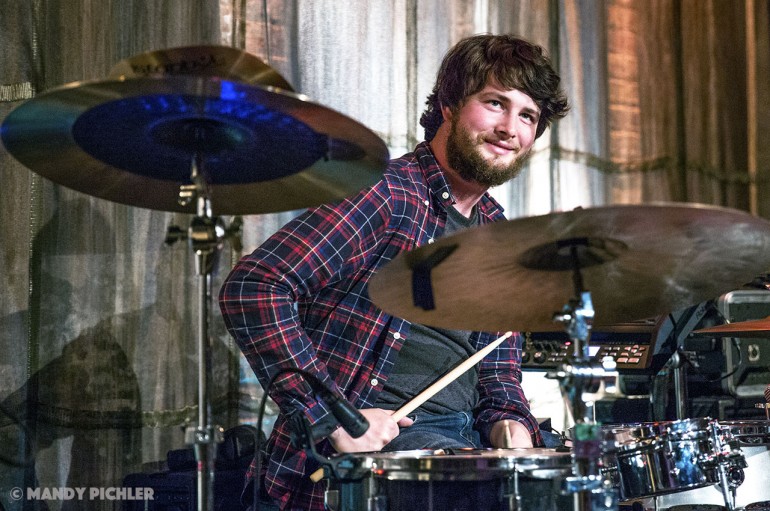 Longtime Kimock collaborator Bobby Vega knows exactly where to be to accentuate Kimock's long and lyrical passages and proved again and again why he's a total professional.
But perhaps the unsung hero of the night was Leslie Mendelson, who played quadruple duty -- switching up between electric and grand piano, offering smoldering vocals on a handful of tunes (the Brazilian, Deep Purple-inspired track, "Maria Quiet", was a notable highlight), and even stepping up on guitar at one point.
She also classed up the joint. Her leather jacket and all black look, running in contrast to Steve's hoodie and John Morgan's flannel shirt.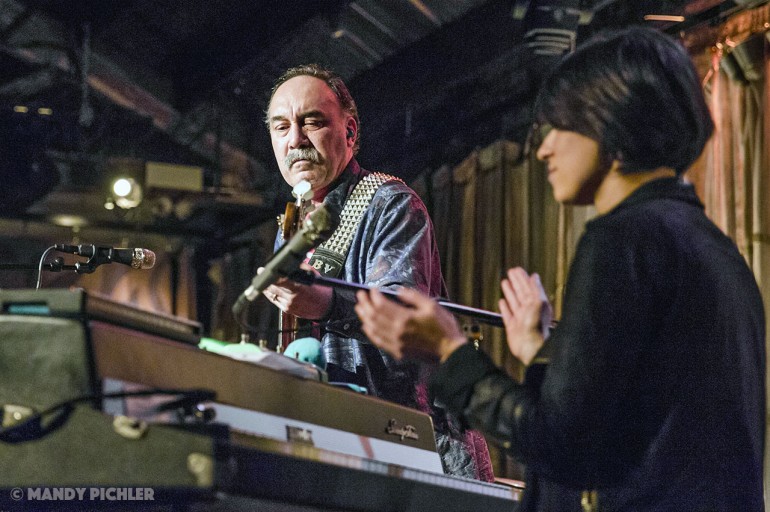 The Kimock template has always been what my friend Kevin has dubbed "Attention Span Theater".  Most songs are long and built around winding guitar lines that toy with variations of theme and melody.  Then, subtly they shift.  It is barely perceptible at first, but before you know it, a song that began as a gorgeous tone poem has morphed into a jazz fusion piece with a huge rock guitar solo and devastating drums.  The journey is so rich and rewarding that it pays to not be distracted.
With only a few spins of the recently released record under my belt, a lot of K I M O C K's material was unfamiliar, but given the patience of the band and the audience it hardly mattered.  Most tunes were distinguished in some way, whether by spoken-word audio samples, Mendelson's breathy vocals, a particular style or equipment swap.
And when the band hit with something recognizable, it hit hard.  Steve's old school jam "Five B4 Funk" breathed some life into the generally reserved crowd, with coordinated wooing yielding to a ton of smiles.  Leslie's vocal turn on George Harrison's "Beware Of Darkness" was a complement to Steve's Beatle-esque guitar lines.  And her take on the Bruce Cockburn (via Jerry Garcia Band) cover "Waiting For A Miracle", while simultaneously providing a guitar foil for the master, left nobody unsatisfied.
A fine way to wrap up a tour.