Review, Photos: Kasey Foster's Dance Tribute To Mr. Bungle - Martyrs 10/23/12
Contributed By: Dave Weckstein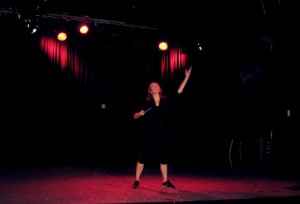 With Halloween upon us, Kasey Foster (local actress and vocalist in This Must Be The Band) thought it appropriate to dress up as her favorite band a week prior to the holiday.  The occasion was her first dance tribute to the experimental California band Mr Bungle. Truth be told, I was a neophyte to the band's bizarro music, but intrigued after reading that Anthony Kiedes hated (and presumably still hates) their guts. After achieving a little commercial success the now-defunct band has gained a cult following in recent years and Martyrs was packed on a random Tuesday with many hoping to indulge in an evening of performance art set to their music.
Foster was the puppet master of some 30 or so dancers all clad in black. During the evening they would sport Guy Fawkes masks, shoot toy guns, and punch through a portrait of a horse head. Yes, you read that correctly. It often appeared hallucinatory, but upon pinching myself twice for good measure, I sat back and enjoyed the trip. It's hard to explain the music so I thought it best to give you the set list and then match it up with my notes which I find best digested in a certain frame of mind. Think of it like watching Wizard Of Oz to Dark Side Of The Moon.
Set List (Key):

1. Stubb a Dub
2. Desert Search for Technology
3. Air Conditioned Nightmare
4. Holy Filament
5. Pink Cigarette
6. Ars Moriendi

Bends (Intermission)

7. Sweet Charity
8. Violenza Domestica / Backstrokin
9. Carry Stress in the Jaw
10. Chemical Marriage
11. Goodbye Sober Day
12. Golem II: The Bionic Vapour Boy

Merry Go Bye Bye (curtain call)
1. A pirouetting blond twirls in the center of four masked dancers in masks. It reminded me of a coordinated Electric Kool Aid Acid Test. I strike up acquaintance with a dancer from NYC that provides me with insight into Foster's background in Fort Wayne, IN where she learned to express her creative self. I take another sip from the challis and turn back to the stage for more. It's addicting.
2. Four dancers act like Rambo vis a vis Footloose as they drink the kool aid apparently and fall to the floor dead as Bubba Gump. They are dragged off stage by remorseful but dutiful compatriots.
3. Six dancers clap in synchronicity as they bring out beach balls and throw them into the audience like a 1960's California beach party. Swim influenced moves such as the scuba and backstroke are thrown into the mix as they sway like the dead.  They lay out beach towels and pose picturesquely like they are staring into the setting sun near La Hoya.
4.A bubble machine switched on as Kasey does her best solo ballerina underwater impression.
5. Paper strewn about the stage signifies writers block as Kasey sits dipping a quill pen dipping repeatedly into an invisible ink well of futility. Milli Vanilli lip synching by her and other dancers. Paper revealed at the end of the song to reveal a silhouette of a hang man.
6. Flamenco influenced start as male dancer feigns confusion or intrigue as eight dancers gyrate in humorous incantations around him. Jamie Jay (TMBTB) has a hilarious head banging cameo. Russian ballet kicks in unison by dancers before they circle the lone male like utter chaos in a nightmare (or fantasy depending on your take). Finally they carry him offstage.
DRUNK INTERMISSION - Nordic looking dancer stumbles onto stage with beer holding intermission sign. Nice touch and makes me feel very Thespian-like but looking through beer goggles.
7. Portrait of horse head in 8 X 10 frame held up by Nordic looking dancer. He really loves this horse, but apparently the affection is shunned by society or something as he unleashes fists of fury at the end of the song punching the horse like Mongo in Blazing Saddles before running offstage.
8. Twelve person waltz samba includes jazz hands, and a Soul Train procession with a tinge of "bunny hop" before busting into a full on make out session between two of the dancers as they full on get it on before noticing they are the only ones left onstage.
9. Clad in blond wigs with false teeth like the undead, four or five dancers do their best Michael Jackson "Thriller" moves and wail like the Walking Dead. Much of the crowd enjoyed this comedic relief.
10. Chorus line kicks from the dance ensemble as a Circus like ring leader wearing red shirt with suspenders has his hands tied with rope before attempting to do his best Houdini. He also proves his showmanship by spinning plates on a stick and juggling machetes which he drops. Although to be fair when is the last time you tried to throw cutlery around?
11. As the conductor of an orchestra, Kasey displays facial expressions like a young female version of Jim Carrey. Her drama background is present but never over-the-top or too serious. It's nice to have someone controlling things without being a diva and you can tell she walks the line well.
12. The dancers moved like digitized wind up dolls before a few do the "worm" (which I have to say is the best dance move ever next to Kid N Play jumping over their own foot).
So there you have it. It was a wild success for many reasons. Hard work, non kitsch performers that pulled from professional and comedic training, and a vision from a masterfully creative soul that was clear (albeit really avant garde) and translated well. I spoke to a few performers afterwards and unbelievably they only had ONE run through rehearsal three hours before the first performance. As Timothy Leary famously stated "Turn On, Tune In, Drop Out" the next time Foster and Friends decide to revamp this ongoing brigade of merry pranksters.
[gallery link="file" columns="2" orderby="ID"]