Review & Photos: Lucius @ Cubby Bear 2/25/14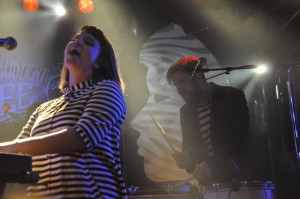 Words / Photos: Alex Wood
Lucius has everything it takes to be a hip indie band: matching outfits, two female singers, percussion instruments scattered on stage before a mod, faux-psychedelic backdrop, and plenty of wordless sing-along melodies.
Yet despite the carefully planned approach, the band's music proved to be anything but formulaic.
Part of the Free Sample series hosted by XRT and Bud Light, the concert at the Cubby Bear was open to the public and predictably packed.
Singers Jesse Wolfe and Holly Laessig walked on stage wearing matching black and white striped dresses, standing with their backs to the cheering audience and playing tambourines. As the three other band members began to play, the singers slowly turned toward the crowd in unison, ultimately breaking into the gorgeous pop harmonies of  "Tempest."
Without a drum set in the band, each musician was responsible for multiple drums and percussion instruments. At any given time, up to four of the five members may be beating drums, providing a giant, hammering backing to the singers' confident, soulful vocals, one or two guitar or keyboard parts hidden beneath the pounding percussion.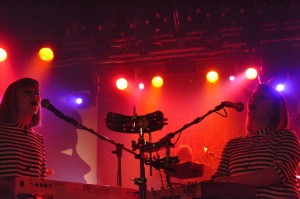 "Don't Just Sit There" followed, with guitar building intensely before fading away, always keeping the vocals in the forefront. "Wildewoman" received cheers, predictably, for its reference to "Chicago winds at wintertime," and had the crowd singing along with its catchy melody.
"How Loud Your Heart Gets" stood out for it's bombastic, distorted jam, the vocalists dancing and jumping and beating on percussion instruments with all their might. "Turn It Around" came as a proper set closer, its beat a heavy stomp that sounded more like a marching band's drum line than a rock group due to the miscellaneous percussion instruments.
For an encore, the band performed the Paul McCartney penned "Goodbye" in the middle of the audience, the acoustic performance of an obscure track a refreshing change, the singers' harmonies still holding it all together.
After the positive critical response to 2013's Wildewoman and the confident live performances of their tours, Lucius are as ideal a choice for summer festival sets as they are for radio singles, proving themselves a significant upcoming force in today's indie scene.