Review / Photos: Moistboyz @ Cubby Bear 12/13/13
Words / Photos: Alex Wood
Moistboyz are too metal to be punk and too punk to be metal. Between the two genres falls the blisteringly energetic rock 'n roll the band makes their own.
Despite their being best known as a side-project for Ween due to the inclusion of guitarist Mickey Melchiondo (referred to as Dean Ween or Mickey Moist dependent on band), Moistboyz holds their own in a live setting, as proven at the Cubby Bear Friday.
And having been around since 1991, this shouldn't come as a surprise.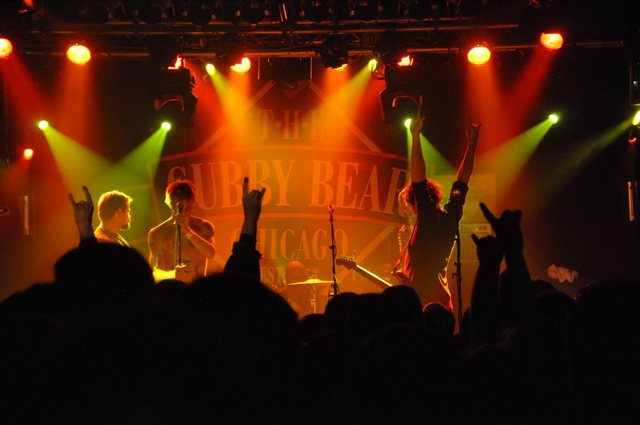 Lead singer Guy Heller, known on stage as Dickie Moist, appeared before the cheering crowd with a six-pack of beer held above his head. One or two beers were missing, naturally.
An absurdly loud and heavy riff opened the show followed by Heller's intense, growling vocals. The band posed like rock stars, Heller leaning into the microphone when singing, whipping the stand around and thrashing about.
The crowd's energy matched the band's off-the-wall flare, with fists pumped in the air, beers thrown on stage and clouds of smoke rising constantly over the screaming, near-capacity audience.
Moistboyz played into the crowd's enthusiasm when able. "1.0 (Fuck No)" proved to be a highlight of the set, the audience yelling the chorus back between Heller's verses encouraging drunk driving.
Even an announcement by the venue that someone's wife had called an ambulance didn't phase the band, the five-piece instantly breaking into the speedy "Paperboy."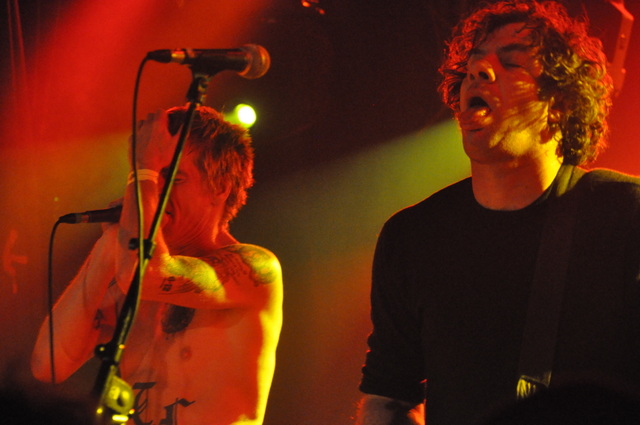 Melchiondo's expert guitar playing remained an anchor for the band's songs and was always received by massive cheers from the audience. The guitarist, dripping sweat, made faces and gestures with each speedy riff, a lit cigarette often sticking from the neck of his Stratocaster.
Tracks like "Captain America" allowed Melchiondo to solo throughout, never allowing the intensity or heaviness to falter slightly throughout his pentatonic noodling.
For a band that's rarely been taken seriously in their two decades of existence, Moistboyz put on a serious show, one that deserves more credit than it receives and has more merit than they would likely admit themselves.
Opener Cealed Kasket couldn't have been a better match for the show, their goofy brand of punk and outlandish costumes getting the crowd excited and setting the energetic tone for the evening.