Review, Photos, Poster, Video: White Demin @ Lincoln Hall 4/19/12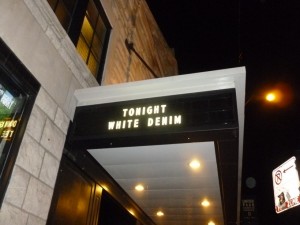 I'm not sure how one can define "The Best Live Band in America" or if it would even mean anything if you did. However, if intensity, imagination, innovation, and execution could be considered fair measures, White Denim made its case for the title Thursday night at Lincoln Hall.
Starting out with the opening trio of tunes from their latest effort, D, "It's Him" > "Burnished" > "At the Farm", they roared into Chicago and grabbed the audience's attention from the first note. After sufficiently announcing their arrival, they segued into another tune from D, "Bess St", and then shifted masterfully into "Shake, Shake, Shake". These five songs without a moment's pause between them had the crowd looking at each other making sure that what they were hearing was real. It was, and it was spectacular.
The band spent the next ninety minutes ripping through their five-album catalog with other standouts being "Drug", "No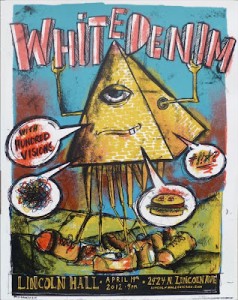 Real Reason", and "River to Consider". Almost all of the songs featured extended interplay between lead guitarist James Petralli (son of former MLB catcher Geno Petralli) and the rest of the band.
Having never seen them live before, I was blown away at the energy and skill of their live show. In addition to Petralli, who is a musical force to behold, drummer Joshua Block and bassist Steven Terbecki created an incredible sonic foundation. Newest band member Austin Jenkins provided Petralli the space necessary to shine by playing solid rhythm guitar and taking the occasional solo.
This band was incredibly tight and the time spent on the road over the past year and a half makes them sound like a well-oiled machine. I will definitely be back to see them again in the future, as will plenty of tonight's crowd.
-KF (@WeirScrewed)