Review / Photos / Video / Setlist | Antibalas & Zap Mama @ Park West 2/14/15
Valen-Times Two: Zap Mama & Antibalas
Words: @312mrg | Photos: Philamonjaro
"This was our best show of this tour" Martin Perna said at the end of an exuberant, energized dance filled 2-hour non-stop set.
It was a statement that justified the trance that had taken over my body -- really the entirety of the Park West -- on Valentine's Night. After seeing a band three or four times, there can be diminishing returns -- a limitation of what that the music can do to your soul.
Antibalas continues to find a way of making their last show the best show.  But let's face it: this wasn't just an Antibalas show. Maybe it was AntiMamas or ZapBalas, because there was no real divide between performers and bands, each lending their diverse brushes to the collective canvas.
A true collaborative experience, as exhilarating as a well rehearsed Broadway musical, tested on previous tour stops, and culminating in a cured cut of robust flavor. It was just as much about the wine as it was the meal, as both acts complemented and required one another. Perhaps it was good we passed on dessert at our pre-show Valentine's meal?
A quick scan of the of the sound-reflective barrier that drapes the upper balcony facade of the Park West revealed the challenge of a band that sets up in a venue like the circus coming to town. The sound has got to be tight -- especially for a band with the power of 4 horns, percussive swells, and serious low trenches.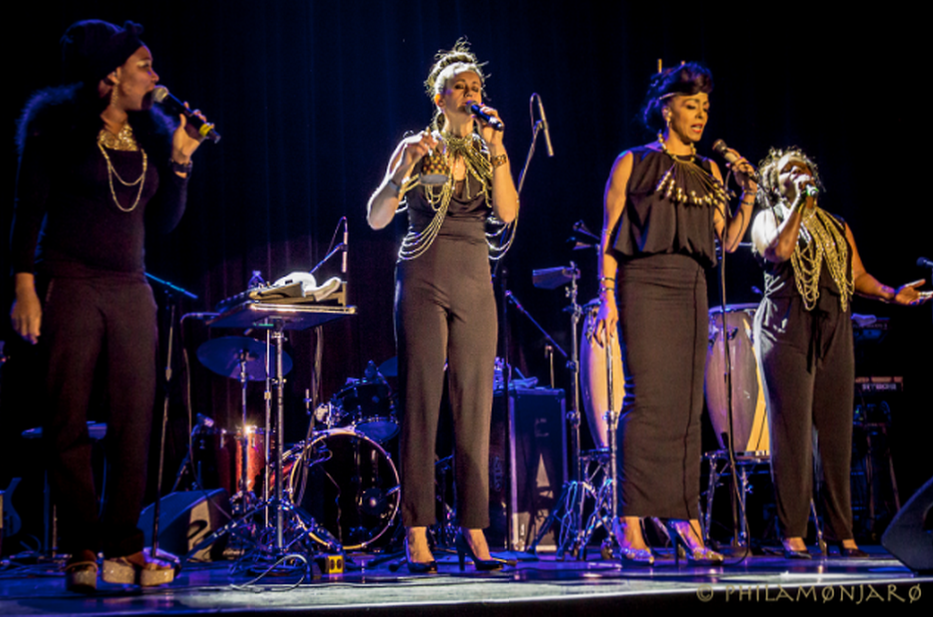 The venue doors were a turnstile of arctic breath, spitting ticket holders into the venue, and into a community of sorts. You could feel the love in the air and residual heat from the cauldron that was already bubbling as the Zap Mama crew of Marie Daulne  (aka Zap Mama - vocals), Lene Christensen (vocals), Melodye Perry (vocals) and Manou Gallo (vocals/bass) had taken the stage with the percussion and guitars of Antibalas.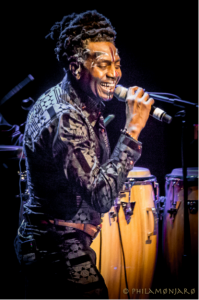 I don't profess to know any of Zap Mama's material, but her ensemble's vocal harmonies were on point and warranted some serious attention. The Antibalas rhythm section were filling some spaces and creating beautiful accompaniment and texture to accentuate this diva ensemble.
There was a natural and organic build in the show that elevated the energy in the venue culminating with the beautiful "Africa Sunset," bridging a gap and leading to the remaining of Antibalas' core entrance, including Zap's masculine counterpunch: Amayo.
Where Zap left off, Amayo carried the crowd into the first Antibalas tunes of the evening. Amayo provided the Yang to Zap Mama's Ying, equally as eccentric and gyrate-worthy, as this show was all about balance.
Amayo gifted roses to Zap Mama's diva squad and showered rose petals on the crowd during "Dirty Money" and "Him Belly No Go Sweet" from their 2012 self-titled album. The staple Antibalas songs were short runs through the most familiar and recent Antibalas album material.
But the show took a turn during "Hook & Crook". With no one member standing out more than the other, a complete euphoric explosion was generated on the punctuated horn lines, boomerangs of guitar rhythm, bubbling bass runs, and percussion de force. This will be my jam --  release it boys! "Tombstown" took it from there, lending the belief that all is well creatively with this band, with so much to be excited for when they decide to put this on tape, hopefully again with Bosco Mann, producer Gabriel Roth.
A cover of Rockwell's "Somebody's Watching Me" was more effective than I originally thought it could be, with Marcus Farrar grabbing the spotlight and getting the entire venue involved vocally and inviting the Zap troupe came back on stage to close things out.
One of the sickest bass solos I've seen came from Zap's Manou Gallo and pointed to how quickly this collective group has meshed -- they segued the solo into their next song seamlessly.
The set ended with a procession of the horns leaving the stage through the crowd, further connecting this circle that been joined throughout the evening of performer and audience.
The layered guitars and repetitive licks of the Fela Kuti classic "Upside Down" signaled a return to the stage.  Zap transformed the typical band intro into a spectacle -- singing and repeating each musician's name as "Upside Down" reached its full "blow-out" potential, with some 17 musicians grooving, dancing and destroying not only the stage but any barrier separating the crowd.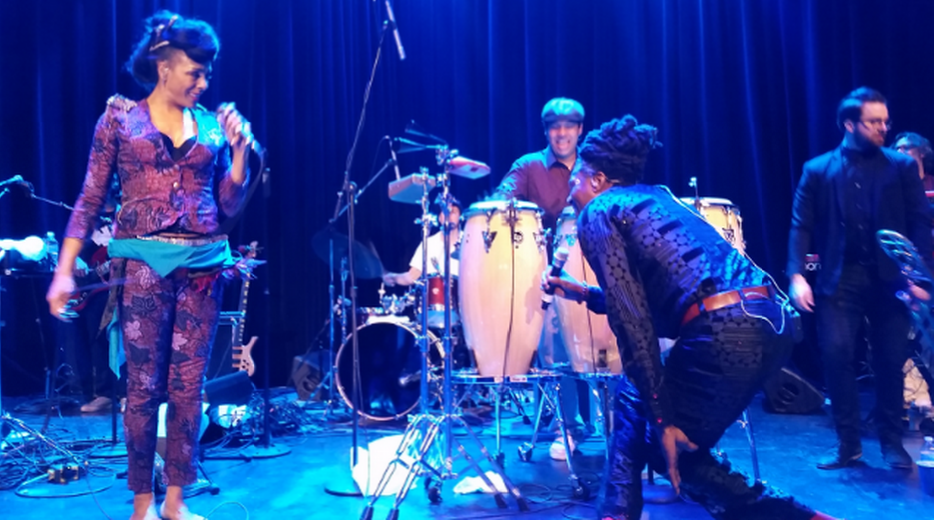 I will see Antibalas and Zap Mama individually again. But experiences like this one may not be seen after this tour ends. It's the creativity and willingness of both acts to mutually align, and maybe shed a bit of their individual identifies, which was the beating heart of this show. If you are out west and see this ticket coming your way, don't miss that chance.
Zap Mama
Marie Daulne aka Zap Mama (vocals)
Lene Christensen (vocals)
Melodye Perry (vocals)
Manou Gallo (vocals/bass)
Antibalas
Amayo (Vocals & Percussion)
Martín Perna (Baritone Sax, founder)
Raymond Mason (Trombone)
Eric Biondo (Trumpet)
Joseph Woullard (Tenor Sax)
Marcos Garcia (Guitar)
Nikhil P Yerawadekar (Guitar/bass)
Timothy Allen (Guitar)
Kevin Raczka (Drums)
Reinaldo DeJesus (Conga)
Marcus Farrar (Shekere)
Will Rast (Organ / Electric piano)
Setlist:
Woodabee, Gissie, Mama Django, Yelling Away, Singing Sisters, Africa Sunset (Transition to full Antibalas), Dirty Money, Him Belly No Go Sweet, Hook & Crook, Tombstone, (Transition to full Zap Mama and Antibalas) Somebody's Watching Me, 1000 Ways, Nefertiti Toto
Encore:
Sun Rise (with Introductions sung by Zap Mama), Upside Down