Review, Photos, Setlist: Old Shoe & Sean Shiel @ Ace Bar 5/9/12
Words: Dave Weckstein, Images: Norman Sands
"What the world needs now is another folk hero, like I need a hole in the head" is a phrase penned by Cracker on "Teen Angst" but in the years since they wrote it, it has been covered by the likes of acoustic artists such
as Keller Williams. In my opinion, we could actually use a few more and Sean Shiel is one of those genuine folk singers. In addition to Williams, it's not much of a stretch to compare his guitar prowess and silver voiced lyrics with Leo Kottke and Michael Hedges. And despite the comparison to Keller, Shiel doesn't loop, which is amazing considering the complexity that spews from his lone guitar.
I caught up with Shiel before the show at Ace Bar this past Wednesday and asked him how things were doing lately with good weather finally upon us. He explained how along with the festival season gearing up he was going to the Canopy Club the next day for a show. Truly great folk players get that way by accumulating shows and experimenting with their audience. Shiel is a seasoned road veteran. Fans gathered at Ace Bar with Sean and his friends from Old Shoe on the last Wednesday of their residency were about to get a treat.
Opening with a cover of Trampled By Turtles' "Ain't No Use in Tryin'", Shiel  warmed the crowd donning his trademark bandana. Then he quenched his own whistle with a nicely positioned PBR located near the mic stand. Fully hydrated, he launched into a darker Xavier Rudd flavored song he named "J.W. and The Hustle" which he told us was about a certain "unnamed" member of Family Groove Company. Somewhere in the refrain I thought I heard remnants of Australian group John Butler Trio. No didjeridu was present however, it was simply a man and his guitar. A downstate rebound relationship number called "Novocain" had a distinct hoe down feel which got my foot stomping. Shiel strung together a nice medley of tunes to round out the set with "Captain Dance", "No Better Time", "Coming Around", "Rail Spike", "The Grind", "Perfectly Free",  and "Flight." Each was delivered to the room with an "awe shucks" type nonchalance that was endearing and never seemed forced. Occasionally,  Shiel delved into what certain songs were about, when he wrote them, and gave a run down of where he was headed next. Then he reached down to that mic stand and took a shot that started a group social and got the room's audio senses limber for the full band experience that followed with Old Shoe.
Old Shoe Setlist

Set I: Beer, Sweet Melinda (John Denver), The Most Difficult Thing Love, Mojito
(slow), Ragweed Jones, Jack Straw, V

Set II: Michigan, Scarlet Begonias*, Joe's Song, Day Rains Night, Breathe > Let
Yourself In > Breathe

E: Eastbound and Down
Key: *with Mikey from Sisters and Brothers
Old Shoe goes on hiatus from Ace Bar for the summer to work on some new material and gear up for Summer Camp and their own Shoe Fest. However, they left us on a high note with a menagerie of best known favorites from their lakeside residency. The time at Ace Bar has served the band well allowing the members to organically grow their sound and develop a tight knit fan base. It seemed like an accumulation of supportive friends were on hand to have one last romp before breaking out the camping gear later this month.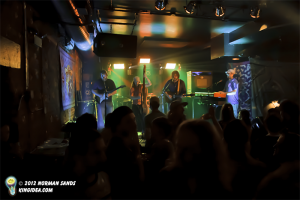 The band went on later in the evening and started it off with a twist. Usually sandwiched mid-set, the Chicago based folk rock quintet opened with "Beer." The refrain bounced and Paul Priest's lead guitar twang led nicely into a first time played John Denver cover "Sweet Melinda." A rare configuration of "Mojito" from the band'ss self titled 2009 album was refreshing to hear for loyal listeners used to hearing it in a more conventional format. The rousing "Ragweed Jones" into the Grateful Dead's "Jack Straw" followed by "V" was a nice bookend to close the first set.
"Michigan" led things off to begin set two before a friend of the band helped channel a double dose of Dead with "Scarlett Begonias." Drummer Mikey Schroeder is no stranger to Ace Bar as his band Sisters and Brothers perform every Thursday, and it was nice to see him sit in behind center. Noticeable in "Joe's Song" and "Days Rain Night" was the bands collective confidence to go to the brink and bring it back together without feeling forced. You can't get better than Pink Floyd in the magic hours shortly before last call. Robinson lead on "Let Yourself In" which was fit snug between an hauntingly played "Breathe" as sang by Joe Day and Priest. Not wanting the residency to end quite so soon the crowd chanted for one more song and received it in "Eastbound and Down." The quick 1970's number satiated everyone's appetite for Old Shoe. Though Ace Bar will be silent of their tunes for a time they'll be at Summer Camp Music Festival in just under two weeks. I know their "camping" stage set at 7:30pm will be on my list of must see acts.
[gallery link="file" columns="2" orderby="rand"]