Review / Photos / Setlist | Steve Earle @ City Winery 1/4/16
Words & Photos: Alex Wood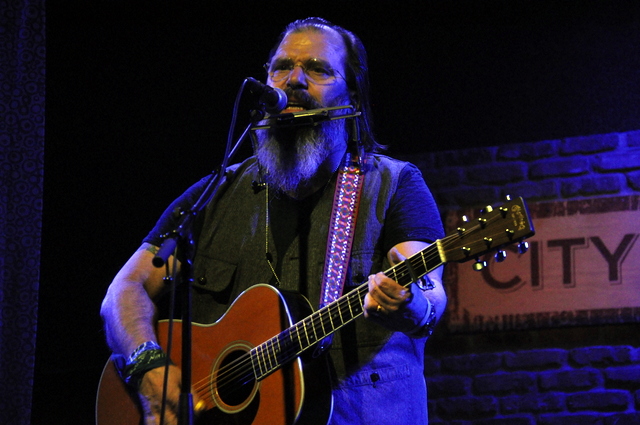 Though notorious for his storytelling during live shows, Steve Earle gave the audience at City Winery something far more special than a few pastime tales during his solo performance on Monday.
Earle used the show to run through his discography chronologically, performing one song off each album he had released since his debut in 1986, filling in the spaces between songs with his life story as was relevant to their recording.
And what could be better than hearing an infamous storyteller giving his full life's story?
The set began with "The Devil's Right Hand," now practically a country standard. The catchy-but-brilliantly-written verses serving as an energetic start to the show.
"So I wrote that song in 1977 and it took three times to get it right," he said, "before I got a record deal."
From there, Earle moved to the title-track from his 1986 debut, Guitar Town. Now celebrating the album's 30th anniversary, Earle spoke of a concert at Park West where his band ran out of songs to play, a show that will be included in the album's reissue this year.
Moving to his next studio album, Exit 0, Earle performed "I Ain't Satisfied," stepping back from the microphone to allow the audience to sing the infectious chorus. Throughout the night, Earle seemed excited to be revisiting his entire catalogue, his guitar playing and singing unbelievably on point.
"So who's figured out what I'm doing?," he asked the audience following "Billy Austin."
He then acknowledged his drug-affiliated pastime in the early 90s, including imprisonment. "I didn't make a record for four and a half years," he said. "I didn't write any songs for most of that time. But when I got out of jail, my friend, he said he knew this record label…So I made a record called Train a Comin'."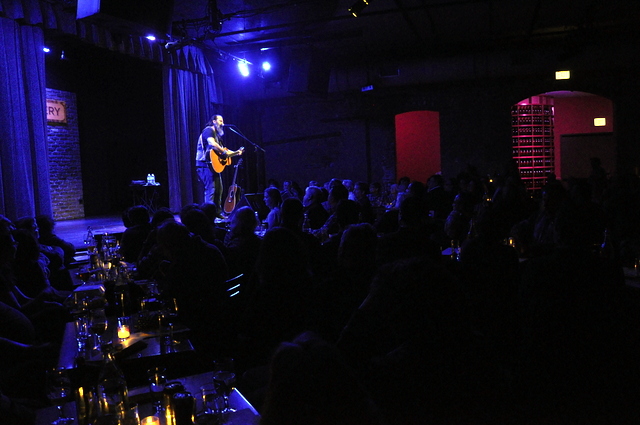 Before he began performing the tender, emotionally charged "Goodbye," he commented on Emmylou Harris's involvement with the record and later recording of the track for her own album. The song featured Bob Dylan-esque harmonica and careful finger picking, the focus always on Earle's gravelly vocals.
The song matched his story perfectly.
"But I recall all of them nights down in Mexico/ One place I may never go in my life again/ Was I just off somewhere just too high/ But I can't remember if we said goodbye," he sang.
The anthem-like "Feel Alright" followed, its intense chord strumming and harmonica combination seemingly waking the audience from the dream that was the two gentler ballads before it.
He then told the story of his first interview, with Rolling Stone, after being released from prison, the interviewer asking whether Earle knew that "Feel Alright" used the same chords as "Gloria." "I said, 'duh!,' Earle responded, jokingly.
Earle continued building energy with the foot-stomper "Taneytown," from 1997's El Corazon, the set already having moved 20 years from where it began.
Following the song, Earle spoke of himself and other "post-Kristofferson, post-Dylan songwriters" hoping that Kristofferson's success would "happen to us." He transitioned into speaking of his respect for the bluegrass tradition and recording with "the best bluegrass band," Del McCoury Band.
He followed with "The Mountain," from his collaborative album of the same name, the song drenched in imagery typical of bluegrass songs of the past.
"I was born on this mountain a long time ago, before they knocked down the timber and strip-mined the coal," the song began.
When seeing a musician that has explored every corner of the country tradition, hearing Earle perform the simplistic chords and melody of "The Mountain" felt extremely appropriate, but a treat nonetheless.
The next crucial chronological event came with the 9/11 terrorist attacks, the tragic experience leading Earle into a significantly more conscious political stance in his songwriting.
"I woke up this mornin' and none of the news was good/ And death machines were rumblin' 'cross the ground where Jesus stood/ And the moan on my TV told me that it had always been that way/ And there was nothin' anyone could do or say," he sang during "Jerusalem."
All along, Earle hardly had to explain himself between songs, as the deeply personal lyrics did the job for him.
"Tennessee Blues" was performed as a tender ballad, phenomenal finger-picking combining with Earle's southern drawl to create a lazy, classic feel. The line "Goodbye guitar town," featured at the end of the verses, called back to the set's second song.
"For the next record, I needed to finish my book, and I needed to focus on that," he said, justifying his next release consisting entirely of Townes Van Zandt covers. "The very first thing I recorded was this song, because if I hadn't recorded this song, I'd have been a pussy."
Emotions remained high as Earle then covered Van Zandt's "Pancho And Lefty," audience members singing along with the timeless classic.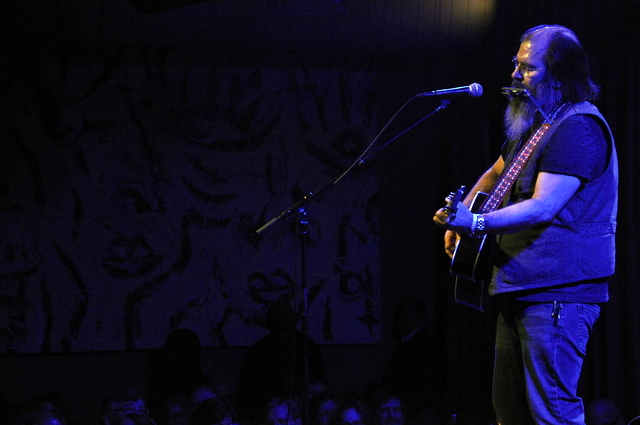 After a huge applause, Earle performed "God Is God," completing a particularly emotional run of songs. Catching up to the modern day, he performed 2013's "The Low Highway" and 2015's "You're The Best Lover That I Ever Had."
Earle quickly returned to stage with a mandolin for the encore, opening with what may be a new song, potentially titled, "Tell Moses." The song featured a chugging, rhythmic strum pattern with heavily religious imagery involving Israel.
The Irish-jig-inspired "The Galway Girl" followed, its sing-along vocals sounding especially light after the heavy and emotional second half of the set.
"I talked to Justin today, it's his birthday," Steve said of his son, folk-singer Justin Townes Earle, the audience applauding the personal comment.
As is typical of Earle's concerts, the singer then went into a long speech about the current political climate in America, discussing the upcoming election, the need to vote and Obama's success in office, specifically regarding health care reform. Earle compared notoriously socialist Woody Guthrie to Bernie Sanders, and flat out told the audience to vote for Bernie.
"Christmas In Washington" then closed the show, the audience singing its emotionally charged chorus loudly, the political rant and song combining to feel like Earle led us to modern times in a long, winding tale of his last three decades.
"So come back Woody Guthrie/ Come back to us now/ Tear your eyes from paradise/ And rise again somehow/ If you run into Jesus/ Maybe he can help you out/ Come back Woody Guthrie to us now."
Setlist:
The Devil's Right Hand (1977)
Guitar Town (1986)
I Ain't Ever Satisfied (1987)
Billy Austin (1990)
Goodbye (1995)
Feel Alright (1996)
Taneytown (1997)
The Mountain (1999)
Transcendental Blues (2000)
Jerusalem (2002)
The Revolution Starts Now (2004)
Tennessee Blues (2007)
Pancho And Lefty (Townes Van Zandt cover) (2009)
God Is God (2011)
The Low Highway (2013)
You're The Best Lover That I Ever Had (2015)
Encore:
Tell Moses (?)
The Galway Girl
Christmas In Washington