Review / Photos / Setlist: TR3 @ SPACE 2/12/14
Words/Photos: Alex Wood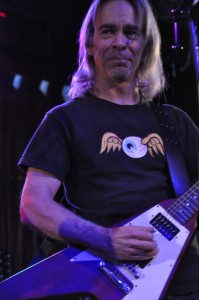 Throughout TR3's set at SPACE, the trio played a fun combination of originals, covers and new songs that emphasized Tim Reynolds' versatility as a guitarist.
The trio, consisting of Tim Reynolds, bassist Mick Vaughn and drummer Dan Martier, ripped through songs in every style a power trio could possibly take on. There was blues, progressive, psychedelic, hard rock, jazz-fusion, metal, pop-rock and classic rock, each song seemingly building off the one before it.
Opener "All Over The Place" rocked like a Phish song, Reynolds matching his clean, lightning-speed electric guitar licks with equally quick, syllabic vocals.
Reynolds switched to acoustic guitar while announcing a new song entitled "I Believe." The track featured melodic vocals and a blistering acoustic solo.
In a recent interview with The Barn, Reynolds described his new record, Like An Alien Invasion, as having more acoustic guitar and "sonic variety of guitar tones."
Reynolds used a wide variety of guitars and pedals throughout the show, including his Flying V and double-neck electrics.
The third song, "Lonely Woman," took the band yet another direction, this time being a soft, emotive instrumental ballad, Reynolds using only his thumb for its intricate picking. The guitarist referred to it as "one of my favorite songs" to the cheering audience after its performance.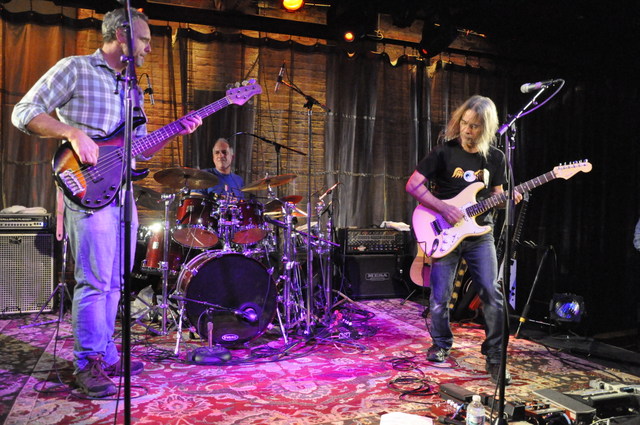 Regardless of the style the band performed, the members were always visibly enjoying themselves, smiling and hollering across stage at one another, giving the constantly rocking concert a laid-back feel, as if watching three talented friends jam in a garage. They were simply here to rock, and they certainly did their job.
The audience appeared as excited to be there as the band, screams of "Yeah, Timmy!" rising above applause and instrumental peaks, the band working hard to keep entertainment levels high.
"You get my ultimate respect for being able to deal with cold temperatures all the time," Reynolds joked.
A highlight of the evening came when the lights turned off completely, each band member wearing a visor with two, blue LED bulbs, their soft glow providing the only light in the room.
Appearing as aliens in the small, pitch-black space, the band ripped through an instrumental progressive-rock song with unbelievable intensity. Despite the band members not being visible, all eyes were on the stage.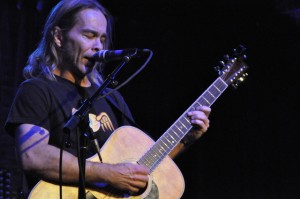 Throughout the evening, each band member took turns singing lead vocals, including an excellent, jammed-out "Radar Love" led by Vaughn. The band's rendition of Tom Waits' "Face To The Highway" was an excellent match for the band, showcasing Reynolds' raspy vocals in a break from loud dynamics.
Songs from upcoming full-length Like An Alien Invasion received enthusiastic performances from the band and felt riff-heavy and well developed.
New song "In The Zone," for example, was unashamed in its southern-rock leanings, Tim's riff sounding like a crazier ZZ Top over sporadic drumming and powerful, bluesy bass.
Encore and set closer "Kashmir" allowed the band to really stretch out and jam, the  crowd applauding Reynolds' endless, over-the-top soloing. Bringing the night to a close with such a classic song felt appropriate, as though rolling up all the various styles performed that night into one big ball of rock.
An endlessly entertaining and musically impressive show, TR3 reminds audiences of the fun nature behind rock 'n roll music.
Set list:
1. All Over The Place
2. I Believe
3. Lonely Woman
4. New Solutions
5. Missle Comin' At Ya
6. Burning Season
7. Face To The Highway
8. Running From People
9. Cave Man
10. Victory Express
11. Dracula
12. 666
13. Aqualung
14. More Human
15. In The Zone
16. Lips Like Sugar
17. Radar Love
18. I C U
19. Mercury Direct
20. Hocus Pocus
Encore:
21. Kashmir