Review / Photos: Skydeck Allstars 2.0 @ Willis Tower 11/21/14
Whatchoo Talkin' 'Bout Wills Tower Jam?
Words: @312mrg | Photos: Daniel Peterson courtesy of musicfestivalcentral.com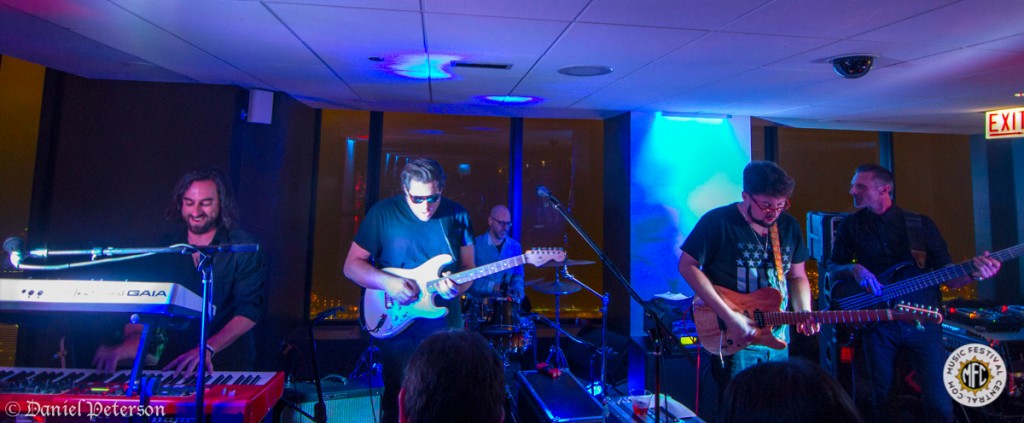 It takes two elevator combinations to get to the 99th floor of the Willis Tower. Somewhere around floor 40 of my first, I struck up conversation with a guy from Philly who had just arrived in Chicago on Saturday and was just in for the show.
His second comment helped me realize how intimate of an event this was going to be.  He introduced himself as the drummer for Lotus (and this second installment of the Sky Deck All-Stars), Mike Greenfield. The next elevator bank allowed us to continue our brief conversation, exposing the improvisational and experimental nature of the evening.
Greenfield told me they had a single, short rehearsal for this event earlier in the day, and were anchoring it around a few tunes. With an innocent shrug and smirk he told me: "this should be a 'fun' night."  Mike looked as genuinely excited as I was intrigued by that statement. The theme of risk and adventure backdropped by majestic views of the Chicago skyline in every direction accentuated the feel of this VIP event vibe.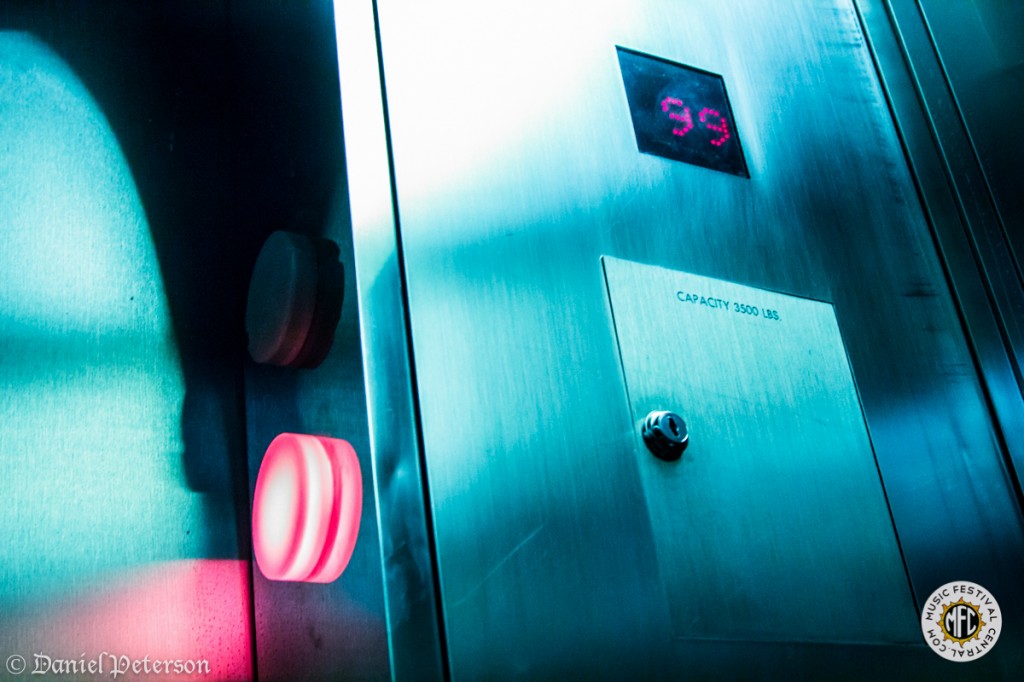 Immediately stepping off the elevators, the blue and magenta tinged lights set the atmosphere. Exposing art exhibits and tables that included an airbrush artist, eccentric flat brim hat collections, Lagunitas beer samples, and a cardboard Willis Tower replica scraping the 10 foot ceiling. The stage was set up in the northeast corner with the Hancock and Trump in the distance, and was really the only art exhibit that mattered for the next 4 hours.
Otter Presents, the team behind this event, and the musicians themselves were able to balance hype with a bit of mystery. Last year's pre -Thanksgiving event was a complete juxtaposition musically, mixing artists known for Grateful Dead with others associated with "jamtronica". For this year's installment, my personal expectations were guarded considering my modest appreciation for "jamtronica" and fluctating interests in the participating artists over the years.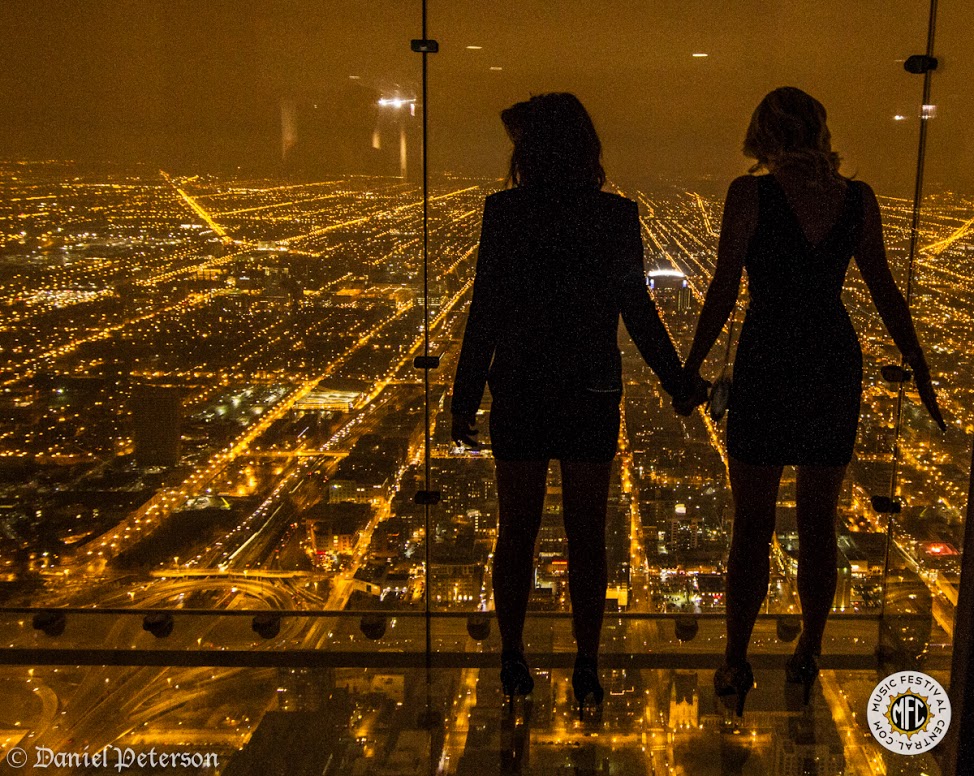 I'll admit to a limited affinity to the Disco Biscuits and Lotus -- I've gravitated away from Particle and STS9, and couldn't pick a Digital Tape Machine jam out of a lineup. BUT, I'm a sucker for Super Jams. They stir something in me. They are a risky proposal that can lead to "too" egoless playing, the type that can sometimes yield a fun attraction, but result in something that is not necessarily worthy of revisitation for either artist or audience.
On paper, they raise the bar high.  But in reality, they can result in musicians bottling some of their mojo for fear of stepping on stage toes.
When the modesty of an artist wears off, or when the ego that stands out in their own band can dissolve as they push the pedal of creativity, that's when a Super Jam takes on a different quality. Saturday night's Skydeck All-Stars Top of Tower Jam was complete Quality, as boundaries were pushed pretty early in the evening, with cast mates challenging one another throughout. While based in jamtronica, the evening didn't have the overly produced beeps, bloops or stale loops that I've come to expect -- and may have ended up being more digestible to myself and others like me.
Perhaps it was the selection of LCD Soundsystem, Talking Heads, Herbie Hancock and Grant Green tunes that were the core of the two sets.  Each led into some truly progressive jams that had me completely captivated on multiple occasions. The contributions of the artists to make this more than just a one off Super Jam was evident, resulting in superb chemistry aided by the flow of the setlist construction.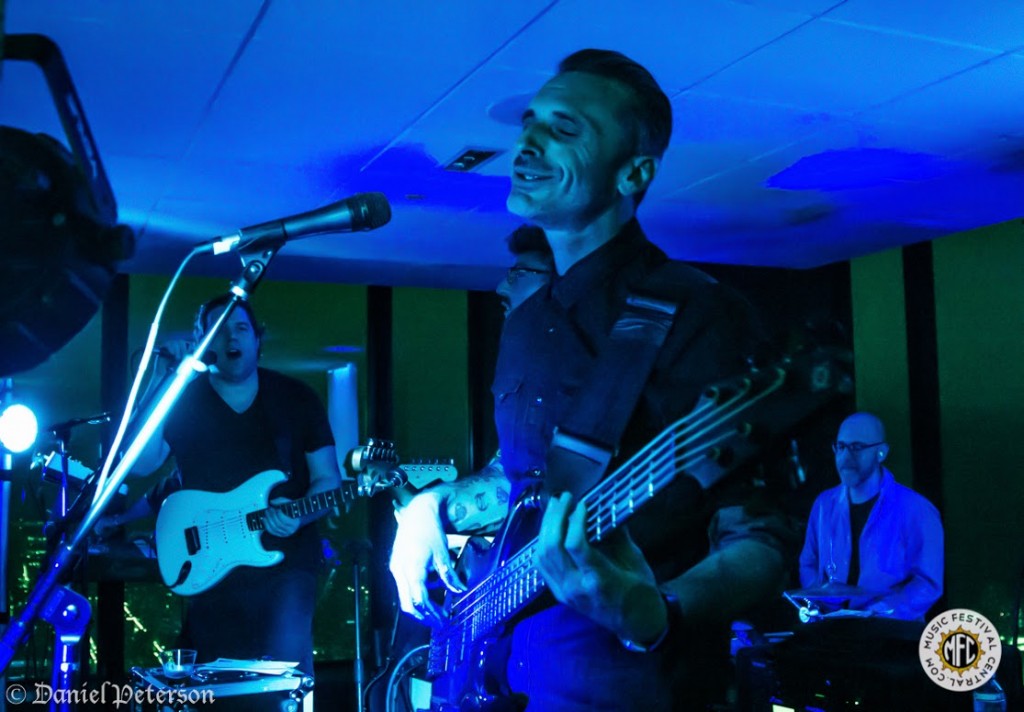 John "Barber" Gutwillig and Steve Molitz seemed to be the cornerstones of leadership and direction.  The opening "Funk in G" drew the attention of the entire floor, redirecting the long and irritated drink lines to the Tower's corner. Unfamiliar with the song, or if it was anything beyond an opportunity to get the kicks out, it set a nice mood and vibe consistent with the crowd.
But when "Home" started and the realization of an LCD Soundsystem song being performed settled in, there was clearly more here that just vamps and mood.  Barber took the vocals and raised the energy with each build to the refrain. It was around this time I began noticing how tight the bass of David Murphy and drums of Mike Greenfield sounded -- they  provided a locked-in groove that didn't deviate or relent all night. It exposed just how powerful the reliance on a rhythm section can and should be in anchoring the sound.
It made everyone else pop, as Gutwillig's unique and percussive tone was getting counteracted and counterattacked beautifully by a guy I never heard before... Marcus Rezak.  It was "Horror" when my focus sublty began to shift his way.  With an almost Eminem-sounding heavy jam, Rezak was capable of carving out his moments of balance amidst the frenzied sound -- expanding the horizon of the stage.
Just as my ears were getting accustomed to what I was going to consume for the evening, a catapult of energy arrived with the Grant Green cover: "Jan Jan". Show opener, Joe Marcinek got a chance to jam it out with the Skydeck Crew and issued a challenge to both Gutwillig and Rezak. Proving capable and making at least one new fan that evening, he lent the most soulful dripping solo of the evening -- everyone in attendance got a bit of a Marty McFly like moment. What he left on stage, was 1.21 Gigawatts of power that infected Barber's heavy "Building Steam with a Grain of Salt" (DJ Shadow) jam and an unparalleled evisceration of Herbie Hancock's "Hang Up Your Hang Ups" by Rezak.  That last one induced a collapse of the cardboard Willis Tower, which came crashing down as his solo peaked, aided by a girl turned Godzilla. What an exclamation of the end of a set that had no extended lull or drab moments.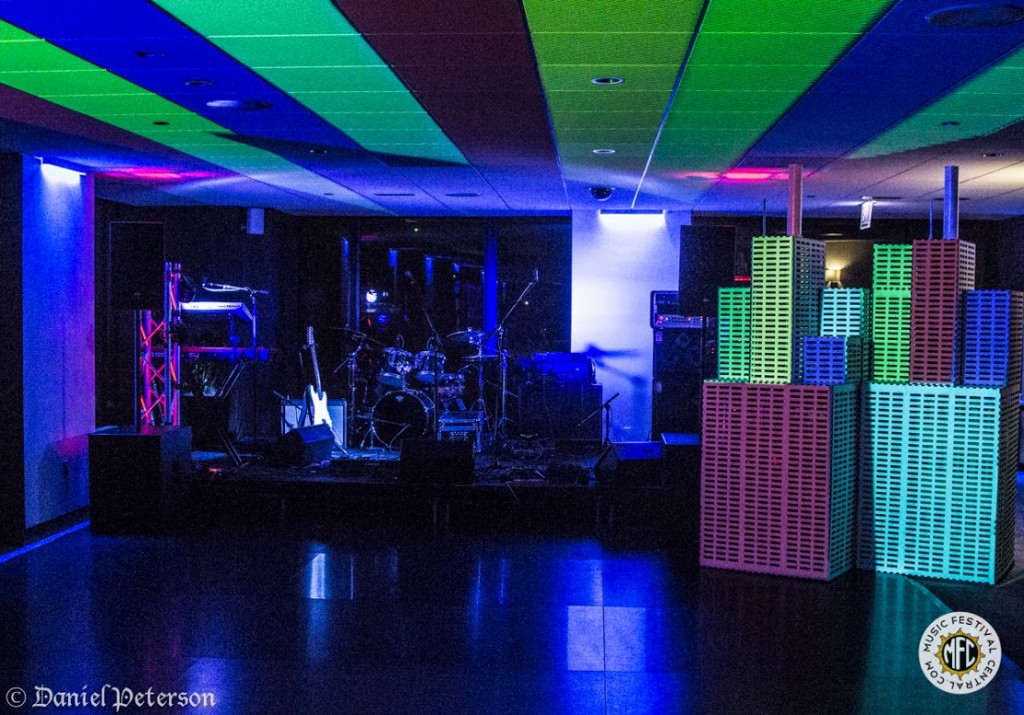 The second set picked up right where the first stanza left off with an opening "Crosseyed and Painless" that held true to Talking Heads form until it went full launchpad. Steve Molitz was the artist I had the most familiarity with coming into the evening. He is capable of psychedelic debauchery and was the one musician I was looking forward to hearing -- in paricular, when would he use the platform to bring his Particle phaser to the fight? I give him a lot of credit for finding outstanding balance all evening.
As as much as I looked for one huge moment or specific spot for him to dissect, his playing remained fairly consistent throughout and served as a testament to his skill as band leader. He was all over this "Crosseyed", but seemed to support in subtle waves of synth and sonic maps for others to follow, as they continued into the ridiculous "Arnold." That proved to be a great disco funk groove cum electro dance party.
The close of the evening began with more LCD Soundsystem as "Pow Pow" and ,subsequently, Daft Punk's "Lose Yourself to Dance" showcased the chemistry built throughout the evening. It was during "Pow Pow" that the two-headed guitar monster traded solos most efficiently, with Barber bookending Rezak's mindprobe.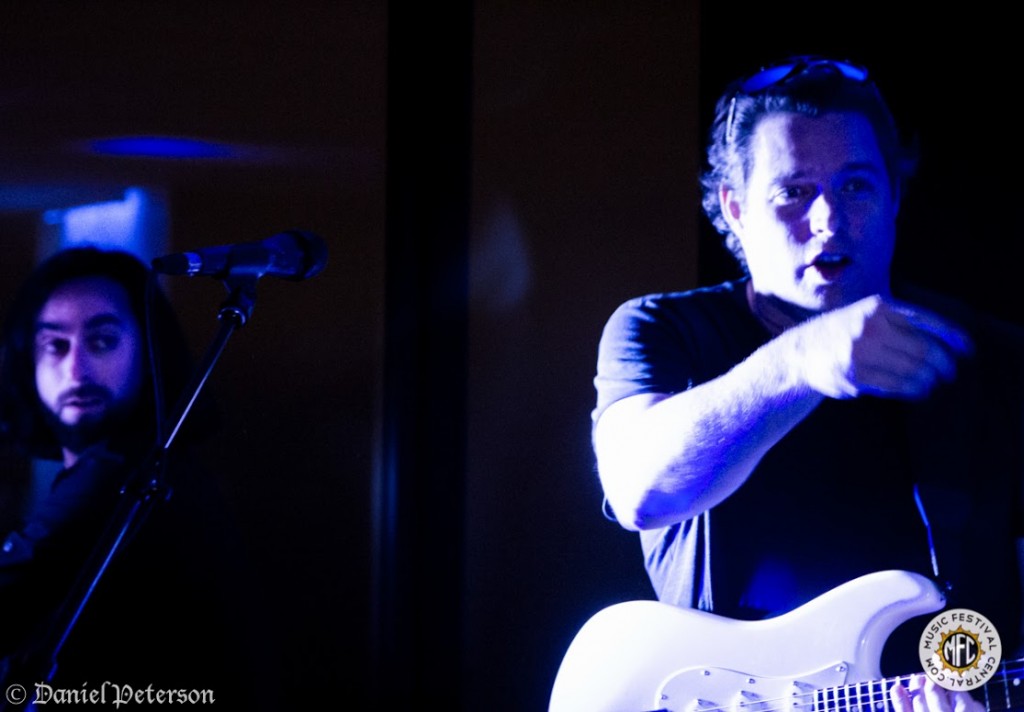 The lights came on but the band played on during "Lose Yourself to Dance" and a rousing "I Know You Rider" that was the most traditional sounding cover played, ending the night emphatically.
In lieu of attempting segues or finding ways to extend songs for sake of time instead of jams, each set primarily featured stand alone pieces of creativity, improvisation, and punctuation.  However they decided on this material, the results were superb and well received from an appreciative and mature audience. I've rekindled and found new appreciation for some artists I've strayed from, and been attracted to a couple new ones that will remain on my radar in the days to come.
This was a first class experience all the way around.  Production, when it's done right, adds so much to the event itself. This was so much more than a show, it was an experience. Otter Presents knows the right ingredients and have left a mighty impression on this audience.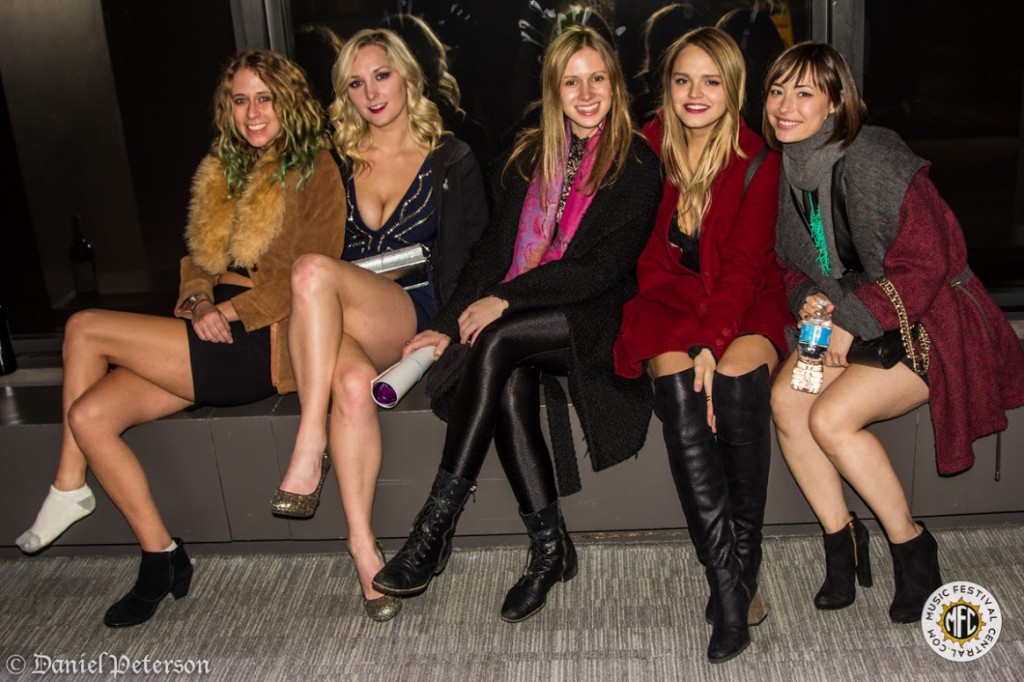 Find more of my interviews and reviews at tomorrowsverse.com and linked via my twitter @312mrg
Skydeck All Stars 11/22/2014
Willis Tower - 99th Floor
Chicago, IL
Marcus Rezak (DTM) - Guitar
John 'Barber' Gutwillig (Disco Biscuits) - Guitar
Mike Greenfield (Lotus) - Drums
David Murphy (STS9/Seven Arrows) - Bass
Steve Molitz - (Particle/Phil & Friends) - Keys
Set 1
Funk in G (?)
Home (LCD Soundsystem)
Horror
Jan Jan (Grant Green) w/ Joe Marcinek
Building Steam with A Grain of Salt (DJ Shadow) (Barber highlight)
Hang Up Your Hang Ups (Herbie Hancock)> Cardboard Willis Tower collapse jam (Rezak highlight)
Set 2
Crosseyed and Painless (Talking Heads)
Arnold (Luke Million)
Pow Pow (LCD Soundsystem) (Barber>Rezak>Barber baton jam)
(Lights On) Lose Yourself to Dance (Daft Punk)
I Know you Rider