Review / Setlist / Photos / Video: Kishi Bashi @ Metro 5/31/14
Words: Alex Wood
Photos: Eujin Kwak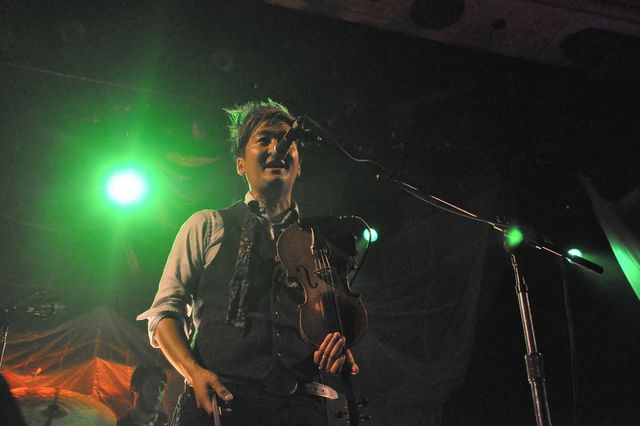 Kishi Bashi's set at the Metro balanced expressive violin performance with a creative use of effects. Though only three band members backed the violinist, their sound was massive, achieved through looping techniques and well-composed songs.
Kaoru Ishibashi has released only two records under the Kishi Bashi moniker, but the set list used the songs perfectly, as though he was choosing from hundreds. The stage design was gorgeous yet simple, with billowing white sheets draped all over, catching the colors of the often pink and purple stage lighting.
The incessantly catchy "Bright Whites" was played with bouncing enthusiasm. By its end, Ishibashi was beat-boxing into a loop pedal, creating a layered a cappella beat before returning to the Japanese vocal hook for a huge, full-band ending.
"Hahaha Pt. 1 & 2" followed, introduced as "a long one" by Ishibashi. The song used strange, high-pitched loops and contained distinct sections, the song constantly transforming into something new every couple of minutes. A fat bass line took over as the other instruments faded out, marking the beginning of "Hahaha Pt. 2," and was followed by a funky instrumental jam with rugged electric guitar and layered vocal harmonies.
"Atticus, In The Desert" began with eerie vocals and frantic violin work, a delicate and dramatic beginning, but was followed by a thunderous tribal drumbeat that the studio recording doesn't emphasize.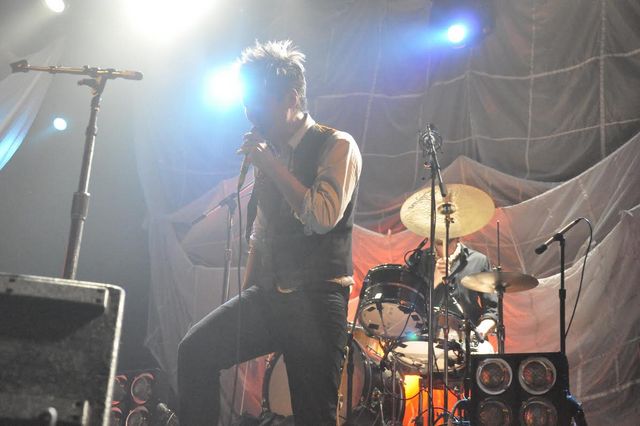 The band left stage and Ishibashi performed a series of songs solo. The solo portion of the set was spacious, leaning more on the vocal performances than violin, typically plucking the violin's strings lightly and looping noises for a backing.
"Bittersweet Genesis For Him AND Her" proved Ishibashi's incredible vocal abilities, using dynamics wisely to create dramatic, flowing tension, the crowd frozen in amazement.
As though to balance the delicate solo section, the encore followed with unbelievable force, including an epic cover of McCartney's "Live And Let Die," a masked man crowdsurfing from stage with a go-pro camera on a pole at its finish.
"It All Began With A Burst" followed with an even higher intensity, multi-colored confetti falling from the ceiling and the crowd going absolutely nuts. The song combined everything that makes Kishi Bashi great into, quite literally, a short burst. Crazy sounding violin loops and effects meet an insanely catchy vocal hook and a pounding dance-beat.
The audience waved their hands above their heads, side-to-side, and clapped with the beat. The bassist dove into the crowd as the song ended, only a heavy, splashing drumbeat continuing.
Kishi Bashi's performance was marked by dramatic intensity. Whether extremely quiet or extremely loud, the band captured the audience's full attention, creating a live show as unique and unpredictable as their music.