Review / Photos / Video / Stream / Download | Medeski Scofield Martin & Wood @ The Vic 12/13/14
Words / Photos: Alex Wood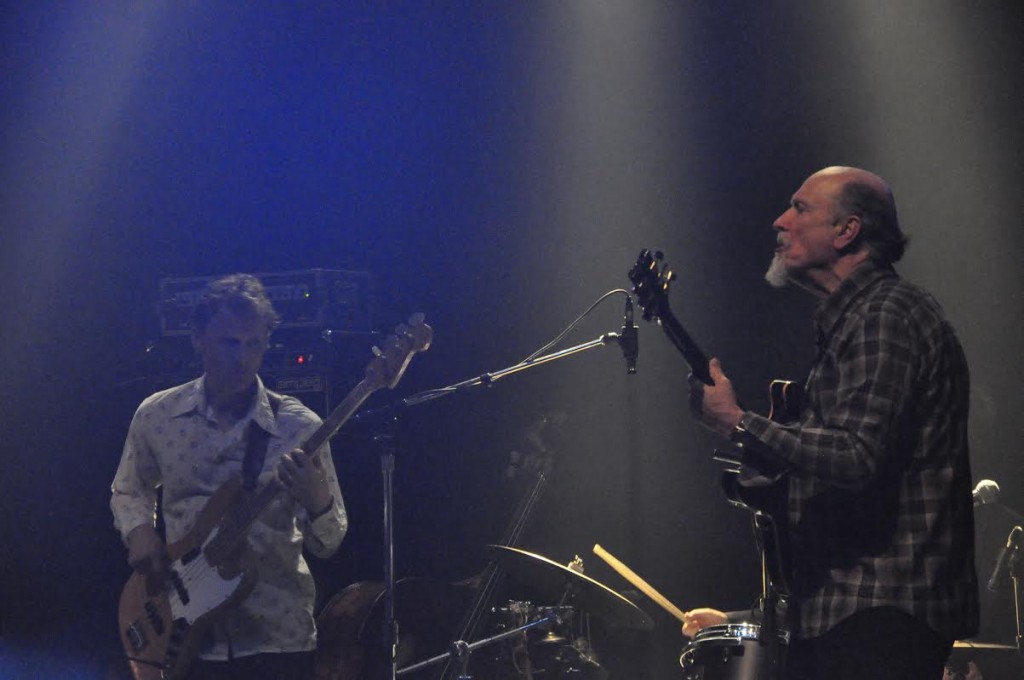 If asked why Medeski, Martin & Wood are still amongst the best jam-bands around today, my answer would go no further than listing the three musicians' names.
The jazz trio's three members have perfected their craft over the last two decades. No single member stands more important than the others, and their ability to listen to one another when collaborating is unparalleled by any other contemporary band.
None of this changes by adding jazz-guitar great and friend of the band John Scofield into the mix.
Scofield fits in with the band, as opposed to taking a leadership position. He knows when to step into the forefront with a solo and knows how to back off when needed, occasionally even letting the trio play without his accompaniment.
It's refreshing to see a band play as such a cohesive unit, communicating constantly as songs continually shift into new territories, chasing new directions and sounds with each changing soloist.
The band's performance at the sold-out Vic Theater exemplified their musical expertise and creativity, heavily flaunting the songs from their recent album, Juice, while tossing older tracks into the mix as well.
Opener "Sham Time" featured every musician throughout, as though to introduce the band members. A soaring guitar solo by Scofield featured rapid runs of notes that only a well-versed jazz musician could find, each run circular but ever changing. Medeski switched between organs, keyboards and piano throughout, as though to never let a melody or idea go stale.
"Juicy Lucy" opened with a guitar riff that rhythmically resembled early garage-rock, though the song quickly became a fusion-inspired jam with a dirty bass-guitar solo from Wood.
John Scofield's "Chank" followed, a nod to his record A Go Go, which featured MMW as a backing band. The song's quick rhythm guitar led to a gradually building jam, the band landing on a heavy funk vibe before returning to the introductory riff.
Though the musicians were typically stationary on stage, their full concentration and attentiveness was constantly apparent. Medeski and Wood visibly sing along with the melodies they produce when soloing, while Scofield makes aching, dramatic faces with each note or run performed. Martin, on the other head, keeps a cool, collected façade, watching each soloist perform to insert imaginative fills in all the right places.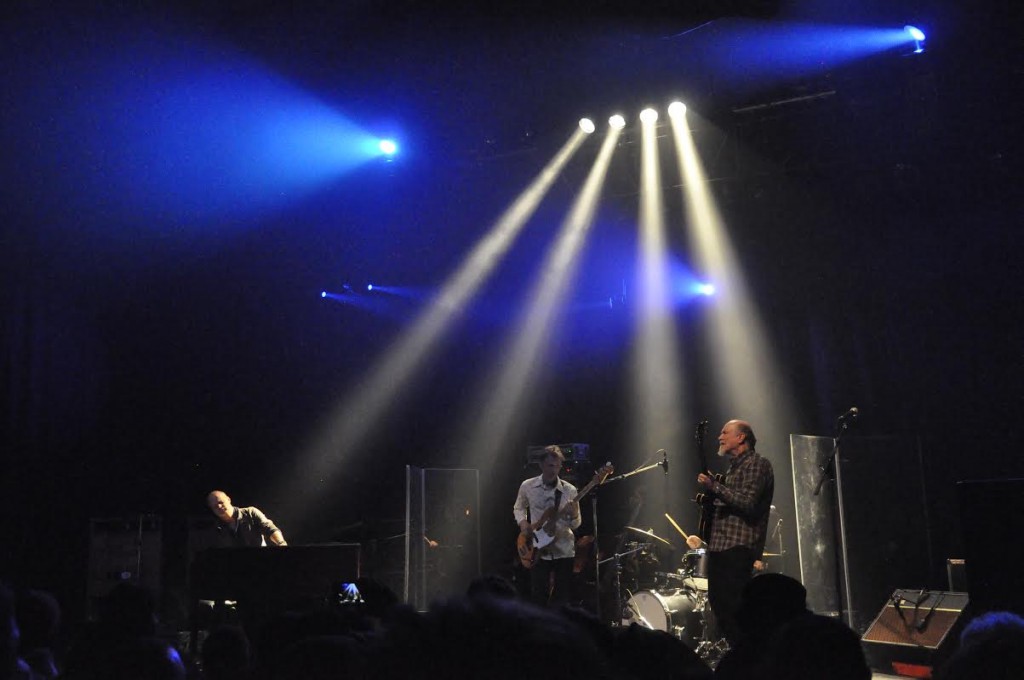 To end the first set, "Helium" featured heavy fuzz-bass paired with a light piano melody, Scofield jumping between quick soloing and the song's epic, prog-rock riff.
Set two found the band entering lengthier jams, with "Louis The Shoplifter" constantly changing shape, moving from rhythmic contemporary jazz to slow, clean fusion guitar before ending with a massive acoustic piano section. Scofield would occasionally sit while the trio performed alone, returning to his spot on stage to play his riff or solo.
"Little Walter Rides Again" stood out as a set highlight, it's dirty, funky melody giving way to a five-minute bass solo without accompainment, Wood jumping between improvisational, grooving bass-lines to wild soloing, the crowd clapping along in time as the band re-enters to finish.
An especially long, experimental reggae version of "Sunshine Of Your Love" followed, Medeski striking the strings of his piano for effects at the beginning. Martin used hand-held percussion accompaniments throughout and Scofield soloed with backwards effects on his guitar. The entire song felt like an experiment in moods and textures, as opposed to simply spotlighting soloists.
"I Know You" provided the audience with a taste of slow jazz-fusion, the song remaining laid-back and reserved compared to the momentous set prior. "Light My Fire" closed the set with vigor, the song's multiple riffs and melodies finding its way regularly into the jam regardless of soloist.
Chris Wood took the stage alone for the encore, performing on upright bass with a bow. Medeski sat down with soft organ accompaniment, and soon the entire band jumped in as the song took the form of Bob Dylan's "The Times They Are A-Changin'."
The show, as usual, was everything one could want from a jam band. Though the solos were plentiful and beyond impressive, the highlight remained the band's ability to listen attentively to one another, allowing the songs to constantly find new directions and the energy to never fade.
Set 1:
1. Open > Sham Time
2. Juicy Lucy
3. Chank
4. Tootie Ma Is A Big Fine Thing
5. Helium
Set 2:
6. North London
7. Louis The Shoplifter
8 Little Walter Rides Again
9. Sunshine Of Your Love >
10. I Know You
11. Light My Fire
Encore:
12. The Times They Are A-Changin'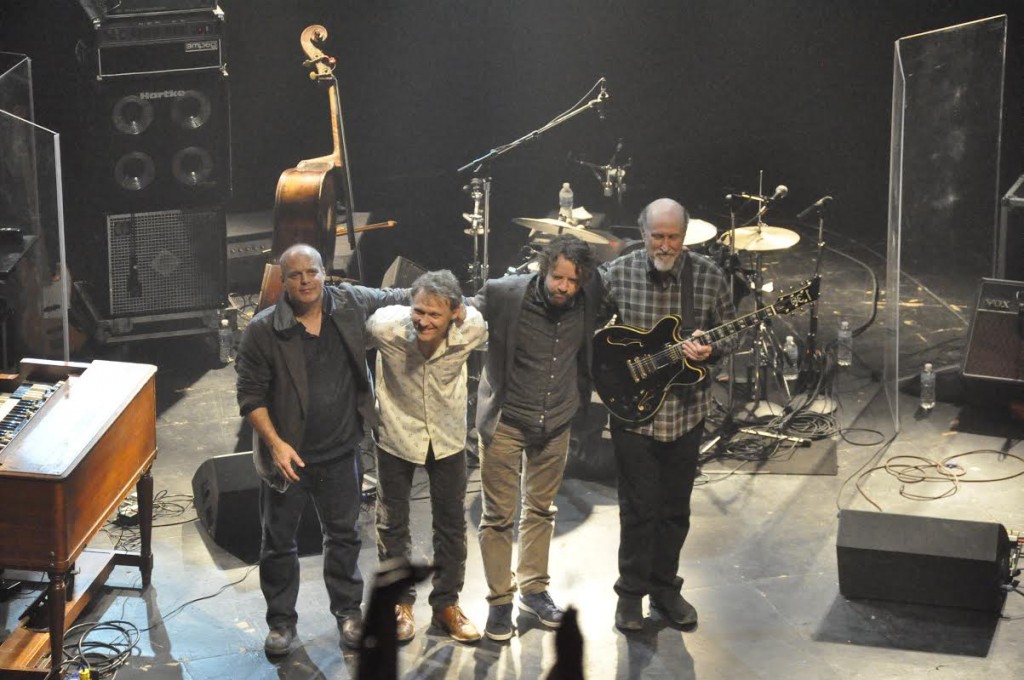 The Stream (via taperjoe)
[box type="download"]Download Entire Show[/box]
A beefy video playlist courtesy of YouTuber Doug Solomon