Review / Photos / Video | Southern Soul Assembly @ Thalia Hall 3/24/17
Words: Tim Kelly | Photos: MIchael Lepek | Video: Nunu Zomot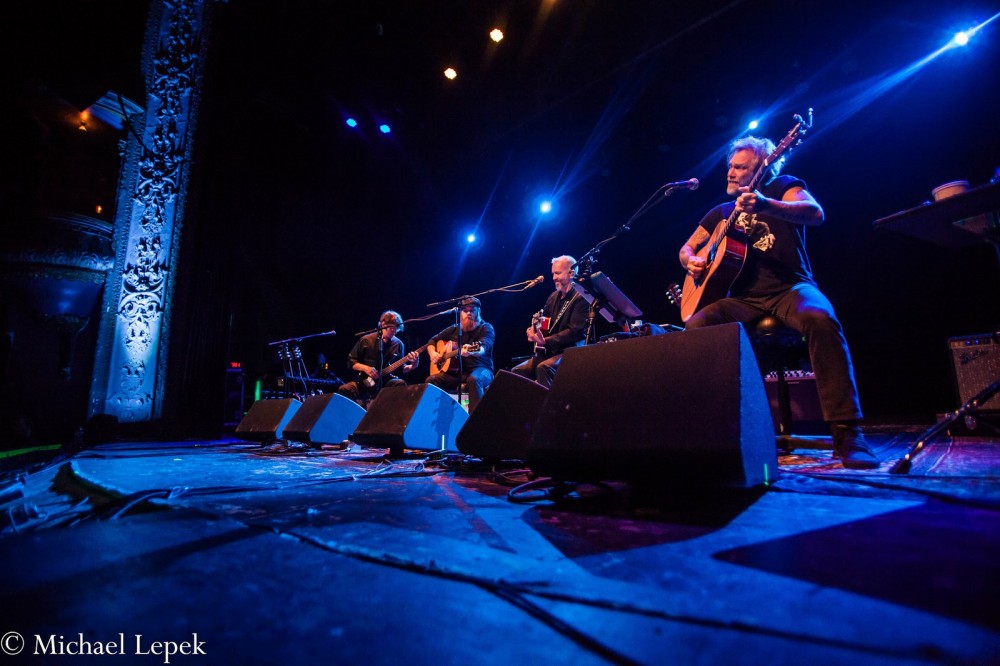 Several hundred people got a real treat in Chicago at the fantastic Thalia Hall in the Pilsen area as Southern Soul Assembly performed an intimate two-hour show for the sold-out house.  Southern Soul Assembly is basically a supergroup of southern rock singer songwriting giants:  JJ Grey, Anders Osborne, Luther Dickinson, and Marc Broussard. 
For the past three years these guys take some time off from their individual careers to get together for small power tours.  Tonight's show was the 20th of a 22 show tour in March.  Everyone could see and feel the comfortability these guys have playing with each other shining from the stage as they went through their top notch set.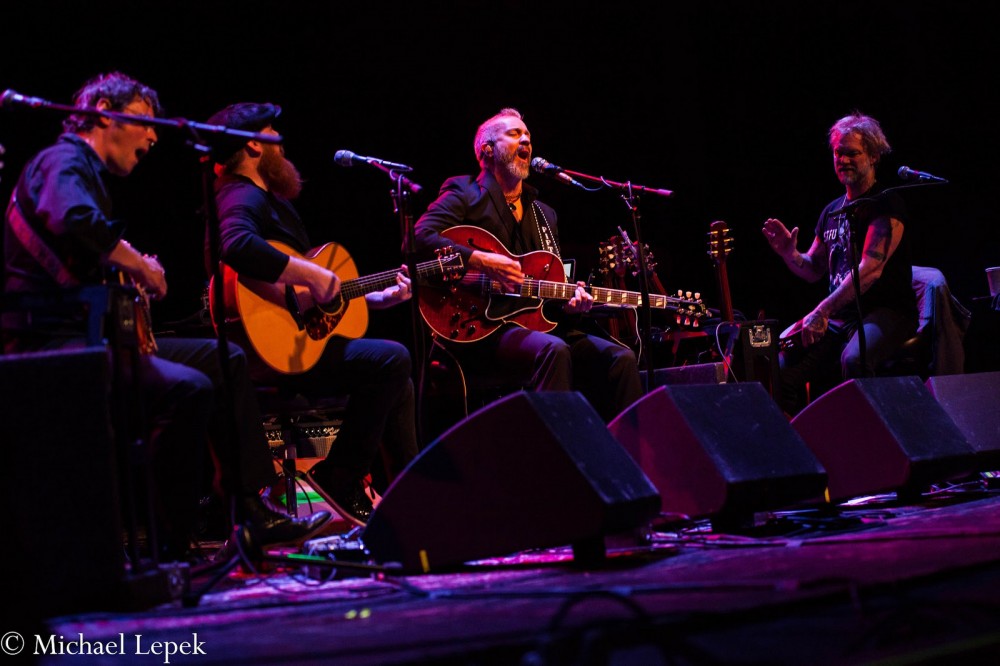 The show got started right at the posted time of 9:00, with the four all being announced and entering the stage one at a time.  Once all were seated Marc Broussard got them started with the Frankie Miller cover "Never Should Have Left You in Baton Rouge".  As is custom with this band, each member plays a song while the others play or sing back-up, or just kick-back and enjoy the song just like one of us lucky patrons. 
Luther Dickinson plays the bass for many of the songs and did so on this opener, while Osborne took on the first guitar solo of the night.  There would be many more before the night was over.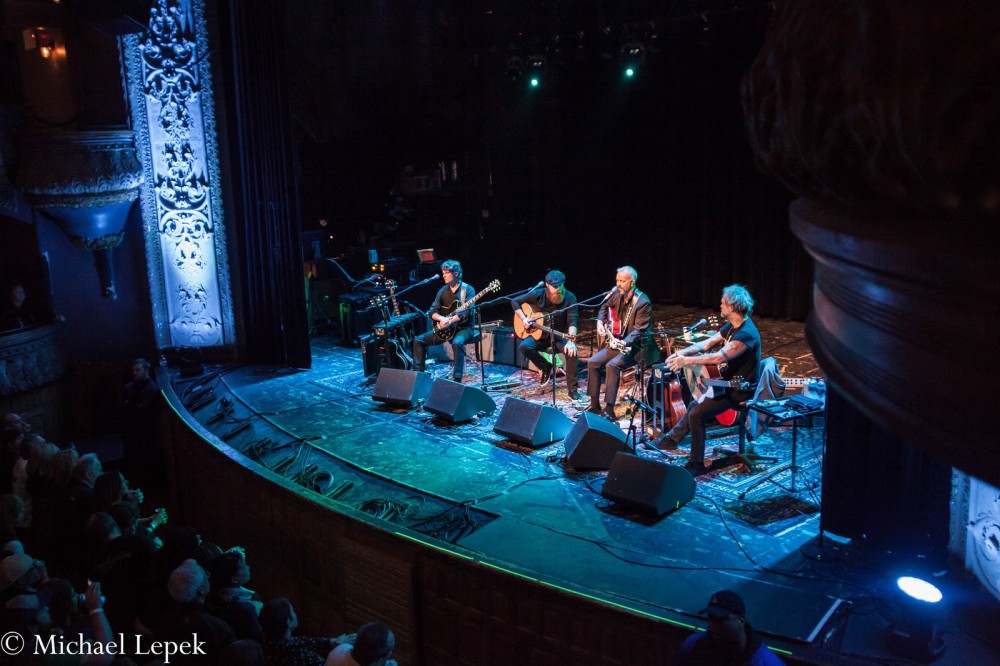 I don't know much about Marc Broussard, this being only the second time I have seen him (the first being this same arrangement on Jam Cruise in Jan 2016).  He has a great voice which to this ear seems very similar to the Subdudes' Tommy Malone.  He comes off as a guy with his huge beard who would feel just as comfortable playing on the front porch of a shack in Baton Rouge as he would singing about it on stage in Chicago. 
He was rewarded with a nice fist bump from JJ Grey when finishing his song, who promptly received the baton.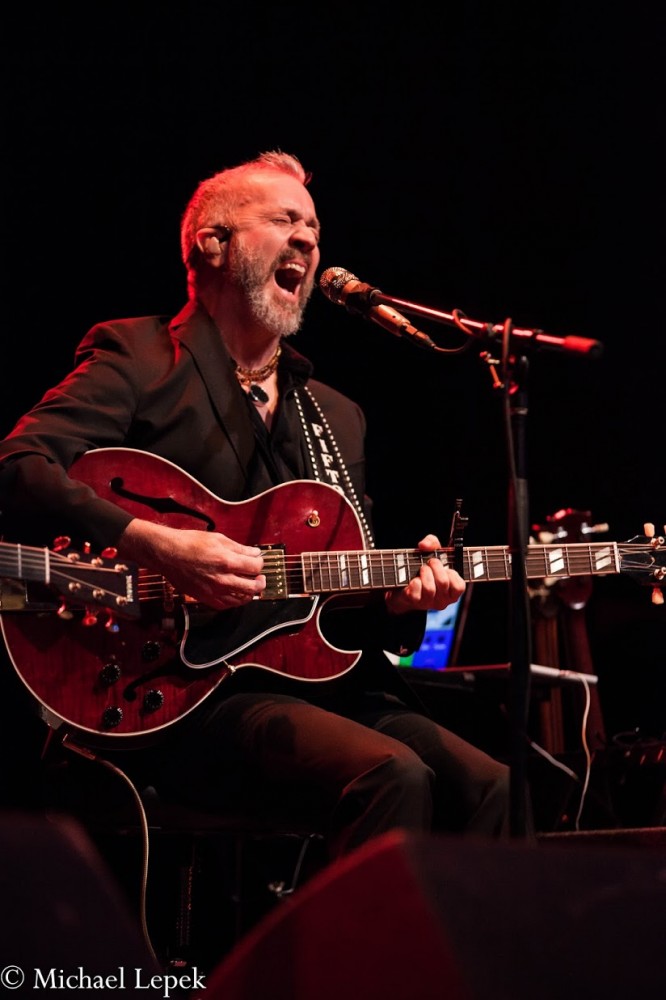 JJ, sporting a full beard (which I have never seen on him), began tuning his guitar while Brussard let the crowd know that this whole production was the brainchild of JJ's which he came to while "meditating." 
This got some good ribbing going on stage between the team, and he then launched into "Brave Lil' Fighter".  I am not sure there is a much more soulful powerful voice then Grey's.  His songs build in emotion from sober at the beginning to exploding at the climax.  Every word he sings out always hits me straight in the soul, and this was no different.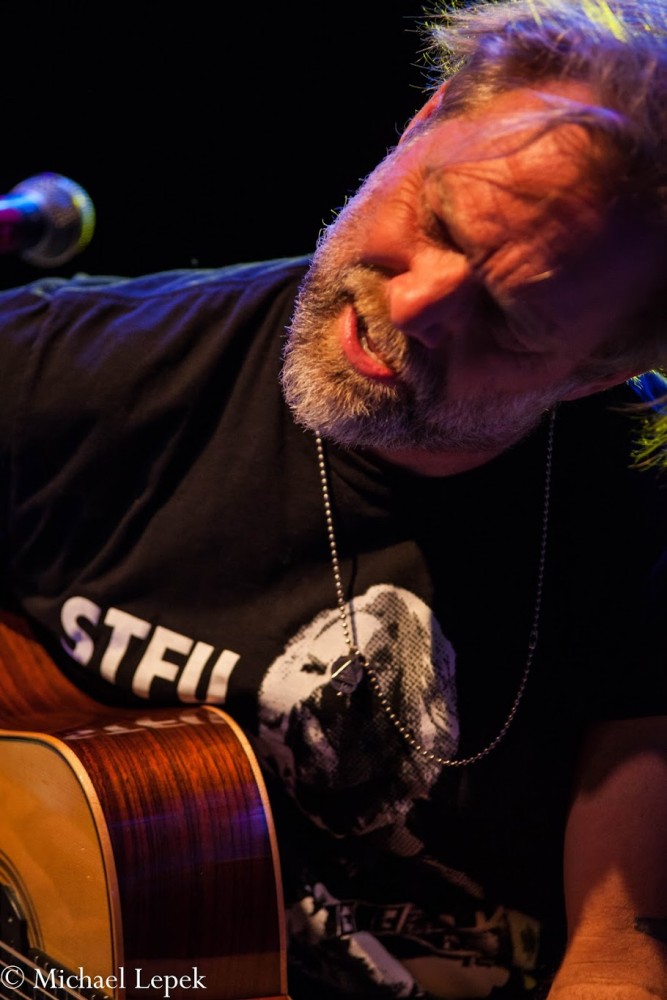 Next up was Anders, and he decided to treat the crowd with a new song not yet released.  I'm guessing the name was "It's Ok, You Know What They Say".  He basically played it by himself while the other three just looked on with smiles. 
The thing about Osborne and his lyrics is that you know he is speaking straight from the heart.  He is not private about his past struggles and the demons that he has conquered one day at a time.  His songs talk about those thoughts and experiences.  I think that is one of the reasons he has always been so endearing to me as an artist.  Through the words in his songs, he wears his emotions on his sleeves for all to see just like all those tattoos up and down his arm.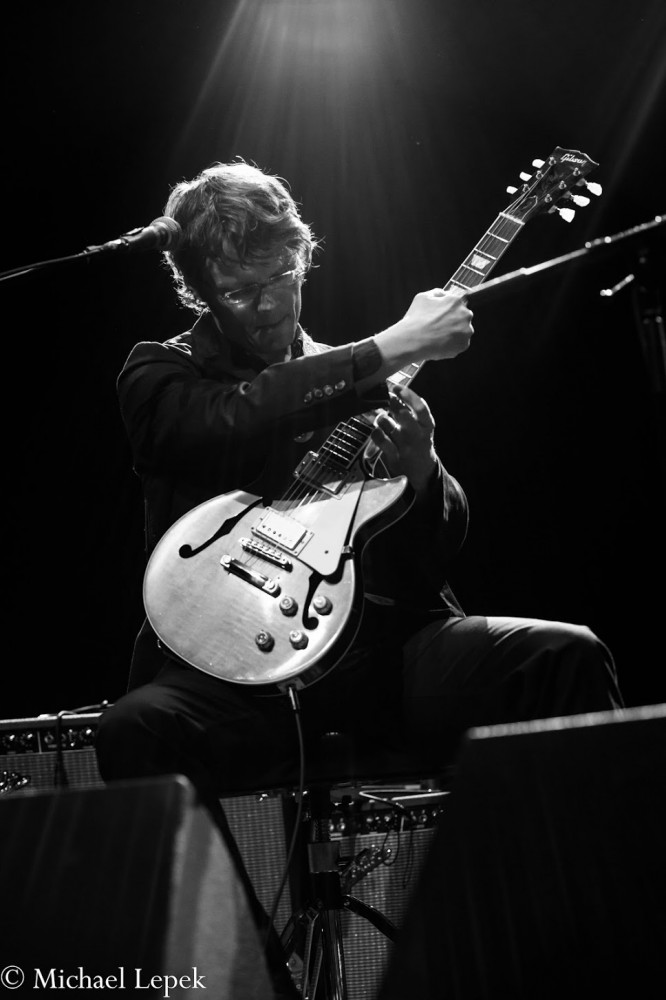 Last of the first round was Mississippi Hill Country rocker Luther Dickinson.  Luther put down his bass and picked up the electric guitar for the first time as he led the team through his own Up Over Yonder. 
Luther sings and plays as if he was born 100 years ago on the same previously mentioned Louisiana front porch as Broussard.  He referenced some of his idols known to Chicago such as Elmore James and James Cotton numerous times, and I personally think he was cut from the same mold.
After one round through, the kinks were gone and the boys (and all of us) were fully warmed up. 
Broussard threw-up another cover, Solomon Burke's "Cry To Me".  Turns out he is about to release a second album full of covers where all proceeds go to Poverty Relief.  The albums are called SOS: Save Our Soul: Soul on a Mission, and sound like great music for a great cause.  Winner winner, chicken dinner….
The rest of round two took it to another level with Grey's "Hummingbird King", Osborne's "Mind of a Junkie", and Dickinson's "Mojo Mojo".  All songs basically knocked the roof off the place with building explosive vocals particularly Grey's, and guitar solos by all with again JJ surprising me with what a good guitar player he is during Dickinson's "Mojo Mojo". 
But the best part is watching how much fun these four have playing with each other as well as the respect they show one another.  After "King Hummingbird", Osborne just looked over at Grey and clapped longer that we in the crowd did.  The banter between the four is endearing, and they shared their one rule of don't talk while tuning.  You will always end up revealing too much about yourself. 
Dickinson ignored the advice as he relayed a story about having to relieve himself in a dixie cup back stage that night due to one of his fellow bandmates taking too long showering in the only bathroom.  To his dismay in the midst of the act, he realized he was on camera.. Hopefully that footage does not go public.
Broussard kept the atmosphere at the same level for round three with his own song "Home".  His ad-libbing singing/screaming at the end brought the first chills of the night to the back of my neck and he was rewarded with one another fist bump from Grey. 
Next came Grey preaching about no regrets and staying in the moment, and then belted out a great version of "Ole' Glory" which was followed by Osborne's "Burning Up Slowly". 
Dickinson finished off the conclusion of the main set by pulling out one of his ridiculous looking guitars and talking about blues legend Elmore James again.  He played a little short riff of James' "It Hurt's Me Too" before launching into "Highwater (Soldier)" with JJ pulling out the harp for a sick solo mid-song.
This would have been enough for me to go home happy, but we would be rewarded with one more round from all four as an encore. 
Although from the looks on their faces, they were just as much the recipients of the reward as we were.  Osborne started the extra set, and he saved his best for last.  Anyone who has seen Anders' solo sets has seen him making amazing noises with not only his guitar, but also his mouth.  It was 2 minutes of just plain silliness of sounds before killing it with "Coming Down".  Again, Anders just laying out his soul and past for everyone to see. 
Luther followed with "Mean Ole Wind Died Down" where in mid-song he and Anders stood up to meet in the middle of the stage.  They switched guitars with out ever missing a beat, and each took a solo before switching back.  The playfulness these guys have performing together was on full display. 
Broussard's last song of the night was another original.  This one was about his son called "Gibby's Song".  A fun ditty talking about his child, the carrot-top.
It was only fitting that the mastermind behind the group close it out. 
I have seen JJ Grey and Mofro a handful of times and have seen Southern Soul Assembly once before.  When I mentioned to a friend that I was going this weekend, he told me one of his all time favorite songs by anyone was Grey's "Sun Is Shining Down".  I had never heard it before, but now I have and I know why my friend feels this way.  It was the second chills moment of the night, and could not have been a better way to send us off into the night.
I was lucky enough to see a similar set-up years ago of John Hiatt, Lyle Lovett, Joe Ely, and Guy Clark.  It's a show I always look back on fondly, and wish I had taken the chance to see them more often. 
Now sadly, with Guy Clark no longer with us, that chance will never come again.  I will not make the same mistake with these four. 
They are now on the always must see list, that seems to be growing the older I get.  
JJ Grey stated it best as he was talking about no regrets.  He said he doesn't give a shit about the money, and doesn't care if he ever plays another gig.  It is all about right now.  Tonight.  This moment.  About all of us getting together and giving it to each other. 
Tonight "it" was their music and our love and appreciation for it. 
Mission accomplished.