Review & Setlist | American Babies @ Schuba's Tavern 2/18/16
By: @312mrg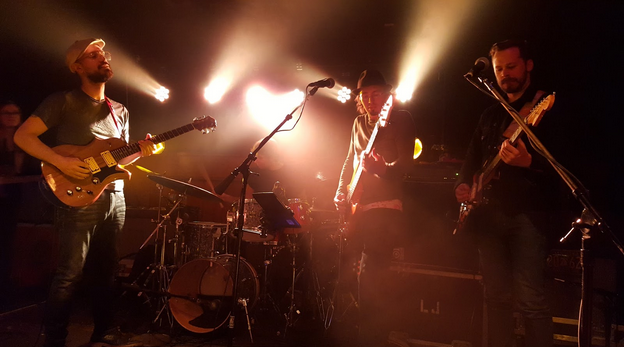 Songwriting is a mathematical equation rooted in art -- and it blows my mind.  To the layman, it evolves coding and decoding, instant translation and digestion, and the courage to present a final product as something worthy of consumption.
Tom Hamilton seems to embrace these concepts for entire albums... and even tours.  Painstakingly assembling tracks exactly how he wants them, in a way that follows the formula. Then he finds musicians to take that material and tour. There are plenty of points of failure in that process, but Hamilton has seemingly mastered his own version
On his present tour, he may have done it with possibly the best supporting cast I've seen him perform his own material with.  What do we call this version of the American Babies? 4.2?
A revamped lineup has coalesced over the past 2 years.  Hamilton's Winter '16 Babies includes additional guitarists Raina Mullen and Justin Mazer, bassist Mark Sosnoskie and drummer Al Smith. Everyone sings. This is the lineup that swung into Chicago at Schuba's last Thursday as part of the Dunn Dunn Fest, a celebration of American music.
I had the pleasure of speaking with Hamilton prior to this vist and -- I'll admit -- the task of connecting with an artist in advance of a show can sometimes overpower the senses when you've finally arrived in the same room.
I've also seen enough mutations and reboots of band lineups that nostalgia rarely prevents me from accepting lineup tinkering and substitutions, conflicts of interest, creative differences, touring issues, and stylistic shifts. Though sometimes, the contrary proves true: the new iteration of a band just won't hit the mark (I'm looking at your latter-day Trey Anastasio Band). Potentially this points to material, and to that point, I've really dug Hamilton's evolution from album to album.
I went into the evening expecting good, but walked away with great, and an ear that's still ringing. A frothed up crowd supported these opinions, including delirious dancing from at least one individual who demanded a 8x10 parcel of real estate to support his headstands and forward rolls to the Babie's soundtrack….I shit you not.
Two openers, and a steady stream of people that arrived early enough to catch both local Chicago groups -- Grood and Melk -- and the intimate Schuba's was tightly packed by the time the Babies took the stage for their 90 minute set. I think Tom's outgrown the Tonic Rooms of the city (editor's note... Tom returns to the Tonic Room on May 14th!), no doubt partially due to popularity overflowing from his JRAD noteriety. But shows like this show there is so much more to Hamilton than being 20% of that game changing cover band.
The excitement of being on the road with HIS thing was reinforced all night. His growth in confidence, exuberance and talent as a leader are apparent, while his ability to allow his ego to get out of the way and especially allow Mazer's Telecaster shine in guitar "pong".
The two guitarists volleyed six-string lightning bolts back and forth mischievously -- urging one another into wave after powerful wave of sound. Hamilton's found a complementary player -- I'm guessing many more folks will know his name in five years.
Unbelievably, Mazer is only 26, but Hamilton's coaching brings out nothing but rightfully deserved moments to shine and peaks to demolish. It clicked during that night's version of "What Does it Mean to Be?" for me.  Simultaneously raw and capable, it the Hamilton / Mazer concoction left many jaws on the floor when the refrain kicked back in. I'm going to think it was due to the title of my interview with Tom, that he made that that song the exclamation point to deliver the group's potential.  
Hamilton used the ability to own and orchestrate, push and cultivate like a head chef empowering his kitchen staff. Raina Mullen --whose moving story of working at the Capitol Theater in NY, crossing paths with Hamilton, and pushing her demo -- yielded the fruitful exchange of his services of producing her EP for her touring as the Babies' female vocalist. That is amazing.
Like Mazer's guitar work, Mullen balanced and framed Hamilton's vocals, and proved that the translation of the songwriting code in his head is a thing of art. Less dominating of a stage presence, Mullen was equally important for adding tone and richness to the Babies' typically male-dominated touring outfit. Laying the background work, Sosnoskie and Smith were machines, and provided a not-overlooked foundation, without front and center fanfare.
There may have been more sexy names associated with the American Babies in the past, but his specific outfit's chemistry is apparent, and deserving of time to grow.  With more material to learn, and audiences to reach and please, I hope they get the chance.
It was obvious in the grin accompanying Tom's face while discussing the gig post-show, just where he's at with the Babies.
A lighter JRAD schedule in 2016 could lend to Hamilton's projects getting more attention and energy. I'm interested in how he hones this incarnation and continues to fine tune their live material, making them the household name they deserve to be..
[youtube_video id-"ldkyU8e0qQc"]
Setlist
Old Time Religion>
This Thing Ain't Going Nowhere
Synth Driver
Winter War Games>
New Speedway Boogie>
Winter War Games
State Police>
What Does It Mean to Be?
Let It Ride
Joeline
Fever Dreams