Review / Setlist | Andrew Bird Closes Gezelligheid Run @ Fourth Presbyterian 12/10/15
By Alex Wood | Images: andrewbirdmusic Instagram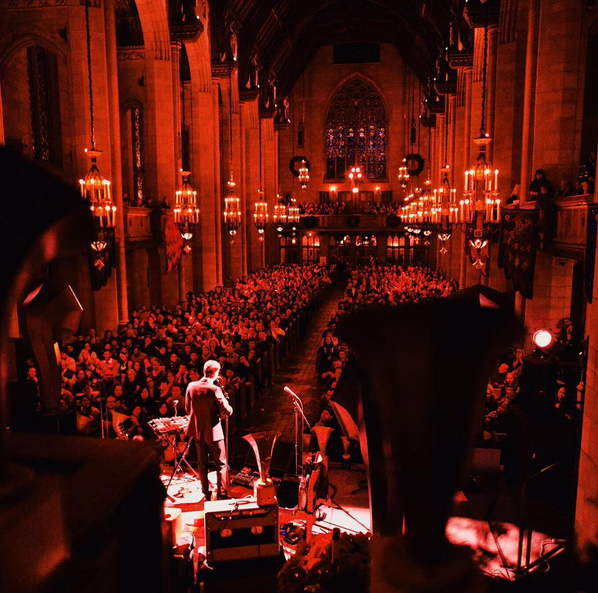 The fourth and final night of Andrew Bird's Gezelligheid run at Fourth Presbyterian Church found the Chicago violinist in an especially comfortable form, leading to a number of rarities and live debuts.
Though about half of the songs played were also performed at Monday's show, there are never two identical performances from Bird.
This was immediately apparent from the first notes of opener "Hole In The Ocean Floor." Though Bird led with the song both nights, Thursday's featured an intricate loop of scattered staccato notes while Monday's focused on a chugging, strummed rhythm. Subtle changes like this can have massive effects on the direction the extensive jam takes by its end.
"I took a year off last December," Bird said. "I don't remember why. This is like my version of doing Las Vegas shows."
Bird brought out opener Jason Adasiewicz, a local vibraphonist, to guest throughout the show, standing in contrast to Monday's addition of Nora O'Connor. While O'Connor's focus on vocal harmonies led Bird to lean toward folk songs, Adasiewicz's avant-garde vibraphone performance led Bird down a darker, more experimental path.
"Jesus Gonna Make My Dyin' Bed" stretched out to around 10 minutes in length, Bird and Adasiewicz trading off lightning-fast runs during the introduction and ending on a spacey, ambient jazz vibe.
For "Lull," Adasiewicz used a bow on the side of the vibes, giving an eerie, tonal vibration with each slow stroke.
Bird then performed Shel Silverstein's "Twistable Turnable Man," an unexpected rarity that would excite any diehard fan, its silly, imaginative lyrics strangely not far from Bird's own inventive songwriting.
Having announced the completion of a new record throughout the Fourth Presbyterian dates, Bird then debuted another track, a strangely straightforward song about having children, presumably titled "Valleys Of The Young."
"I set out to write a song I wouldn't have to explain," Bird said.
Beginning with a long, dreamy violin loop, Bird then began adding distorted noise using an effects pedal, soon switching entirely to guitar. The somber lyrics revolved around the decision to abandon childhood fantasies, committing to adulthood in order to have a baby, including accounts of going to the hospital to check the unborn baby's health.
"Is it selfish or is it brave?," he asks in the song.
Bird also performed "Chemical Switches," debuted on Monday, and a new duet, presumably titled "Backhanded Love Songs," also played prior. Yet the singer seemed determined to try out more new material on the always-receptive Gezelligheid audience.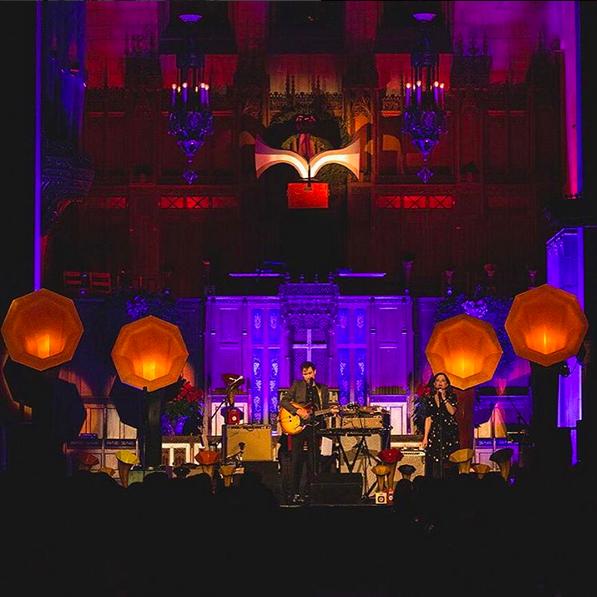 "I wrote this theme song to a new TV show Zach Galifianakis created called Baskets," he said, stating that the words are "also about an out of body experience I had at Costco."
The song, titled "St. Preservus," began with a simple, pop-influenced melody over strummed violin, but eventually grew to long legato notes, giving a dramatic, classical tone to the piece.
Another new song, potentially titled "Run With Me," was debuted later in the set.
"I'm a little on the fence about whether to do this next one, I haven't tried it yet," Bird said, the audience responding with shouts and applause.
The song may have been the highlight of the new material debuted throughout the run, featuring intense, upbeat layers of violin playing, the multi-sectioned composition allowing for soloing throughout. The track sounded as though it would have fit well on 2009's Noble Beast.
Adasiewicz returned to stage for "Scythian Empires" and "Plasticities," the vibraphone especially helpful on the latter, which Bird turned to an experimental tone, using effects pedals to create sweeping, electronic noises from his loops, bringing to mind atonal contributions of Radiohead's Jonny Greenwood, a welcomed but unexpected direction for the violinist to take.
Bird hugged Adasiewicz as he walked off stage, thanking him first in a round of gratuitous commentary that marked the inevitable end of the first set.
"I want to thank my mom and my dad for starting me on violin when I was four years old," he said.
Bird closed with "Pulaski At Night," its sweeping, epic nature and Chicago imagery a perfect note to end on.
The encore opened with traditional bluegrass song "Trials, Troubles, Tribulations," an unexpected track chosen for its religious imagery, though the song was dark for the warm church setting.
"Tenuousness" and "Weather Systems" closed the encore, ending the four-night-run with a blend of new and old, the dramatic instrumental ending of "Weather Systems" feeling like the last scene in a movie.
In the end, Bird's 2015 Gezlligheid shows found the artist rejuvenated after a year off, his performances impeccable and the addition of multiple guests and new material upholding the tradition of the "cozy" church shows, now an essential part of every fan's December.
With new material on the way and an apparent enthusiasm from the violinist, Andrew Bird fans should have a lot to be excited about in 2016.
Setlist
1.) Hole In The Ocean Floor
2.) Chemical Switches
3.) Jesus Gonna Make My Dyin' Bed*
4.) Lull*
5.) Twistable Turnable Man (Shel Silverstein cover)
6.) New Song (Valleys Of The Young?)
7.) Give It Away
8.) Cathedral In The Dell (Handsome Family cover)
9.) New Song (Backhanded Love Song?)
10.) St. Preservus (Theme Song For Baskets)
11.) Three White Horses
12.) New Song (Run With Me?)
13.) Scythian Empires*
14.) Plasticities*
15.) Pulaski At Night
Encore:
16.) Trials, Troubles, Tribulations
17.) Tenuousness
18.) Weather Systems
* with Jason Adasiewicz