Review / Setlist | Andrew Bird Kicks Off Gezelligheid 2015 [December 7]
By: Alex Wood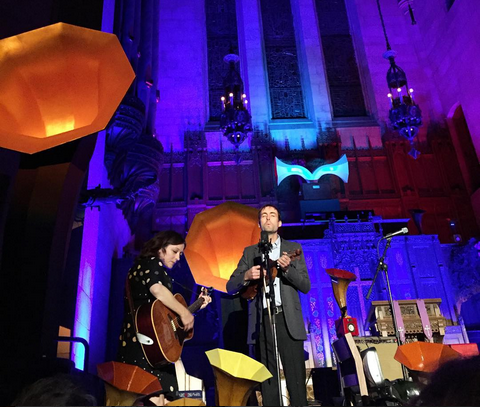 Andrew Bird's "Gezelligheid" concerts have become a staple in Chicago's winter music scene, and for good reason.
Bird typically performs multiple nights in December at the Fourth Presbyterian Church, a 100-year old building located at the heart of the Magnificent Mile. The space is beautiful, with Christmas decorations adding to its formal-but-cozy décor.
Bird's music compliments the space perfectly, the wooden structures and massive, trussed roof offering warm acoustics for the violinist to fill with instrumental loops and vocals.
Yet the "Gezelligheid" concerts mean more to his fans than simply an opportunity to see the artist play a gorgeous, intimate venue. The shows have traditionally been used by Bird to test out new material and ideas, often offering unfinished songs, increased improvisation, guest musicians and storytelling that don't exist in his typical tours.
After taking a year off from the "Gezelligheid" shows in 2014, the excitement for this year's opening night could be felt by the crowd, the majority of the audience standing in a long line wrapping around the church prior to the doors opening.
Fortunately, Bird was more than ready to meet and exceed the high expectations.
Opening with the dramatic "Hole In The Ocean Floor" allowed Bird to begin with a complex stack of looped violin recordings, beginning with a simple chugging riff and working toward long, delicate strokes, eventually building the instrumental passage to at least five layers, dynamics increasing constantly. The artist initiates his infamous double-spinning-horn speaker, placed centrally, high above his head, and adds whistling to the mix before singing into the microphone for the first time.
His voice sounded fuller than ever, each melody delivered with confidence. For a man that hardly toured over the past year, this is both a feat and a relief for fans.
To put it simply, Bird sounded better than he has in years.
"Good to see you," he said. "It feels like ages since I've done this."
As is characteristic of the 4th Presbyterian dates, Bird then performed a new song, "Chemical Switches," which had previously existed only in an instrumental incarnation. With lyrics, the song took on a catchy tone that leaned toward Bird's pop-influenced songs, its ambiguous but wordy verses sounding like they would have fit well on 2007's Armchair Apocrypha.
"Jesus Gonna Make Up My Dyin' Bed" followed, the song now a standard in the artist's live repertoire, with an important announcement from Bird following.
"I've been doing that song for 15 years…and it changes every year," he said. "I finally got that one down on a record that we've been working on all year and just finished last week."
The announcement received applause, and Bird returned to older material with "Lull," a classic to fans involving a fairly simple loop, Bird jumping from violin to guitar for the verses but returning to violin for finish the song on a true solo, with no loops backing it.
Bird then invited Nora O'Connor to the stage, a Chicago singer-songwriter that has collaborated with Bird since the 90s.
The pair played "Effigy," a treat for fans with its simple, acoustic-guitar folk structure but gorgeous harmonies from O'Connor. She remained on stage for the equally simplistic "Lusitania."
"Give It Away" received some laughs as Bird mixed up the words of a couple verses, though the error only enforced the night's informal and intimate feel.
Bird introduced "Too Long," a rarity for fans, as "one of the first songs we did together." The song's fun, old-time vibe served as a reminder of Bird's early days, and the reason many of those present likely got into the violinist's work.
O'Connor remained for the Handsome Family's "Frogs," a favorite cover of Bird's, before leaving stage.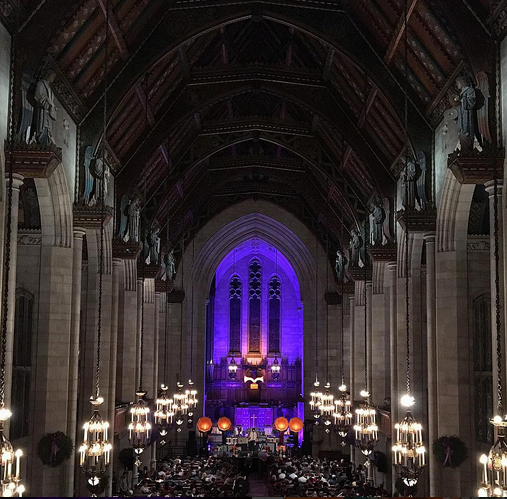 Bird followed with another potential live-debut, a song from the upcoming album that was initially intended to be a love song but became a clever song about writing love songs and their often formulaic and banal lyrical choices. Perhaps most importantly, Bird announced that the song would appear on the album as a duet, but would not say with whom it was recorded.
A simple folk song performed on acoustic guitar, the new track featured more humor than has appeared in Bird's music in years, which Bird matched by trying to imitate the position of both singers in the duet, sliding to and from each side of the microphone while singing each respective part.
The violinist then returned to more complex songs, a certainly conscious choice within the setlist.
"Three White Horses" seemed to build endlessly upward, a climactic, fast-strummed electric guitar matching the energy of violin loops beneath it, Bird then switching back to violin before finishing the song by looping his vocals in a gorgeous falsetto harmony.
"Scythian Empire" shared an equally epic tone, a dense splatter of looped violin notes contrasting perfectly with the long, legato vocals, Bird soon incorporating hand claps and whistling into the loops.
"This is going too quickly for me. Any requests?," Bird joked. A dozen different songs were yelled out, and Bird settled on "Tenuousness."
Despite presumably not having planned to perform it, Bird played the complex, multi-faceted "Tenuousness" flawlessly, the vocals themselves a difficult challenge.
"Plasticities" followed immediately, which Bird sang in a higher register, making the song more powerful than the studio version. A long, dramatic instrumental finale showed that the song had evolved over time, as so many of his have.
The Chicago-themed "Pulaski At Night" closed the main set appropriately, its masterful musicianship and local lyrical references summing up the excitement from both Bird and his fans throughout the night. A standing ovation remained until the artist returned to stage, physically representing the crowd's enthusiasm.
Bird is back, at home, and sounding great as ever.
The encore featured a pair of old songs, the Dylan cover "Oh Sister," featuring Nora O'Connor again on guitar and harmonies, and the wonderfully spacious "Weather Systems," a song that Bird tends to embrace in the church setting.
With three more nights remaining of the "Gezelligheid" run, fans' expectations should remain high. Bird seems to have rested over the last year, apparently spent recording a new album, and is back with more energy and vigor than he's had in years.
For once, the artist's excitement to return to these shows seems to match the fan's anticipation, creating a perfect situation for both.
Setlist:
Hole In The Ocean Floor
Chemical Switches
Jesus Gonna Make Up My Dyin' Bed
Lull
Effigy*
Lusitania*
Give It Away*
Too Long*
Frogs* (Handsome Family cover)
New Song
Three White Horses
Scythian Empire
Tenuousness
Plasticities
Pulaski At Night
Encore:
Oh Sister* (Bob Dylan cover)
Weather Systems
* - with Nora O'Connor