Review / Setlist | David Bazan @ Lincoln Hall 11/7/14
Words & Photos: Alex Wood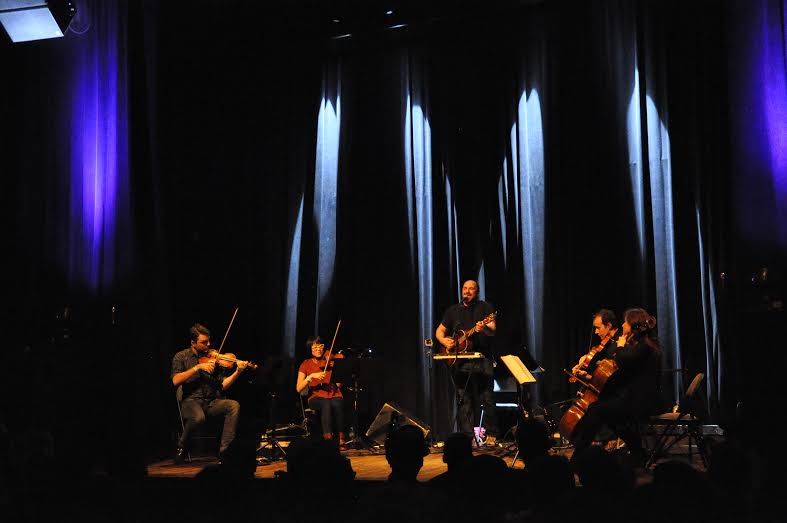 Despite his tendency to play small venues and living rooms, David Bazan appears to be at a comfortable point in his career. With a diehard fan base and a gigantic arsenal of well-crafted songs, his decision to record and tour with the Passenger String Quartet feels natural and almost inevitable.
Choosing from his solo material as well as songs by Pedro The Lion and Headphones, Bazan essentially converted his eclectic back catalogue into gorgeous chamber music.
Bazan stood in the center of the quartet, two violinists on one side and a cellist and viola on the other. The audience sat respectfully in folding chairs, turning Lincoln Hall into a relaxed but formal setting.
The first three songs performed were from individual David Bazan solo records, though the quartet made tracks from different eras sound coherent. The strings sounded warm and precise, filling the room in a way a solo set never could.
"Wolves At The Door" was performed with an aching, dramatic vibe, the low, ominous cello part met by noisy violins and Bazan performing a drum beat on a small synthesizer. "The Fleecing" was preceded by an instrumental waltz, Bazan standing silently in the back as the quartet made its way from the swirling interlude into the classic Pedro The Lion track, its soft, classic accompaniment in stark contrast to the faster, electric original.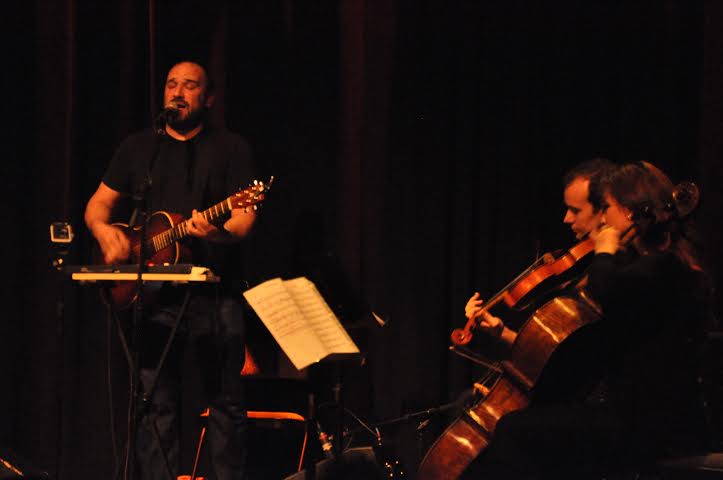 Throughout the show, Bazan would ask the crowd if they had any questions. Most questions were simple fandom like, "How are you so good?," or, "How does it feel to know I've been seeing you for 16 years?" Others regarded side projects such as Overseas and a potential Headphones reunion. More than anything, the questions remained food-based, revolving around Bazan's apparent love of sandwiches. Regardless, these offered a glimpse of the personality of the quiet songwriter while proving how connected he was with his fan base.
Bazan would finish tuning his guitar, stop taking questions and go into another song.
"I Do" featured gentle plucking, delicate strings leaving room for the song's odd verses to remain in the forefront. As always, the focus remained on the talented songwriter's words and delivery.
"And when his tiny head emerged from hair and folds of skin/ I thought to myself if he only know he would climb right back in," he sang.
"Lost My Shape" used dynamics heavily, dissonant, noisy glissandos giving way to light, spacious plucking as Bazan's singing remained a constant above it all.
Headphones track "Shit Talker" came as a surprise, the song effortlessly fitting into the quartet's arrangement despite the original's reliance on drums and keyboards.
As a whole, the Passenger String Quartet brought new life to Bazan's compositions, emphasizing the progressions, lyrics and vocal melodies that form each song's backbone with unique, mature arrangements beneath.
Esteemed songwriter David Dondero opened the show with a set of acoustic folk songs featuring a witty and often humorous observational nature in the lyrics and simple but catchy vocal melodies.
Lighter songs like "Not Everyone Loves Your Doggie Like You Do" balanced heavier choices like "Brownsville Revival." The singer spoke informally to the audience about the songs' meanings and inspiration before performing them, and eventually took requests, leading to a performance of "The Stars Are My Chandelier."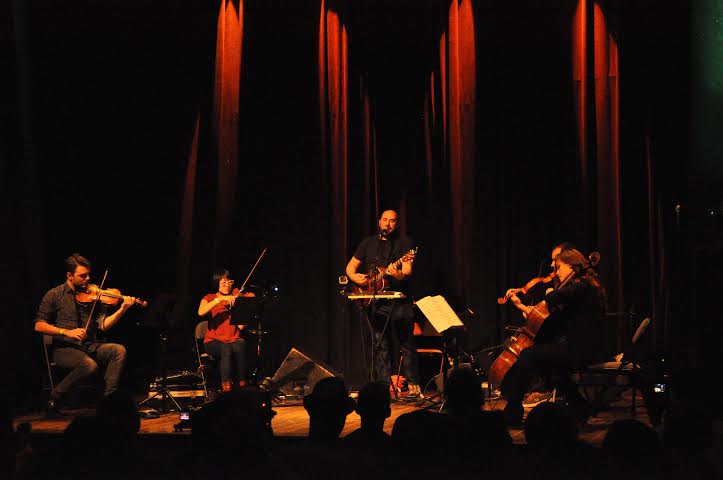 Setlist:
1. Hard To Be
2. How I Remember
3. Wolves At The Door
4. Instrumental > The Fleecing (Pedro The Lion)
[Q&A: Fandom, Overseas project]
5. I Do (Pedro The Lion)
6. Bands With Managers (Pedro The Lion)
7. When They Really Get To Know You They Will Run (Pedro The Lion)
8. Lost My Shape
9. With You
10. Cold Beer & Cigarettes
[Q&A: Fandom, Touring Van, Portillos, Mark Kozelek]
11. Little Landslides
[Q&A: Singles Series, Sandwiches]
12. Shit Talker (Headphones)
13. Priests And Paramedics (Pedro The Lion)
14. Strange Negotiations