Review, Setlist, Full Show Video: White Denim @ Lincoln Hall, Chicago IL 10/28/12

White Denim returned to Chicago's Lincoln Hall for the second time in 2012, attempting to impress as they did in April. This time, they were backed by the corporate sponsored Bonnaroo 365 Tour, with openers Team Spirit and Maps and Atlases along with comedian Sasheer Zamata acting as emcee between sets. As they did in April, they more than delivered and left the crowd satisfied.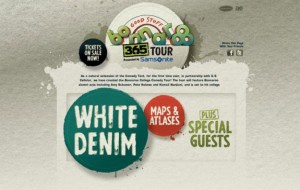 After a brief, energetic opening set by Team Spirit, Chicago's own Maps & Atlases brought their indie-experimental mix back to the hometown crowd and delivered a solid hour-long set chock full of selections from their newest album Be Aware and Be Grateful as well as some songs from their debut LP Perch Patchwork. Their sound, although jagged at times, connected with the audience on more than a few occasions. They proved to be a suitable opener for the main event.
In describing a White Denim live experience to the uninitiated, I have often likened it to being smacked over the head with a sonic two-by-four without a break and I mean that in the best possible way. Opening with "Mirrored and Reversed", the band ripped through eight powerful and intense songs before finally giving the audience a much needed rest with the mellow, country-tinged "Keys" from their latest album, D. This moved nicely into another D crowd pleaser, "Street Joy", and then into a couple of tracks from Last Day of Summer, "I'd Have It Just the Way We Were" and "Tony Fatti". This segment gave way to another energetic run of ten songs that closed the show and provided the crowd with what they craved: more of that intense, well crafted White Denim sound. After taking their bows, the band came back on for a brief but intense instrumental before leaving the stage.
I cannot stress enough how brilliantly and uniquely the sound of this band has been forged over time.  Touring incessantly for the past year and a half, they have arrived at this the present sound by tweaking the material ever so slightly night after night, so that they contain intros and outros that flow seamlessly into one another. To the novice, seven or eight songs can sound like three. This is a credit to the technical proficiency of the rhythm section of Joshua Block and Steve Terebecki, who create an incredibly tight pocket for guitarists James Petralli and Austin Jenkins to interweave guitar licks.
Frontman Petralli's originality and boundless creativity are a sight to behold-- he crouched over and simply played his guitar pedals on more than one occasion during the night, at one point singing into the air instead of his mic to create a haunting but incredibly moving effect. As this band continues to craft fresh music, it will be fascinating to see how these songs get folded the ever unfolding canvas of their stage show. I've said it before and I will say it again, White Denim is one of the best live bands playing today. Do not miss them if you have the opportunity to see them live.
-KF (@WeirScrewed)
Setlist:
Mirrored and Reversed >Drug > Anvil Everything > I Changed My Mind > Bess St > Shake,Shake,Shake > River to Consider > Is and Is > Keys, Street Joy, I'd Have It Just The Way We Were, Tony Fatti, Regina Holding Hands, Don't Look That Way At It > Paint Silver Gold > It's Him > Burnished > At the Farm > Say Whatcha Want > All Consolation > Mess Up Your Hair > Let's Talk About It > I Start to Run