Review / Photos / Setlist: New Mastersounds at House Of Blues 6/7/14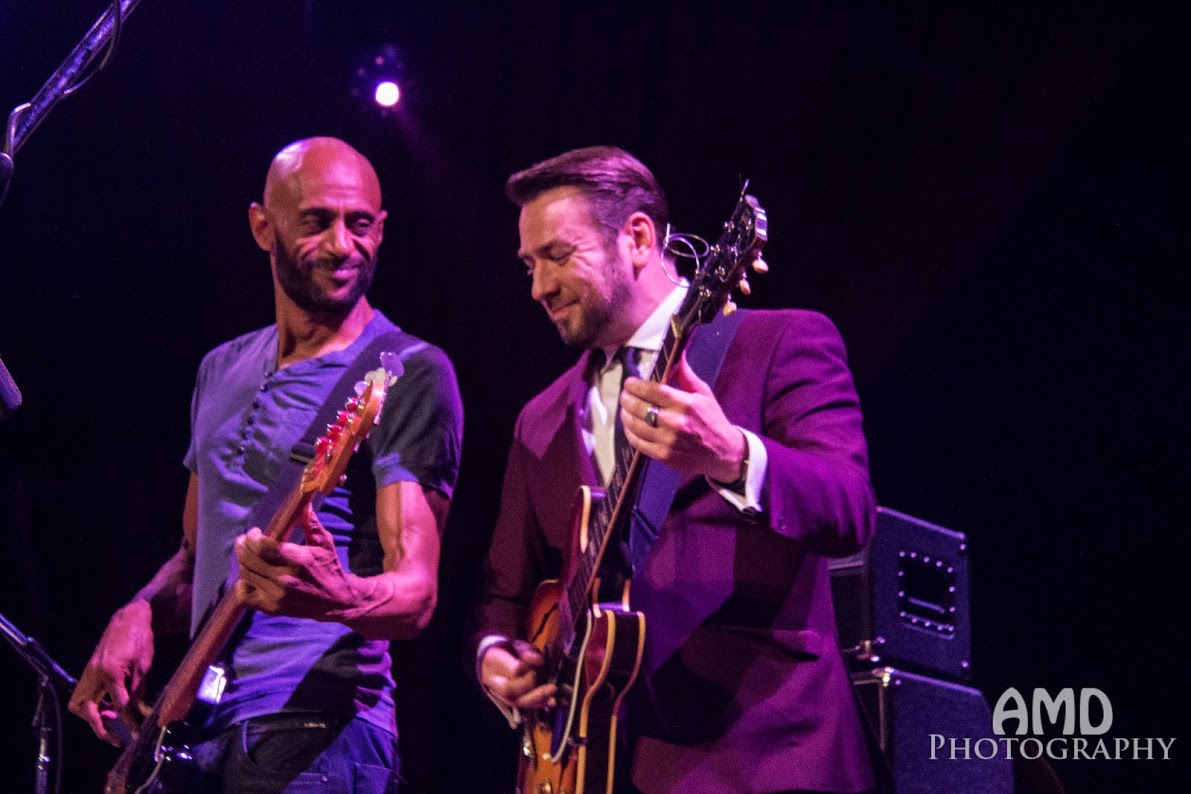 The Growth Of Their Groove
Words: @312mrg | Photos: Ashley M. Downing
Sustained interest in a band is not accomplished easily. To achieve it, a band must be creative, considering the myriad of musical levers at play in a community where "one size will not fit all". Tour t0 tour changes in approach or sound, setlist switch-ups, even genre jumping all can play a role in keeping audience interest level high.
Bands can push and pull on these levers, but will ultimately thrive only via a relentless creative engine and unique appeal. They need a swagger, the chops, AND growth each time you see them. They need to play with a confidence that isn't abrasive, and somehow still convey humility and humbleness.
They need to send out a vibe -- "that was our greatest show we could have played" -- and have you believe it. And then, the next time you see them, they need to do it all again.
Fans can think it, and say it to one another, but when the band exclaims it themselves…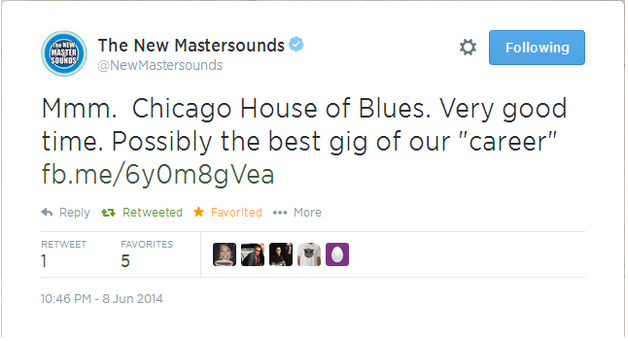 ...well then you have some real magic.
I'll admit I am a complete New Mastersounds fanatic. It's because deep within me is the willingness to see bands again and again.  It's wrapped up in the hunger for that feeling of when I walked out of the venue -- a feeling that remains with me sometimes days after the show. I had it last year after the first time I saw NMS, and the void has returned while I await the next time.
Equipped with a catalog of mainly instrumentals, the New Mastersounds are not an easy act to immediately digest. But even without words, the interaction occurring musically on stage during transitions, groove pockets and handoffs provides plenty of hooks.
What Chicagoans witnessed on Saturday at the House of Blues, was truly a 10 Year Celebration, with only three tunes appearing off their latest release Therapy ("Morning Fly", "Whistle Song" and a late second set cover of Bruno Mars' "Treasure"). This was a NMS-led party and statement of gratitude, taking place where it all began in the U.S. for them 10 years ago, on the same stage where they opened up for the Greyboy All-Stars on May 22nd, 2004. The rest of the show was filled with all NMS material from their entire 15 year career.
Coming out of the box with "Hole in the Bag" and "Way Out West", the house sound was doing plenty of justice for Pete Shand's low end power. I've seen (and felt) George Porter Jr. from that same stage years ago, but it was damn eerie to feel syrup dripping from the VIP boxes like only George can do.
"Coming Up Roses" followed, as much of a NMS staple as any tune in their repertoire, and it was very fitting, considering it was also the opener of that Greyboy All-Star show in '04.
A solid 40 minutes into the show, a newcomer might have had the notion these guys didn't have voices. Aside from drummer Simon Allen's cheeky banter in the rests between jams, there was no need for a mic. Yes, there was some minimal vocal work in "Yo Momma", but the first true vocal workout was in "Fast Man", a building and driving tour-de-force that explodes into a wah wah funk jam breakdown  It was a nod to the faithful, being one the band's earliest works.
One of my favorite tunes of the night gave way to the soon-to-be-smash-radio-sing-a-long hit, "Whistle Song", which confirms the groups ability to couple humor, talent, and musical prowess with catchy songwriting hooks. Equal parts Monkees and Austin Powers, it's got a shagadelic appeal that is complete Brit zest at its finest. I don't think anyone else could pull off writing this tune, yet have the ability to look really fucking cool while doing it. Cheers! "San Frantico", another NMS instrumental staple would close the first set, and in fine fashion.
Guitar overlord Eddie Roberts is the easiest to discern amidst the band's sound. He grabs the focus from the rest of the band with frenzied percussive toned leads and face melting solos -- jaw, meet floor. However, the play of Joseph "Sea Manatee" Tatton was what struck me on this night. Tatton's spotlight has deservedly grown, as he completely killed a number of solos on the Hammond. His synth work has added the space element that crept into a number of depth plunges the band went on, and seem to be ushering the band in yet another in their growing arsenal of styles. It seemed with a more open show, and room to breath, the band, especially Tatton, had the elbow room to push boundaries.
Did I mention this was a two set performance? All NMS, all night. The set break included an introduction of New Mastersounds' stateside purveyor Dave Vandenburg, or as I'll call him, the Billy Graham of funk.
The vocals weren't on hold for long in this set, opening with the plunging bounce of "Take What You Need", refocusing the party that begun to develop all over the HoB, to the rightful place - onstage. "3 On the B", the dustiest of grooves of "On the Border", "Summer Camp", and a reggaefied "Double Barrel" all drove the second set into a supreme dance party. Grooves continued to get looser and lumpier as the HoB took on the vibe of an intimate private club, and the band's comfort was showing with the extra time .
I absolutely love how this whole band can turn on a dime a the slightest drops of funk, reggae, space (almost trance), boogaloo, or afrobeat.  Whenther it's via Shand's seafloor trenching bass tones, Allen's steam engine locomotive fills, Tatton's ivory tickling saloon tricks, or anything that can electrify Roberts' fingers to play, the idea is generated and followed in split second unison by the rest of the unit.
They glue genres and jams like no other band I have ever seen. A few spots in the second set supplemented with Chicago sax prodigy Frank Catalano, adding yet another ethereal element to the already expansive canvas used all evening. As the night started to haze from the sonic waves that continued to wash over the gluttonous funk recipients, the nod to Dave Vandenburg came from the lads on stage.
Vandenburg is the Chicago businessman who came across the name of Eddie Roberts while connecting the dots of a few record liner notes. In 2004, he pursued bringing Eddie's band to the US, and is the primary reason that we in Chicago, and the rest of the country, can feel proud to be a part of their success.  He bankrolled their first trip to the States, lined up their first aforementioned HoB gig, and put them up in his house.
Eddie wrote the song "The Vandenburg Suite" whilst in his house, and coming full circle, they played it for him as he danced with the rest of the crowd in the front row, exchanging hugs and handshakes. It was a moment in the snapshot of a band's career, and those that were there know how it felt.
An extended feel good audience participation funk anthem "Make Me Proud" was followed by another lunar orbiting jaunt in "Land of Nod" as they bridged the close of set two. But in lieu of ending the night with a walk off and then encore, they sacrificed the glamorous ritualistic procession for an extended and jammed out "Nervous" that perfectly punctuated the evening.
As they departed the stage, they displayed the same lack of barrier between crowd and band that they project while playing. Shaking hands and hugging fans, they showed the level of appreciation that these fans deserve. There couldn't have been a better way and more fitting way to end the night, and celebration of 10 Years in the US.
It's funny how the Brits seem to have a habit for showing us how to do things in the States, whether it be Led Zeppelin or the Stones showing us their interpretation of rock and blues. The New Mastersounds are no longer NEW, they are simply becoming the Masters of what they do. Brits playing Funk, for Americans. Until next time chaps!
2014.06.07 - House of Blues
Chicago, IL
Set 1: Hole In The Bag, Way Out West, Coming Up Roses, Morning Fly, Thermal Bad, Yo Moma, In the Middle, ?, Fast Man, The Road to Fuji Rock, The Whistle Song, San Frantico
Set 2: Take What You Need, 3 on the B, On the Border, Summer Camp, Double Barrel, Soulshine, Hey Fela!, Drop It Down, Make Me Proud, (Somewhere around here is The Vandenburg Suite), Land of Nod, Treasure, Nervous