Review / Setlist / Photos | Joe Hertler & The Rainbow Seekers @ Schuba's 8/14/15
Words: Mitch Osborne | Photos: Rickie Kostiner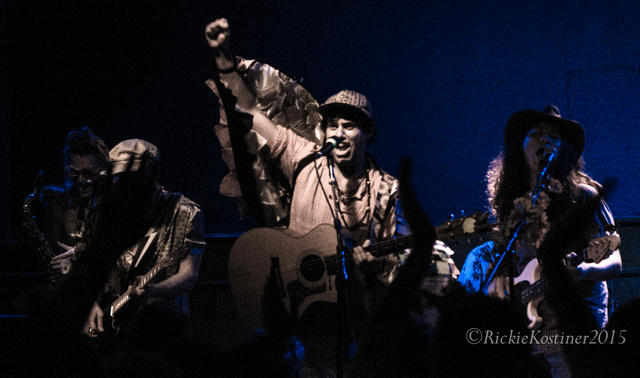 Joe Hertler & The Rainbow Seekers -- a band with an upbeat party vibe that is true to its hippy-inspired name -- played to a packed Schuba's crowd on a summer Friday.
The crowd sang right along with Hertler, "You make me feel so goddamn, good."  The rest of the set fell right in line with this spirit.
The Rainbow Seekers do a great job of involving the crowd in their sets. Their energy is raw and pure, and fans seem to be popping up all over the Midwest, branching out in pockets from their hometown in Detroit.  For a sold out Chicago crowd, they offered a mid-set "Hometown", paying homage to the place that helped shape some the band's Motown, folk and funk influences.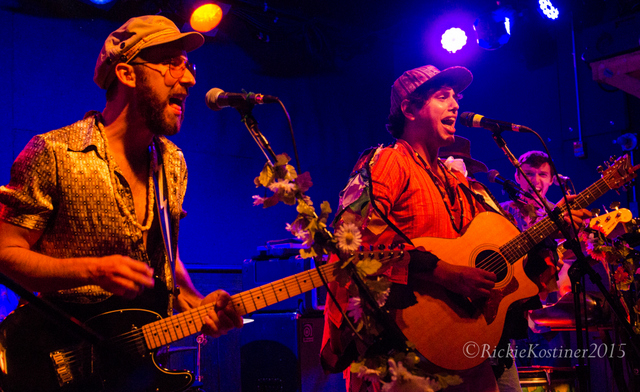 Joe's lyrics creatively touch the hearts of listeners -- with an honestly that perhaps only an Amish excommunicate and children's book author can provide.  The band is rounded out by funky-sax, bluesy-guitar, groovy bass, auxiliary percussion, and white hot drumming -- each taking time throughout the night to solo.
The Rainbow Seekers' set offered up a foot-stomping and hand-clapping ride throughout most of the night. They also included more intimate moments; whether it was Joe, alone on guitar singing acoustically or the doo-woppy intro by Kevin into my personal favorite, "Feel."
Of course, covers of Ray Parker Jr.'s 80's movie theme, "Ghostbusters" and the encore "You Get What You Give" by The New Radicals had the crowd singing along, but the dedicated attendees sang along with Rainbows' original songs in equal measure.
Despite some of the more colorful trappings of their look and sound, these are some of the most honest musicians I've seen on stage. I got a chance to chat with Joe after the show and was remarked by the appreciation he has for his friends and fans that follow his band's music. I hope to see them back in Chicago again soon.
Setlist:
Wiffed
Jetski
Story
Dragons
Hometown
Solo
Ego
Find Me
RRD
Ghostbusters
Future Talk
American Colour
Thick Tint
Feel
Lonely
Encore
You Get What You Give (New Radicals)