Review / Setlist / Photos | KT Tunstall @ City Winery
KT Tunstall is a One-Woman Tour de Force
By Joann D. Ball | Photos: Philamonjaro Studio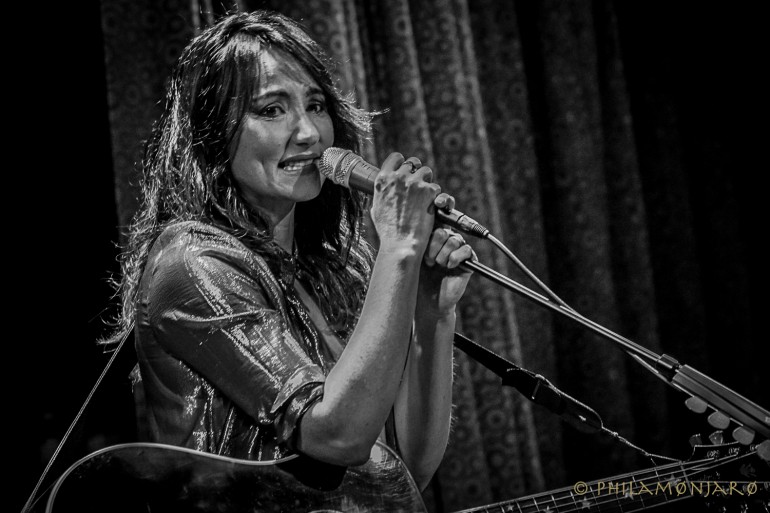 KT Tunstall has much more to offer than radio hits "Black Horse and the Cherry Tree" and "Suddenly I See" from her 2004 debut Eye to the Telescope. The Scottish singer-songwriter sold out three nights at City Winery Chicago on the strength of five studio albums from her decade-plus career.
She was a one-woman band, deftly using her voice, a loop pedal, acoustic and electric guitars, and piano during the intimate and entertaining two-hour shows.
Tunstall delighted old fans and wowed casual listeners with her talent, humor and energy. She described the video for opening song "Invisible Empire" as her audition tape for favorite TV show Game of Thrones. She introduced "Little Favours" with a story of how Dave Grohl and Taylor Hawkins of Foo Fighters introduced themselves at a festival by shouting "Tunstall – Track 1, 2nd CD Rocks!"
Later, she explained why "The Hidden Heart" from the Scarlet Tulip EP (available only at shows and on her website) was her sequel to the book The Giving Tree. Before closing the regular set with "Suddenly I See," she added "I listened to Patti Smith and Bo Didley in the same day, and this is what happened."
Her tender, stripped down cover of Don Henley's "Boys of Summer" during the three-song encore was stunning. Before she left the stage, Tunstall told the extremely appreciative crowd that she's busy writing a new album which will be released next year.
"I'm writing it on the West Coast, so it's basically a Fleetwood Mac record," she said. An undeniable one-woman tour de force, the songbird's next tour is definitely one you don't want to miss.
SETLIST
Invisible Empire
Miniature Disasters
White Bird
Difficulty
Other Side of the World
Another Place to Fall
Patience
Skinny Lou
Hidden Heart
Lost
Through the Dark
Black Horse and the Cherry Tree
Feel It All
Little Favourss
Universe & U
Madame Trudeaux
Default (Atoms for Peace cover)
Suddenly I See
ENCORE
Stoppin the Love
Boys of Summer (Don Henley cover)
Chimes