Review / Setlist / Video: Spoon @ Chicago Theater 9/17/14
Subtle & Never Excessive - Spoon at Chicago Theater
By Alex Wood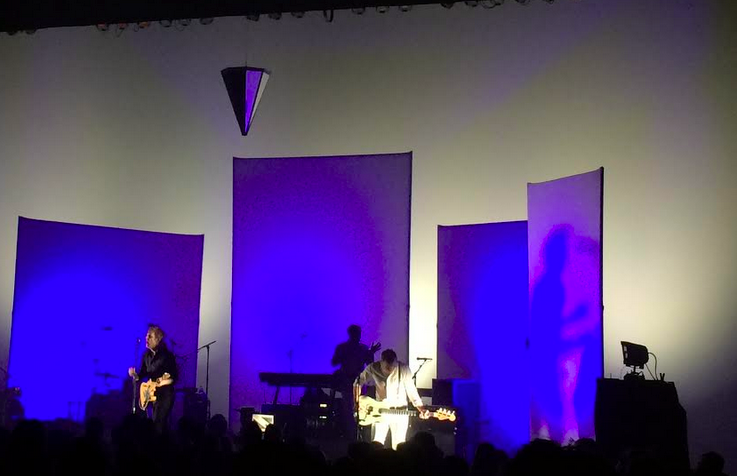 Spoon's music is simple, its attributes subtle and never excessive, and their live show is no exception. The Chicago Theater's extraordinary sound quality only brought such nuance to the forefront, a perfect setting to observe a band that has grown into a popularity greater than fans would have ever dreamed fifteen years ago.
This increasing popularity comes from eighteen years of consistently quality compositions combined with Britt Daniel's unique writing and vocal delivery. Throughout the opener, "Knock Knock Knock," Daniel sang in a raspy, hoarse yell, a smooth falsetto and practically everywhere in the spectrum between.
Musically, the band's performance remains straightforward but tight, with members switching between keyboards, guitars and auxiliary percussion from song to song, a move that again emphasizes the tracks' initial composition over individual musicianship from members.
"The Beast And Dragon, Adored" featured a screeching guitar solo and abrasive, distorted ending, the sound always remaining clear and balanced throughout.
The stage set-up matched the band's simplicity, with white rectangles capturing the silhouettes of band members amongst the dramatic, colored light show.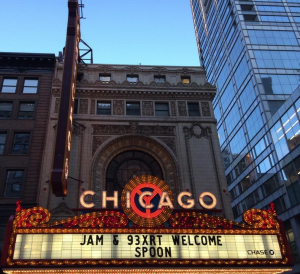 During "Do You," a black diamond spinning on a string reflected thin lights throughout the room, acting like a disco ball and shining beams of light throughout the historic theater.
Though "New York Kiss," a track from Spoon's recently released They Want My Soul, seemed to lack energy in comparison to older songs like "Don't Make Me A Target," most of the newer tracks sounded as great as any.
"Inside Out" used three keyboards, with trippy, electronic runs layered over chords with heavy effects, while "I Just Don't Understand" featured Daniel on acoustic guitar for an opposite effect.
The encore felt like a show in and of itself, opening with the classic "You Got Yr. Cherry Bomb," performed in an almost celebratory manner. "Was It You" and "Outlier" followed as a pair, each song dark and heavy, using layers of keys and guitars to create dramatic build-ups perfect for the encore position.
The band predictably closed with its biggest hits, "The Way We Get By" and "The Underdog," both sounding thin and clean compared to the songs that preceded them while acting as a reminder of what Spoon has accomplished throughout their existence.
Though each new Spoon record sounds different from the last, Spoon have stayed true to their sound for nearly two decades, producing a discography of songs with a quality that simply can't be denied. If Chicago Theater feels like a big show for the band, the growth is well deserved, with a performance worthy of the infamous space.
Setlist:
1. Knock Knock Knock
2. Rent I Pay
3. The Beast And Dragon, Adored
4. Don't You Evah
5. Small Stakes
6. Who Makes Your Money
7. Do You
8. Don't Make Me A Target
9. The Ghost Of You Lingers
10. New York Kiss
11. Inside Out
12. Rhthm & Soul
13. I Just Don't Understand
14. I Summon You
15. I Turn My Camera On
16. Rainy Taxi
17. Got Nuffin
18. Black Like Me
Encore:
19. You Got Yr. Cherry Bomb
20. Was It You?
21. Outlier
22. The Way We Get By
23. The Underdog