Review, Setlist, Stream, Download: Jimmy Herring Band @ Martyr's 8/31/12
"Sold Out."  The phrase adorned Martyrs' website by Friday morning, determining the destiny of all but the most hardcore fence sitters, some of whom turned out to try their luck anyway.  There was little, if any, luck to be had, and Martyrs' staff had its hands full with people trying to game the system to get in.  This marked quite a turning point for Jimmy Herring, a man who's no doubt had to lug his own gear in and out of his own Chicago gigs and until relatively recently wasn't accustomed to traveling cross country on a cushy tour bus when out leading his own band.
Membership in several jamband stalwarts has its advantages, and Herring has been reaping the benefits of the exposure he is afforded by virtue of his role as the permanent shredding guitarist in Widespread Panic, a move which capped shorter more elusive runs with members of the Dead family.  By all appearances, this development couldn't happen to a nicer, more deserving guy, and the biggest benefit of his sudden stardom is the chance for those of us non-Southerners to be able to see a project that appears to have been able to turn wider exposure into artistic and commercial success.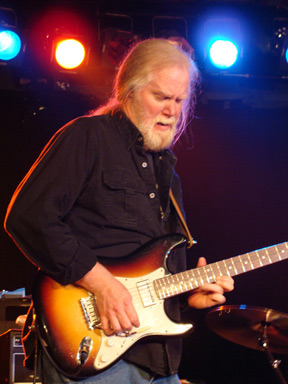 For those who had the foresight to ensure entrance to the show, the majority of the attention was focused toward the stage (though more than a fair amount of general barroom chatter prevailed throughout the night).  Opener Nick & the Ovorols served up Stevie Ray Vaughn-esque blues to a more than receptive audience but wrapped up fairly promptly to make way for the headliner, which had trouble squeezing itself onto Martyrs' cozy stage.
Interestingly, though perhaps not surprisingly, Herring didn't do any of the talking -- instead leaving that task to bassist Neal Fountain, who did his apparent best to overcome some challenges with the conditions on stage.  Fountain was joined by Jeff Sipe (Apt. Q258) on drums and Matt Slocum on keys (who, among other things recently cut his teeth playing in a revamped Aquarium Rescue Unit with much success).  It didn't take long for Jimmy to take the lead, however.  After easing into things with the opener "Funky Miracle", where Herring largely ceded to his bandmates, by "Aberdeen" the second song of the set, the full array of Jimmy's skills were on display.
His have always been substantial skills.  The guy was essentially THE over the top WTF talent – "who the hell is that guy and why haven't I heard of that guy" - guy from Aquarium Rescue Unit, a band that had at least three other examples of "that guy," and that's not even counting military retirees.  What's most remarkable about Jimmy Herring's skills, however, has to do with the passage of time.  Twenty-five plus years into his professional career the guy is at his peak.  Unlike so many other artists, let alone those north of 40, here's not someone you are seeing past his prime.  Everything is still there.
Blistering arpeggios?  Check.
Breakneck speed, borderline atonal excursions commencing just when they should and ending precisely when they need to? Yup.
Ability to make guitar sound like some kind of otherwordly bowed synth?  You betcha.
This isn't a guy who goes through phases.  He's not trying to write a hit single; he doesn't fit into the category of musician who "doesn't have anything to prove anymore."  There was no heyday.  Seeing Jimmy Herring today, you get to see the guy who's always done what he's done, absolutely exceed on his instrument at the level few have ever done and still largely under the radar.
What's particularly amazing about Jimmy herring's approach from a musical standpoint is the way he gets in and out of notes.  Despite the fact that he can tear up and down the fretboard with anyone, his is not an Al Di Meola "I will blind you with my notes" approach. However, his chops far exceed anything even attempted by anyone in the southern rock genre, and for the level to which he has attempted to raise that playing field he deserves to be revered.
In particular, he has mastered the art of using slides and subtle bends to offer a vocal, almost fretless quality to his playing.  The deftness of this skill was on particular display Friday when the band tackled covers.  Relatively early in the set the band covered Strength In Numbers' "Duke and Cookie", a progressive bluegrass number that showcased the entire band's ability to haul through changes and throw around the chance to improv while maintaining a tight focus on keeping everything moving forward.  One of the clear highlights of the set was the band's take on "Since I've Been Loving You," which suits itself to Herring's unique skill set better than anything you can imagine.  The only cover that didn't seem quite suited to the instrumental quartet was a take on the Beatles' "A Day in the Life," which seemed to stretch the group a bit too much and consequently require too much listener imagination to really pull off.
Whatever quibbles there may have been with a setlist that is attempting to captivate a room of folks, many of whom aren't used to seeing an all instrumental performance, were nullified by the sheer precision of what was going down onstage.  Throughout the entire set, nothing veered off track.  The band appeared to nail everything on the varied menu from scorching uptempo rock fusion type numbers (Jimmy McGriff's "Miss Poopie") to the slower gospel tinged selections.
Walking away from the show, one had to reflect on the fact that Jimmy Herring is one of the last bastions of "you have to see this" skill in the jamband genre.  What a treat to be able to do so in such intimate confines and an even bigger treat see him put together a project that's producing something that has legitimate replay value. - NB
The Stream

Download Entire Show (mp3 .zip)
Setlist

Jimmy Herring Band
August 31, 2012 - Martyrs - Chicago, IL

Matt's Funk, Aberdeen, Duke And Cookie, Emerald Garden, Scapegoat Blues, Miss Poopie, 12 Keys, Since I've Been Loving You, Rainbow, Head's Up,  A Day In The Life > Bilgewater Blues

Encore
Within You Without You, Sophie, Georgia On My Mind

Jimmy Herring - Guitar
Jeff Sipe - Drums
Neal Fountain - Bass Guitar
Matt Slocum - Keyboards
This post was written by Nathan Breen, guitarist for Chicago improv rock band Little Big Fat.