Review / Setlist | STS9 @ House Of Blues 3/7/15
By Matt Fricks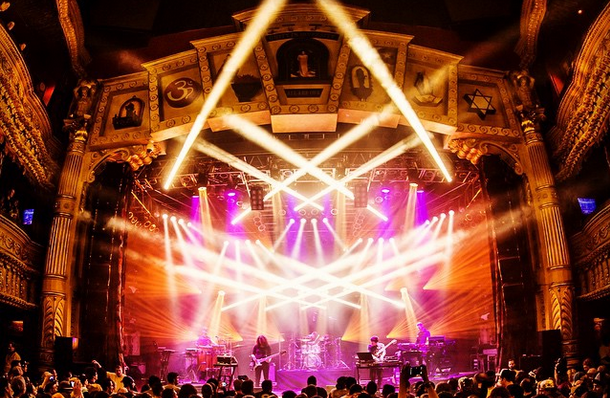 See Matt's reviews of Thursday & Friday.
Last night, STS9 closed out their three-night stand at the House of Blues and treated fans to a perfect mix of old and new. This review will be shorter than the previous shows because there really isn't much else to say. Once again, the band executed an interesting setlist filled with surprises and played it extremely well.
"This, Us" is always a solid choice for the first slot. That opening sample always gets fans excited and it was no different in Chicago on Saturday night.
"Shock Doctrine" and "Monkey Music" both featured incredible jams that stretched beyond double-digit minutes in duration. Years ago, I would dread hearing "Shock Doctrine" in a live setting because of how drawn out it was without any particular destination. Fortunately, that has all changed and it proved to be one of the first-set highlights. This was one of the many jams that saw Alana and Hunter communicating with eye contact playing to each other (I love this). "Shock Doctrine" has come a long way and now reaches a very strong peak.
"Monkey Music" saw Free and Zach go off on an extended percussion introduction that left the crowd roaring upon the launch into the main riff. Zach was really on point during this one and continued to serve as the true backbone for the dynamics of the build-ups and breakdowns.
"Phoneme" was one of the weekend's highlights for me. Though it did not receive much of a crowd response, watching this song unfold live shows how complex and intricate the composition actually is. Rather than going full-force into a fast-paced jam to drive the audience excitement, the crowd was treated with a very subtle and delicate extension that noted some brilliant guitar inflections from Hunter and it transitioned nicely into the slightly reworked "Blu Mood."
"Crystal Instrument" was a nice treat. This seems to be one of the classics in the band's repertoire that they have had in a fairly consistent rotation in the 2.0 era. The segues from the slow segment into the fast-paced key change was perfect and Hunter was really feeling this one. Again, everyone on stage was smiling. The "When the Dust Settles" set closer was somewhat predictable for a Saturday night but it left the crowd satisfied.
STS9 opened the second set with an improvised segment titled "Modular." I am assuming this is a working title for tune still being pieced together. This was both haunting and beautiful -- with a few key similarities of the sound check party's improvised jam (not identical) but with an additional sample backing it up. The sample resembled a more restrained combination of the samples in "Be Nice" and "Tether Ball Triumph." Phipps was in control of this one and carefully guided the band into a true segue (not just fade out and start) to "Frequencies 2" and "Frequencies 3."
I actually really dug "The Unquestionable Supremacy of Nature" last night. I could really do without the "Awesome" remix but "Unquestionable" had some stand out segments, particularly Hunter's additional guitar part that seemed a bit similar to what he does on "GLOgli." "Water Song" was also a very nice surprise. The sample was a bit faint but at the second delicate sound of thunder, we were ecstatic to see one of our favorites (a very well-played version) at the House of Blues again.
"Grizzly" was a very…interesting choice for an encore selection. I have always loved the song, especially once STS9 had finally composed instrumentation around the original PA version that relied heavily on the main sample. This song is great, much more dynamic, and though I found it a bit odd to close the night, it kind of worked. It was much less predictable than a "Moon Socket" or "Instantly" and it sent the satisfied Saturday night crowd out into the streets of Chicago after one last guitar crescendo from Hunter.
What a run! I am overjoyed with how well this band is playing and how creative the setlist construction has become. This was an incredible weekend with the Sector 9 family. Once again, I want to sincerely thank STS9 for treating Chicago to three beautiful nights that spanned their entire mesmerizing career. To my new friends returning home, I wish you safe travels; and to my fellow Sector 9 Chicagoans, I will see you next time.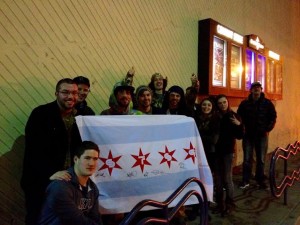 03/07/2015 Setlist
SET ONE
This, Us - >
Shock Doctrine - >
Monkey Music
Golden Gate
Phoneme - >
Blu Mood
Crystal Instrument
When the Dust Settles
SET TWO
Modular (Improv) - >
Frequencies 2 > 3
Love Don't Terrorize
Awesome (Remix) - >
The Unquestionable Supremacy of Nature
Water Song
Inspire Strikes Back
World Go Round
ENCORE
Grizzly