Review / Setlist / Video: Umphrey's McGee @ The Riviera Theater 2/22/14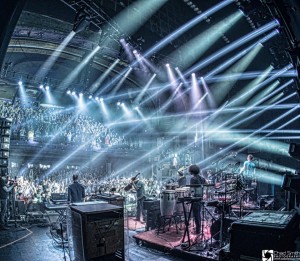 I feel like I might as well be visiting an shrink when trying to articulate my thoughts on an Umphrey's McGee show.  So consider this less of a review and more like therapy.
I need to peel back layer upon layer of expectation, history, subtext, and performance to get to the meat of something that I objectively enjoyed -- but just not quite as much as I "should".
You see… I've got a well-known soft spot for jambands.  My brain acknowledges all the ridiculous baggage that comes with bands who bear the marks of that label, but my heart just wants to love them nonetheless.
In front of a hometown crowd on a Saturday night, Umphrey's McGee did press my jamband buttons again and again: during a rock-out peak of "Miami Virtue", a dizzying discofied "Red Tape" and dynamic set-closing "Puppet String", releasing endorphins and sweeping me away in the moment.  And yet, I was unable to shake the thought that, despite being impressed by the obvious talent, I was okay with walking away and checking in with these guys again in a few months or years.
Which is kind of the opposite of what jambands typically inspire -- the manic "gotta catch 'em at all costs" feeling.  And it's like trying to solve a puzzle when trying to piece together why not.
They boast as diverse a repertoire as anybody in the game and are committed to making their shows individual and special.  Look no further than the debut of The Cars' "Just What I Needed" -- and UM is one of the only bands I can think of that can pull this off  with this amount of sincerity or accuracy.  It was a crowd-pleasing nod, but it was also one of the only tunes that I felt really continued to resonate with me as I walked out of the venue.
Perhaps some of the answers could be found at the end of the first set, the final three songs of which were performed acoustically.  Here, the exposed vocals and subtler melodies couldn't quite compel like the full throttle stuff that proceeded it.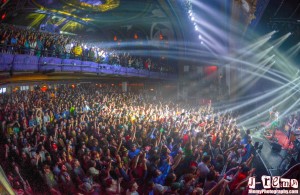 Then they opened the second set with 27 minutes worth of "Der Bluten Kat", that had me alternately enthralled and confused.  There was plenty of great sound to sink my teeth into, but I still left grasping for that passage that I wanted to take away and listen to again and again.
I might attribute it to my decidedly amateur status when it comes to UM comprehension.  Not surprising, as there is so much to wrap your head around.  Clearly, Umphrey's is not about hooks and very little will come "easy" to the listener.  Really, it's the opposite, as they bended through the odd keys and proggy runs of "Divisions", lines between composition and improvisation blurred, leaving me with very little to grasp on to.
And that's fine -- I can take my medicine it both ways, with a spoonful of sugar or a swallowed whole like a big boy.  But while the passion that gets generated for some of my favorite jambands seems automatic, with Umphrey's getting there kind of seems like work.  And I'm just not inspired enough by what I hear for it to spill over into obsession.
So maybe, as it turns out, Umphrey's is the ultimate, "it's not you.. it's me" band.
I believe that it's an excellent way to spend an evening every now and then.  Indeed, I was elated at the Jimmy Chamberlain guest stunt on "Cherub Rock" that sent us on our way.  But, I think I'll continue to dip my toe in UM waters only occasionally for maximum effect.
Thanks for the session.  Are my sixty minutes up?
Set 1: Bathing Digits[1] > Phil's Farm, Miami Virtue > 2nd Self, Thin Air, Red Tape[2] > Bad Friday, The Weight Around[3], Bullhead City[4], Night Moves[3]

Set 2: Der Bluten Kat, Just What I Needed[5], Divisions, Believe the Lie, Puppet String

Encore: Cherub Rock[6]

[1] debut, original
[2] unfinished
[3] with Brendan and Jake on acoustics
[4] with Brendan and Jake on acoustics, and with Daphne Willis on vocals
[5] debut, The Cars
[6] with Jimmy Chamberlain replacing Kris on drums

via allthings.umphreys.com