Review / Setlist | Wilco @ Jay Pritzker Pavilion 8/21/16
"See you sometime next year", Jeff Tweedy announced to the Chicago crowd as Wilco left the stage on Sunday night.
Perhaps dashing the hopes of some hoping for another run of shows to support Schmilco before the calendar flips, but I suspect the day will come when Wilco sets up shop in the city once again for a multi-night run through their vast catalog.
Certainly there was no shortage of love for the city coming from the stage, as Tweedy referenced the joy of being home after spending a summer traveling with the band both domestically and abroad.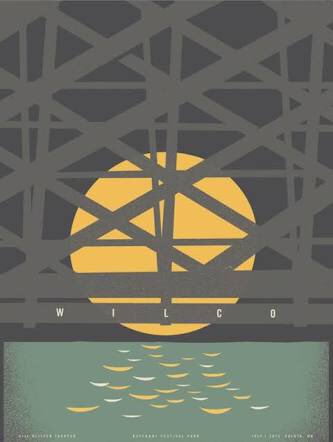 And they did so in one of the most Chicago of venues, the rare treat of performing amidst the big buildings, hustle and bustle — the contrast to one of their many neighborhood shows in the city's beating heart.
Is there no happier marriage of city and rock band than that of Chicago and Wilco?  For fans, I think we recognize ourselves a bit on stage — a little bit of Blue State sophistication and progressivism in musical form. There's pride in what they have accomplished and what they represent.
For the band, I think their Chicagoness frees them to be themselves — there's no LA flash or NYC pretension.  They take what they need from Nashville song craft, but leave behind any semblance of its crass commercialism.
Maybe this Midwestern smoothing out of the pointy edges of what's happening elsewhere in the music world is what the defines the pejorative "Dad Rock", which is tossed around freely with Wilco.  But if playing expertly written songs with an arty-but-not-off-putting flair is playing the Dad Rock card, then (*ahem*): Deal. Me. In.
There are a thousand bands out there that want to be Wilco, but there is only one Wilco.  Many of these bands can master some of the elements that elevate Wilco, but most fall short in one of the four.
The songs.  Jeff Tweedy has a way with turning a phrase and setting up musical payoffs.  The great ones just keep coming.  From the Star Wars heavy show opening, to a pair of new tunes from Schmilco ("If I Ever Was A Child", "Locator"), to a run of classic material through the end of the show ("sing along with this one", Tweedy exhorted, regarding "Jesus, etc.").  Jeff could have been successful just taking these fine songs on the road with but…
The arrangements.  He's simply not content to let the songs stand on their own.  That's what his solo and acoustic shows are for.  With Wilco, dresses them up and takes them out.  Whether its creating a wall of noise, shimmering sonic nuggets to punctate a break or fill, or just providing an lovely bed to in which a blistering guitar solo can rest (hello, "Impossible Germany", which commands attention no matter how many times I've seen it).  The excel at finding the balance of (and transition from) tender melodies with crazy peaks as in "Handshake Drugs".
They even hearkened back to the band's earliest days by playing bulk of the encore acoustic, introducing bluegrass elements with banjo and resonator guitar. But those arrangements would mean nothing without…  
The personnel.  These are the right guys. Nels Cline in a class by himself, nearly stopping the show on "Art Of Almost" with guitar heroics.  Drummer Glen Kotche manages to single-handedly transform "Via Chicago".  John Stirratt contributing "It's Just That Simple" and receiving the approval of the crowd, not only for his vocal turn, but for appreciation of bass duties for the band's lifetime.  
All these guys are pros that get behind the vision and contribute to it, make it better.  All of which could make the execution feel clinical, calculating, or aloof if it were not for…
The attitude.  Tweedy's on stage banter is often the straw that stirs the drink.  He's always telling the crowd, "take us seriously, but not too seriously."  For all of it's arty aspirations, Wilco is still a rock band.  It's still supposed to be fun.
His plea to get "100% participation" for the audience clap along to "Spiders (Kidsmoke)" was the perfect encapsulation of this.  It's not in any way a joke in that there's no setup or punchline. But it was hilarious in context with that crowd in that format.  (They fucking crushed the song by the way). 
Twin Peaks opened the show and delivered about forty minutes of less-adorned, but still powerful, rock.  Another Chicago band, they are seeking to occupy a similar space as Wilco, and they may be on their way.
While the opening slot was probably the exact exposure they needed to this audience, the daylight set in the big environs may have diffused some of the energy.  But by their final tune, they worked up enough momentum to turn a few heads.  Look out for these guys later in the evening at a club or small theater — there's something definitely happening.